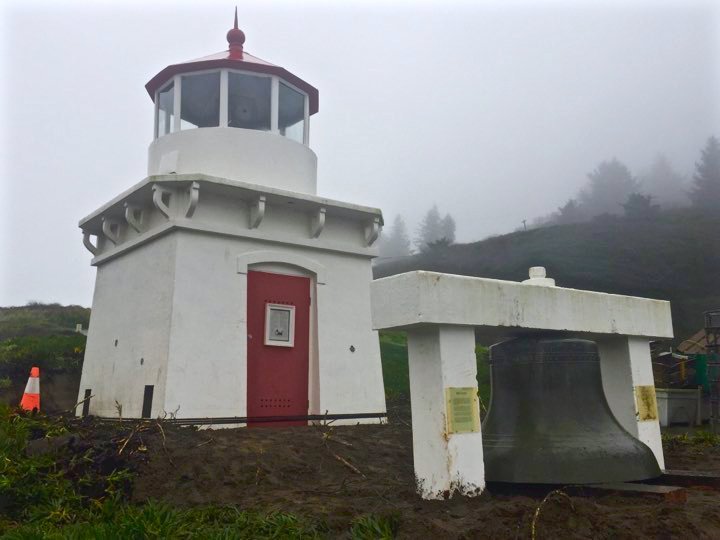 It's been a little over a month since the Trinidad Memorial Lighthouse was moved from its scenic perch on the bluff overlooking Trinidad Bay to its current, temporary home in the Trinidad Harbor parking lot. But where should the landmark's forever home be?
PREVIOUSLY: (PHOTOS) LIGHTHOUSE MOVED: Trinidad Memorial Lighthouse Trucked to New, 'Temporary' Location
Well, you can help make that call! A joint press release issued by Trinidad Rancheria, Trinidad Civic Club and Yurok Tribe announces a meeting to discuss the issue will be held later this month. Read it now:

The Cher-Ae Indian Community of the Trinidad Rancheria, the Trinidad Civic Club and the Yurok Tribe will be conducting a Public Charette to gather community input as to the selection of a permanent location for the Trinidad Memorial Lighthouse, Bell, and Memorial Plaques.

On January 10, 2018 in coordination between the Trinidad Rancheria, the Trinidad Civic Club and the Yurok Tribe the Trinidad Memorial Lighthouse and Bell were moved temporarily to the Trinidad Rancheria Harbor properties. These stakeholders are now reaching out to the greater Trinidad Community to determine the final permanent location for the Lighthouse, Bell, and Memorial Plaques.

Please join us on February 27, 2018 from 6 p.m. to 8 p.m. at the Trinidad Town Hall for a Public Charette. This Charette will be a hands-on and interactive session that will include a presentation from the Trinidad Civic Club regarding possible location options. Public input activities will include table discussions, recording positive and negative aspects for potential location and an opportunity to draw your vision for a final location design.

Community members not able to attend the Location Charette Event can still submit public input through use of a Public Input Form. This form is available in the City of Trinidad Office in the Town Hall or on the Trinidad Civic Club Website: www.trinidadcivicclub.org. Submit your written comments by:

Mailing to Trinidad Civic Club, PO Box 295, Trinidad, CA 95570
Emailing to tcc@trinidadcivicclub.org
Leaving in the Civic Club Mailbox in the City Clerk's Office in the Town Hall

The Civic Club will use all information gathered to determine the most feasible final location for the Trinidad Lighthouse Memorial Site.