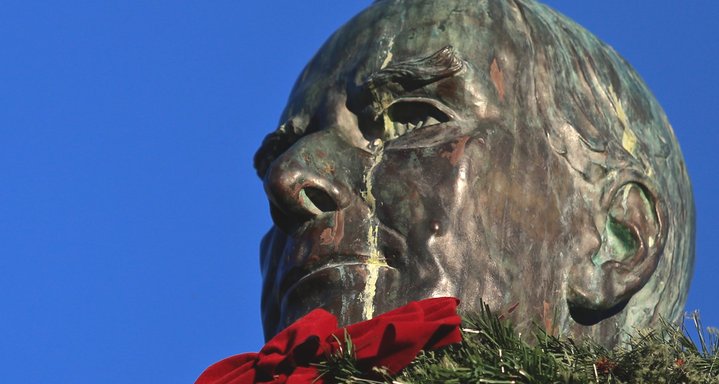 His head is once again on the chopping block, which happens about every 20 years. Whether to keep the McKinley Statue on the Arcata Plaza or not, that's always the big question. However, there are a few other things to consider.

The McKinley Statue was a gift to the City of Arcata and that gift was accepted by a resolution. If the Council decides to remove him, is this an indication of how the City handles gifts? Would that discourage future gifts? Because the statue is over 50 years old, its removal will require an Environmental Impact Report. Who will pay for the EIR and who will pay for the statue's removal? Context and relocation must be addressed in the EIR. Arcata Main Street wants the Plaza placed on the National Register of Historic Places. How will the removal of the statue affect that designation?
The Arcata City Council is wondering whether or not to place removal of the McKinley Statue on the November ballot, which also has its own costs. It is important to note that the voting results, whatever they are, would still be advisory. The Council would still have to bite the bullet and make the final decision. Whatever they decide, some of us will be happy and others not.
Don't we love Arcata? Always something.
# # #
Alex Stillman is a longtime resident and former mayor of Arcata.
RELATED: Arcata City Council to Hold Special Meeting on the Future of the McKinley Statue, Jacoby's Storehouse Plaque