PREVIOUSLY

A Southern Humboldt man has been sentenced to nine years and four months in prison for a September 2015 shooting that left a young couple permanently disabled.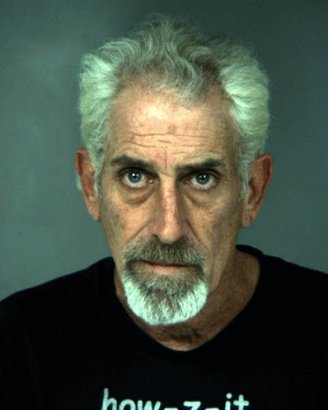 Judge Dale Reinholtsen imposed the sentence this morning on 56-year-old Keith DeWayne Giampapa, who pleaded guilty earlier to two counts of attempted murder under the theory of "aiding and abetting."
Giampapa claims the unidentified shooter paid him to drive him from McKinleyville to a remote area on Wade Road in the Garberville area, and afterward he dropped the shooter off in Eureka. This morning Deputy District Attorney Roger Rees, arguing for the maximum sentence of 11 years, says the prosecution believes Giampapa shot the couple. But because of fears about not being able to prove that at trial, he was allowed to admit the lesser charges.
Late in the evening on Sept. 30, 2015, Melissa Vallecillo and Adam Godlove were settling down in their trailer on Wade Road when the trailer was struck by a barrage of bullets.
"I watched (Adam's) neck explode with the impact of the bullet," Vallecillo told the judge at today's sentencing. The next thing she realized, after regaining consciousness on the trailer floor, was that "I'd lost a lot of teeth and I couldn't see out of my right eye."
Then it was "surgery after surgery," she recalled. After a month with a feeding tube she was able to eat something.
"This was when I found out I had lost my sense of taste and smell," Vallecillo said. More than two years later, she still can't taste or smell.
"This has made my life hell," she told the judge, noting she suffers from PTSD, can't sleep through the night and must live her life with a disfigured face. Vallecillo is now unable to work, whereas before she always held a "9 to 5 job."
"Adam and I will never be able to live a normal life," she said.
Godlove was shot in the neck, chest and buttocks. He said he still has bulllets lodged in his neck and chest, "and the bullets do hurt a lot, still."
He recalled the shooting incident as terrifying, with bullets bouncing all over the trailer and shrapnel flying.
"Melissa lost her eye," Godlove said, "and I'll continue to have bullets in my chest and neck, probably for the rest of my life."
He asked the judge to "show no mercy" to Giampapa, saying that prior to the shooting he had stalked and threatened them.
Deputy Public Defender Ben McLaughlin, representing Giampapa, said he didn't want to downplay what had happened to the couple, which was "obviously life-shattering."
But McLaughlin, before the couple made their statements, questioned why the stalking and threatening hadn't been mentioned until two years after the fact. He said there is proof Giampapa had tags to hunt wild pig and deer in the area where the couple lived, which could explain his presence there.
McLaughlin pointed out that Giampapa's previous history consists of two non-violent misdemeanors, and he had successfully completed probation. He asked that Reinholtsen impose the minimum sentence of seven years and four months.
As for Giampapa, he told the judge he had no idea the shooting was going to occur, "and if I knew I never would have let it happen."
"What the court should be concerned about is there's a man out there still that shoots people," he said, "and he's still out there."
He said he had no idea until the following day that anyone had been hurt.
Prosecutor Rees argued that one of the damning factors in the case is that Vallecillo and Godlove were so vulnerable.
"They were in their home, in their trailer, and it was dark outside," Rees said. "The trailer was well-lit. They couldn't see outside. They were taken by surprise when the bullets came crashing through the window."
According to Giampapa, Rees said, he was paid in gas money and pizza to take the man to the couple's home. He waited while his armed companion got out of the car, waited while he heard shots and then drove the man to Eureka.
"He's paid to drive someone with a gun to a remote location," Rees said. "That's not a passive role; that's a very active role."
Later, Rees said the prosecution's theory is that Giampapa shot the couple, "but we weren't sure what a jury would do."
Reinholtsen, in deciding on the middle term of nine years and four months, cited Giampapa's age and his lack of criminal history. He expressed compassion for the young couple, saying whatever sentence he imposed "is so minuscule compared to the devastation that was visited on these people. Their lives will never be the same."
The judge noted that if Giampapa had been proven to be the person who pulled the trigger, he'd be looking at a prison term of 25 years to life. But he pleaded guilty under the theory of aiding and abetting, and the judge is bound by sentencing laws for that crime.
"We have to keep in mind that he's not (being sentenced) as a shooter," Reinholtsen said.
Whatever he did or didn't do, Giampapa has undergone a radical transformation during his two-plus years in Humboldt County Correctional Facility. He's packed on a good 50 pounds and is decidedly plump. His hair is white, his facial hair neatly trimmed. He has changed from a gaunt, hollow-eyed figure to someone who looks like a nice grandpa.
He was given credit today for 833 days actually served, plus 15 percent "good time" credit for a total of 957 days.