A Eureka woman accused of bludgeoning a Walgreen's employee with a hammer was held to answer this morning on charges of attempted murder and assault with a deadly weapon.

Visiting Judge Douglas Mewhinney ruled there was enough evidence presented at a preliminary hearing for Errica Lee Stevens to stand trial for the attack on Summer Huff, who was struck on the neck and wrist with a claw hammer.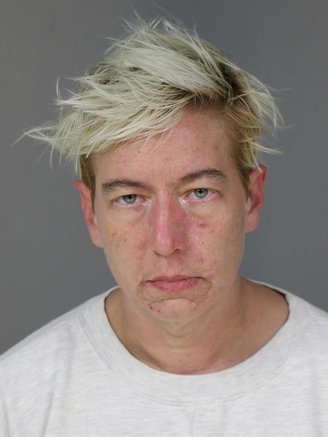 Stevens, 41, was returned to Humboldt County in December after undergoing many months of treatment at a state mental hospital. She had been declared mentally incompetent to stand trial shortly after her arrest. Now her mental competency has reportedly been restored, but she remains segregated from the jail's general population.
Piecing together testimony from two officers called to testify this morning, Stevens was a frequent visitor at the Walgreen's store at Harris and Harrison in Eureka. On Oct. 29, 2016, she showed up once at the store "yelling and screaming" and was asked to leave.
She came back later, and the store manager spotted her in the tool aisle, removing the packaging from a hammer.
"He asked her not to remove the packaging," Hoopa Tribal Police Officer Angel Yanez testified this morning. "She began to walk toward the front check-out counter. He followed her."
Yanez was in Eureka that day on a field training operation with the Humboldt County Sheriff's Department. He said when he arrived at Walgreen's Stevens was already in handcuffs after being tackled and pinned to the floor by the store manager. Yanez walked to the manager's office and found Huff.
"The victim was sitting in a chair, " Yanez testified under questioning by Deputy District Attorney Roger Rees. "She had several bags of frozen vegetables on her hands."
Huff told Yanez she had left the front checkout counter to get cigarettes for a customer. She was walking back when Stevens reportedly came at her with the hammer, jumping into the air and raining down blows.
Huff, while being treated in the emergency room at St. Joseph Hospital, told sheriff's Deputy Dustin Delbiagggio the first hit was to the right side of her neck below the ear.
"She put her hands and arms up," Delbiaggio testified today, indicating how Huff had tried to shield her head. The next blow was to the middle of the back of her neck, the third to her right wrist as she tried to protect herself, and the final strike was on the right side of her neck behind her ear.
Under cross-examination by defense attorney Neal Sanders, the deputy said Huff was asking her attacker to stop. She heard yelling and screaming but didn't know if that was coming from Stevens or bystanders.
In the ER, when Huff was asked to describe her pain level on a scale of 1 to 10, she said "Nine," Delbiaggio recalled.
He said Huff's wrist was swollen and had an abrasion. But she was not bleeding from the head or neck and never lost consciousness.
At the end of the hearing, Sanders argued there is no evidence that Stevens had the intent to kill.
But Rees responded that "one simply does not leap into the air and swing a hammer at someone's head," without having a specific intent to kill.
Although the judge held Stevens to answer for attempted murder and assault with a deadly weapon, he dismissed a special allegation that she caused great bodily injury. He said that while Huff apparently was in a lot of pain, she hadn't suffered "significant or substantial injury."
Stevens is scheduled for arraignment Feb. 20. Rees told the judge before the hearing started that he and Sanders are negotiating a possible resolution in the case. The prosecution wants Stevens to admit to attempted murder, while Sanders is hoping for a plea to assault with a deadly weapon.
Stevens sat quietly next to Sanders during the hearing, occasionally taking notes. Her formerly short blonde hair is now brown, and it's long enough to wear in two small ponytails. She occasionally turned around and smiled at two women in the courtroom audience. One of them was crying.
###
PREVIOUSLY: