PREVIOUSLY: Spooky Eureka Storyteller Arrested on Numerous Child Sex Abuse Charges
The preliminary hearing for accused child molester John Robert Beideman, also known as Carpathian the scary storyteller, was continued today after lawyers disqualified the only two judges willing to preside.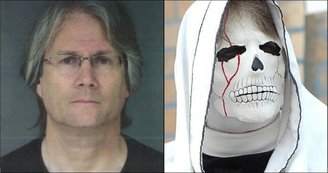 This morning defense attorney Russ Clanton disqualified visiting Judge Leonard Lacasse, so the preliminary hearing was moved to Judge Greg Elvine-Kreis' courtroom. Elvine-Kreis, a former defense attorney, said he had no problem presiding over the hearing as he didn't know Biedeman. He was still disqualified by Deputy District Attorney Stacey Eads.
All other local judges have removed themselves from the case, because the 57-year-old Beideman worked for many years as a clerk for the Humboldt County Superior Court.
Beideman, known in the community as a children's storyteller who wore an eerie skeleton-type costume, is accused of long-term sexual abuse of one child. He has been in custody since he was arrested in October at his home in Myrtletown.
The preliminary hearing is now scheduled for Feb. 15 and will have to be heard by another visiting judge.
Beideman faces life in prison if convicted of all charges. Those include continuous sexual abuse of a child under 14, sexual intercourse or sodomy with a child 10 or younger, lewd acts with a child under 14 and one count of a forcible lewd act on a child.