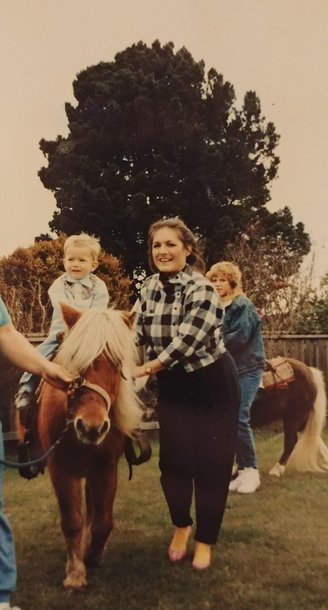 It is with great sadness that the family of Janet Arnot announces her passing after a difficult battle with metastatic colon carcinoma.

Janet was born to parents James (Jim) and Jane Arnot on July 2, 1955 in Scotia, nestled in the heart of Humboldt County. Janet was the oldest of three. She had two younger brothers, David and Joe Arnot. Jim and Jane would later divorce. Jim remarried to Sharon Arnot. Sharon brought three children to their union: Randy, Rodney and Sheri. Together Jim and Sharon had two more children, Marcus and Michelle. Janet's mother Jane also remarried to Robert (Bob) Morgan who brought two children to their union: Jerry and Debbie. Together Jane and Bob had their youngest son, Michael.
Janet was raised in Eureka and Freshwater. She lived for a short period of time in San Francisco with her parents and younger brother David while their father attended law school. She fondly remembers walking herself to preschool alone. Once they returned to Eureka, Janet attended Marshall Elementary and Zane Middle School, and graduated from Eureka High School in 1973.
Janet attended College of the Redwoods for general education, with an emphasis in physical education and music. Janet also attended Humboldt State University for speech communications and finance. Janet lived for a short period of time in Healdsburg in the late '70s.
Growing up, Janet spent a lot of her early years with both sets of grandparents. Her father Jim's parents, Jocko and Lucille Arnot, had nicknamed her "Jeanette" (a name she would later save for her first daughter). They spent a lot of time instilling in her a passion for values. They owned Humboldt Land Title Company, a business she would later be very involved with. She was taught all about business, the importance of family and personal integrity.
Janet invested much of her youth in her maternal grandparents (John and Sylvia Beidleman's) bakery, the Cherry Blossom, on F Street in Eureka. She also worked in their restaurant, The Annex, on E Street in Eureka. Janet spent 12 years in the food service industry. She worked several jobs, including busser, hostess, cocktail waitress, prep cook, assistant chef and delivery. Janet's grandparents would later divorce. John remarried and had twin girls, Janet's aunts Paula and Pamela.
Janet was close with her family. As a child Janet and her brother David were inseparable. Janet had a select group of very close friends, one of them being Matt Tomich, a lifelong friend she met in school. They shared a love for Star Wars, Star Trek, music and cruising. They watched the Original Star Wars in Theatre nine times. They spent many times cruising in her '68 Plymouth Barracuda formula S in the mid-'70s. Janet had a streak for adventure and enjoyed keeping people on their toes. Janet once locked her Drama teacher in the basement at Eureka High Auditorium as a joke.
Janet was quite the performer. She was a self-taught pianist. Her skill set was limitless — she could play anything from Bach to Beethoven to The Beatles. She enjoyed dance very much and danced several styles, one of them being ballroom dance. She was a founding member of the North Coast Amateur Ballroom Dancers' Association. Janet was also a talented ballerina. She danced for Redwood Concert Ballet. She served as secretary on the board of directors for five years. She danced her last Nutcracker ballet in December of 1984.
Janet was an avid lover of food and wine and spent many good times at Napa wineries in the company of her friends. Janet loved entertaining and could cook or bake anything, from teddy bear bread to Thanksgiving dinner.
Janet was working as a cocktail waitress at the Captain's Galley when she met an intriguing fellow — David Sovereign. Janet would see David after his shift. He was working for a local trucking company. David and Janet started dating. A few years later, they got married, on April 14, 1985. David had three boys from a previous marriage, Craig, David Jr. (Andy) and Roy. Janet and David had their first son, James, in 1985. Jimmy quickly became the center of their world and did everything with them. Together they ran their own business – "David Sovereign Trucking." In 1988 they had their second son, Phillip. In 1990 they had their third and final child, their daughter, Jeanette.
David, Janet and their three kids lived for a short period of time in 1991 in a village called Klawock. It was on Prince of Wales Island in Alaska. Their son Phil was a toddler at the time and didn't believe bedtime came until the sun went down. It was summer time and 2 a.m. was not bedtime, though Phil thought it was.
David and Janet would later divorce, but remain close. Janet raised her kids in Ridgewood Heights. They lived in a three-bedroom house on a hillside. It was a split-level home with surrounding decks. The home was adjacent to the forest. They had a lot of local wildlife on the property. It was not uncommon to find a mountain lion taking a rest on the back deck, or find a mother bear in the garage with her cubs close behind. Janet raised her kids with a piano in the living room, and a superb sound system right next to it. Janet made sure to share her passions with her children. She taught all of them the importance of doing for one's self. She taught them when asking for help, to ask yourself first. Janet made the holidays and family celebrations the highlight of her children's childhoods.
Janet managed to always have her kids in the same summer camps, T-ball teams, BMX racing group and volunteer opportunities, despite their age difference. Janet would say her greatest accomplishment in life was her children. There were many times they all geared up in their windbreaker outfits and took their bikes for a ride on the neighborhood BMX track.
Aside from being a very invested mother, Janet gave a lot of herself to her Community. Janet was a volunteer for 25 years at North Coast Children's Services, and served as an Executive Board member for 8 years. She volunteered for Timber Heritage Association, Campfire, and Pal Camp in Freshwater. She was part of several local organizations: Humboldt County Real Estate Investors Group, California foundation for Independent Living Centers, Whole Access (Redwood City), California Redwood Chorales, Humboldt/Del Norte Head Start Policy Council, North Coast Employer Advisory Council, Redwood Gun Club where she was a Range Master, the Elks Lodge, the Moose Lodge and the Eagles Lodge where Janet served as the secretary for several years. Janet was always widening her horizon, and had a yearning to remain curious and welcoming of new things to learn. She also attended several seminars over the years.
Janet was executive director for a local non-profit, Humboldt Access Project, from 1995 to 2000. During her time there she traveled for training and networking purposes. She went to Washington D.C. a few times and shook hands with President Clinton. During Janet's career at Humboldt Access she teamed up with Phyllis Cangemi from Whole Access in Redwood City California and pioneered making Northern California Parks more accessible to people with disabilities. Janet and Phyllis teamed up to make trails at Prairie Creek accessible. One night, Phyllis was receiving an award in the Bay Area for her success in making her community more accessible. Phyllis had invited Janet and her kids to the event and got an opportunity to meet Bob Dole.
Later, Janet trained out of the area to become an insurance agent for Combined Insurance. During training in Sacramento, she made a dear friend – Susan Stuart. She then went to work for Aflac insurance. Janet was a landlord for a local residential property for 10 years. Her many job ventures that followed were in sales at Eureka Broadcasting, Cooking for Wellness, Shred Aware and Redwood Electronics. Janet also worked for American Star Security for a few years in between sales jobs.
Janet's three children all graduated high school in Eureka and continued their education. Janet cared about education and financial Independence so she donated a financial course to her children's school.
Her son James married his wife, Krystal, in 2012. Her son Phillip married his wife, Jessica, in 2012. Her daughter, Jeanette, married her husband Brandon in 2017.
Janet found love again with Wayne Sovereign in the mid-2000s. They spent several seasons hunting and camping together. They made several friendships at Buck Camp and took their dog, Ginger, with them on all hunting excursions.
Janet loved having fun and made time for it whenever possible. Some of her favorite pastimes include wine, camping, driving, hunting, going to the shooting range, drawing/sketching, singing, reading, knitting, watching movies, telling stories of her wild days, and spending time with her kids and life partner Wayne, influencing youths' curiosity, and teaching in all facets. She loved to travel. She spent time in Mexico and once celebrated her birthday there. Janet was a strong, smart, independent person. She hiked the Marble Mountains alone. She came face to face with a bear and they both ran in the opposite direction. She enjoyed collecting depression glass with her mother, Jane. Janet loved singing and playing piano with her father, Jim.
Many people can tell you that when they were in need, Janet was there. Whether they were struggling to make their business thrive, needed advice or their spouse had just passed. Janet was extremely intuitive and knew when to speak up or lend an ear. She gave a home to so many people when they needed it most. She gave with her heart and her spirit. Her family and her community are going to feel an extreme absence from her passing. Many local businesses and organizations have had a strong connection with Janet for several years.
Janet had a passion for animals. In her teen years she had horses and other farm animals. She had a rooster she loved dearly. She owned a wonderful Saint Bernard named Heidi. She owned several cats over the years – Pinky, Vivian and Grabee, to name a few. Janet had a connection with animals that most people do not possess. Janet had to lay to rest her dog of 10 years, Ginger Arnot, in November of 2017. Janet had a life-saving surgery in December of 2016. Immediately following that surgery, Ginger became Janet's watchdog, allowing family to feel that they had someone they could trust to watch over Janet in their absence.
In recent years Janet has welcomed into the world her grandchildren, Nicoli Arnot McCloskey in July 2011 and Arabella McCloskey in April 2014. During Janet's battle with colon cancer, she made her grandkids a main part of her focus and comfort. She made every effort to stay healthy and live as long as possible for them.
Janet leaves behind her life partner, Wayne Sovereign; stepfather Robert Morgan; stepmother Sharon Arnot; sons James Arnot (Krystal) and Phillip Arnot (Jessica); daughter Jeanette McCloskey (Brandon); stepson Roy Sovereign; brothers David Arnot (Kathy), Joe Arnot (Terry), Randy Adkins, Rodney Adkins (Susan), Marcus Melton-Steers; sisters Sheri Burke (Mike), Michelle Arnot, Nancy Arnot and Crystal Arnot; grandkids Makal Sjoquist, Anthony Sjoquist, Craig Sovereign, Timothy Byars, Nicoli Arnot-McCloskey, Arabella McCloskey; six great-grandkids; uncle Phil Arnot (Sally); aunts: Paula Forestier and Pamela Ford; several nieces and nephews, greatnieces and nephews; and cousins Steven Arnot (Andrea) and Michael Arnot (Jenny).
Janet was preceded in death by her father, Jim Arnot; her mother, Jane Morgan; her grandparents, Jocko and Lucille Arnot and John and Sylvia Beidleman; her ex-husband, David Sovereign; her stepsons, Craig and David Jr. Sovereign; her granddaughter Scierra Sovereign.
Janet had made great friendships in her time at Humboldt Access Project and in her later years. Two friendships that lasted since Humboldt Access are with Maeve Gannon, a former employee, and Darcie Seal, a volunteer from the board. Janet had a dear friend who preceded her in death — Susan Stuart. Janet leaves behind a long time friend and fellow officer from the Eagles Lodge, Fern Powell. Lastly, Janet leaves behind a close friend and neighbor, Jacque McKinnon.
During Janet's battle with cancer she received significant support from her partner, Wayne; daughter, Jeanette; and niece, Victoria. There will not be a day that goes by that those who knew Janet will go on without needing her in some way. She was a breath of fresh air, a warm embrace and the silence during the golden hours of the day.
The Family of Janet Arnot will be facilitating a service in her honor on Saturday, Feb. 3., 2018, at 1 p.m., at the Eureka First United Methodist Church. It is located at 520 Del Norte Street in Eureka. A reception for friends and family will follow at the church.
###
The obituary above was submitted on behalf of Janet Arnot's family. The Lost Coast Outpost runs obituaries of Humboldt County residents at no charge. See guidelines here.