PREVIOUSLY:
###
With grant funding dried up for court mental health programs, Judge John Feeney had no good choices this morning in sentencing a mentally ill man who has been the bane of Arcata police for many a year.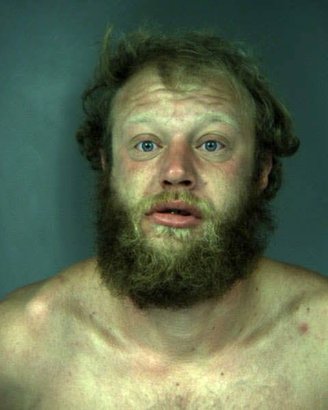 Feeney could have sent Bhakti Jnana Dillenbeck to prison for three years, as the prosecutor argued was the appropriate and long-overdue penalty. Instead Feeney placed him on three years of supervised probation and ordered him released from jail today. Now it's up to Dillenbeck's stressed-out family to decide who's going to care for him and keep him on the right side of the law.
Dillenbeck, 34, has been arrested many times over the years, the last time for assaulting a homeless man during an argument over a pack of cigarettes. He also was jailed once after smashing a bottle over a man's head. He has racked up 154 infractions in Arcata, with the bulk of them for smoking cigarettes on the Plaza, lying or sitting on a public sidewalk and failure to appear in court. He has spent the last two months behind bars.
Deputy Conflict Counsel Marek Reavis, who has represented Dillenbeck many times over the years, told Feeney this morning that Dillenbeck bears "a tremendous burden, every day of his life," because of his mental problems. He has spent "many, many months" in state hospitals, Reavis said.
But Deputy District Attorney Joel Buckingham said Dillenbeck has never taken probation seriously and has continually been arrested, sentenced to time already served and then released on probation. He never succeeds.
"At some point it has to stop," Buckingham told the judge.
Feeney, while not addressing Dillenbeck's case in particular, said that in the past there have been two successful court mental health programs. They ended when the grant money stopped. He said he's heard a third program might be in the works, and he hopes to be around to participate in that.
Dillenbeck, a Humboldt County native, has a hard time standing still and staying silent during court appearances. He wears a mesh veil over his head to stop him from spitting at people. He is segregated from the jail's general population.
At one point this morning, while pacing and fidgeting, he blurted out that he's going to be moving away from Humboldt. He's going to "my mom's in Mendocino or my sister's in Oregon," and he hopes to stay out of trouble.
In fact, his sister Heidi Winter, who has attended his last two court appearances, said outside the courtroom that her mother's husband doesn't want him around and her own roommate and long-time best friend doesn't want him around. An uncle in Utah says he will take him, so Winter is going to contact the uncle.
As long as he's around Arcata, Dillenbeck must stay 100 yards from Valley West Shopping Center and can't go near the Plaza unless he has business at the post office or the Arcata Police Department.