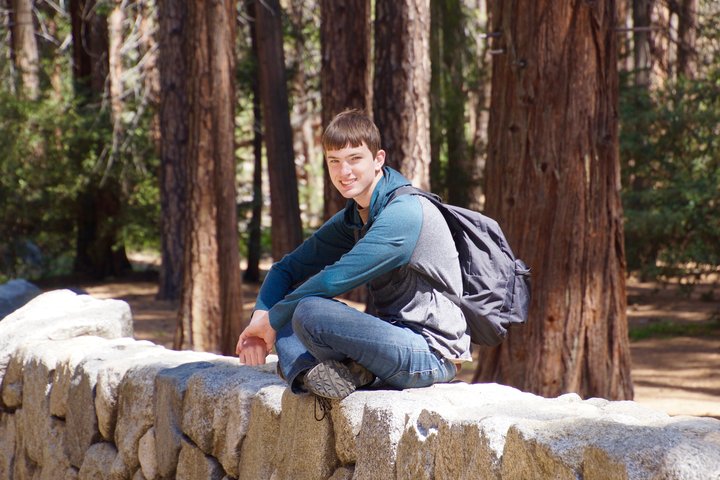 Calder Vaughn Hutchins passed away unexpectedly in Chico on December 5, 2017 at 20 years of age.
Calder was born 11½ weeks premature at Sacred Heart Medical Center in Spokane, Washington, on March 31, 1997. He is survived by his parents, Vaughn Hutchins of Blue Lake, and Marianne Hutchins of Eureka, and by his triplet brothers, Alex and Bryce. Calder and his brothers spent the first 8½ weeks of their lives in the Neonatal Intensive Care Unit and then another month with their parents at their Aunt Wende and Uncle Tom Barker's home in Spokane before heading back to Humboldt. It was the beginning of a lifelong and very special bond with their aunt and uncle.
Calder grew up in Eureka. He moved to Chico in August 2017 with plans to further his education. Calder was loving, thoughtful and very kind to others. Although he was quiet, he had many friends and was loved immensely by his brothers and family.
Calder attended kindergarten at Worthington School in Eureka. After Worthington closed, the three boys transferred to Lafayette Elementary School until the 5th grade, before attending Winship for the 6th grade. He attended Zane Middle School for 7th & 8th grades, continuing onto Eureka High School. He and his brothers graduated in 2015. Except for Kindergarten and an occasional class, Calder and his two brothers preferred being in a class by themselves — probably since they were with each other all the time at home.
At the end of 1st grade, Calder was diagnosed as having an auditory processing disorder, wherein his brain had difficulty processing words spoken to him amongst a noisy atmosphere. Learning was hard for him in the classroom. He responded by drawing into himself and never gained the love of school learning that his brothers had. Instead, he would "study" things — seeing how they worked and were put together.
Calder was the fastest and most coordinated of the brothers as they grew up. He played basketball, soccer, baseball, finally settling upon tennis. He played on the Eureka High School Boys Tennis Team during the 11th and 12th grades. His parents loved watching these tennis matches. His Mom also loved to see him skate at the Blue Lake Skating Rink. He liked speed and had no fear. There are many memories from when Calder was a small boy that comfort us: daily walks with the three boys in the triplet stroller, holding Mom's or Dad's hand on a walk, story time with his brothers, building sandcastles, playing in the snow at his Aunt Wende's house. When he was almost three years old he was the one who wanted "to help" light the fireworks in the snow at Christmas. We're sure he got up to mischief, especially with two brothers to help, but it's hard to remember.
There were lots of camping and family trips too, traveling to numerous parks around the United States, a five-week camping trip to the East Coast and back, two trips to Australia to visit relatives and a house boat trip on Lake Powell, to name some. He loved the redwoods and hiking along its trails. Every New Year he went to Prairie Creek Redwoods with his dad and brothers to see if they could see any fish in Prairie Creek. There were lots of trips to local beaches in Humboldt County and to those at San Clemente during visits to his grandparents. Calder loved the water so much that he was almost blue by the time we could get him to come out. Twelve months ago he surprised us all with a quick solo camping trip to Yosemite National Park in the middle of winter with floods and the heaviest snow fall for many years. He loved this adventure — even getting stuck in the snow in the parking lot. He posted on Facebook "Surprise, surprise, guess where I am now?" — he had kept going another couple hundred miles to Death Valley on this adventure.
Calder was very much his own person — he wanted to do things at his own pace, in his own fashion. His attention turned to computers, loving to work with the hardware side of things, as well as playing games with others online. He was well-known among his friends as someone who could help with computer hardware issues and rebuilding computers. He was also very interested in pursuing electrical engineering. He said that he wanted to gain some working knowledge before continuing with his schooling.
Calder started working at Walgreens near his home in Eureka before graduating from high school. He continued to work there for two years while he attended College of the Redwoods. Calder was highly thought of at Walgreens, competent and loved by both managers and employees. He earned Employee of the Month several times and received a Regional Customer Service Award in January 2017. Calder didn't talk about his accomplishments so we usually only heard of them from his co-workers. Walgreens was like a family to Calder and was his first official paying job. He said that they gave him many opportunities and helped him gain a wealth of knowledge. Some of Calder's closest friends continued to be from his days working at Walgreens.
Calder will always be loved and have a very special place in our hearts. He is deeply missed by his father, Vaughn Hutchins; his mother, Marianne Hutchins (Alan Mahon); and his triplet brothers, Alex and Bryce Hutchins. He is also survived by his aunts and uncles Wende (Tom) Barker, Chris Hutchins, John Hutchins, Jenny (Michael) Hurrell, John (Amanda) Gardner, Les (Karen) Gardner and Bill Gardner. He leaves behind many cousins (Levi, Sean, Vaughn Michael, Casey, Ben, Kim, Scott, Kirby, Georgia, Grace, Roy, Ashlee, Tamara and Genevieve) and extended family in both the United States and Australia. He was predeceased by his paternal grandparents, Vaughn and Margaret Hutchins; and his maternal grandparents, Stan and Norma Gardner from Australia. Calder took after his maternal grandfather in many ways; his mannerisms and temperament and in fact he was the only one of the triplets that his MGF met before he passed away when the boys were three years old.
Our deep and sincere appreciation goes to the principals, teachers and staff of Eureka City Schools, where Calder attended. There have been many, many people who were instrumental in making a positive impact on his life. Please know that we remember and appreciate you all. We thank you so much! Calder was often referred to as "Dota Master" by his computer friends; he loved his games and all of you. We are very grateful for and comforted by the friendship that Calder had with special friends at Walgreens as we also are with the housemates Calder had in Chico.
Calder's family would like to thank everyone who sent cards, flowers, provided food and visited. We have really appreciated your love and support from the bottom of our hearts.
One of Calder's life wishes was to be an organ donor. He was able to have this wish fulfilled. He also wished to be cremated.
A co-worker of Calder's said after he died that someone must have needed an angel. She is right. He will be our angel forever in our hearts and there for each of us whenever we need him.
There will be a celebration of Calder's life on Saturday, June 2, 2018, from 1 to 4 p.m. at Merryman's Beach House, Moonstone Beach, Trinidad. Please come and share your memories with us. We would also be honored to have memories left for Calder at the memorial website of the Brusie Funeral Home in Chico at www.brusiefh.com.
Calder, our lives will never be the same without you but I do know that you are at peace. We will love you always.
###
The obituary above was submitted on behalf of Calder Hutchins' family. The Lost Coast Outpost runs obituaries of Humboldt County residents at no charge. See guidelines here.