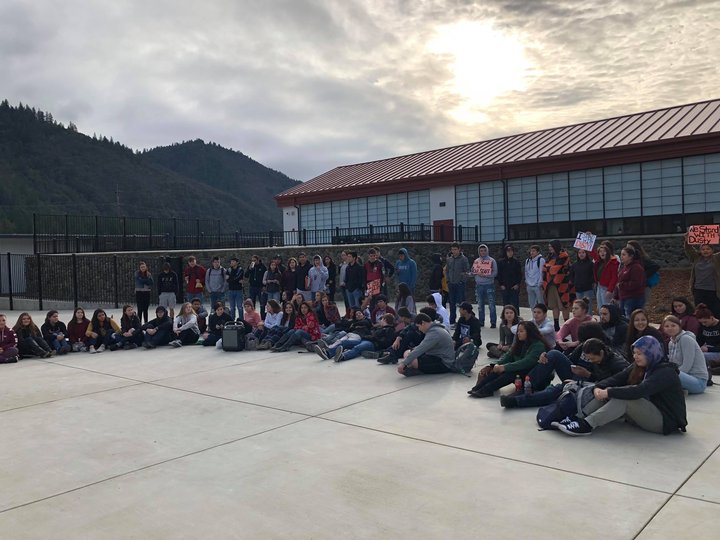 Students at Hoopa High School today staged a class walkout that lasted much of the day.
Kindiyante Joseph, a Hoopa High senior who spoke to the Outpost by phone this morning, said that students staged the sit-in to protest what they consider to be poor communication between the school district and the student body, culminating, apparently, with the recent reassignment of Principal Dustin Rossman.
Joseph said that Rossman has been a popular principal because he's a "motivator" who pushes students to succeed, and that his relationship with the student body has been excellent.
"My experience of him is really good," she said. "He's more than just a principal — he makes those relationships with students to show he actually cares."
Joseph said that students do not know why Rossman has apparently been pushed aside. That fact is emblematic, she said, of the district's relationship with its student body. Several people respected by students have left the school in recent years, she said. Continual construction work on the campus disrupts classes and learning, she said — all kinds of din, including jackhammers, can be heard on campus many days. It's been going on for four years.
According to Joseph, the student body feels that their concerns about these matters are not being heard — that the students don't have a voice.
"People ask us what we want to get out of this, and what we want is to have a meeting with [the superintendent], and to voice our thoughts and see if we can take steps forward a community," she said.
Messages left with the office of Jon Ray, superintendent of the Klamath-Trinity Joint Unified School district, have not been returned. We'll update if/when we hear back.