UPDATE, 10 a.m.: From the Humboldt County Sheriff's Office:
Ronald Joshua Loureiro, 29, was booked into the Humboldt County Correctional Facility yesterday afternoon (Jan. 4, 2018) on charges of homicide and a parole hold. Loureiro is the suspect of the homicide that occurred on Highway 101 near Drydens Rd. in Orick around 11 a.m. on Jan. 4.

The victim of this homicide has been identified as 34-year-old Vernon James Weatherford. Weatherford's autopsy is scheduled for Jan. 6, 2018.

This incident is still under investigation. Anyone with information regarding this case or related criminal activity is encouraged to call the Sheriff's Office at (707) 445-7251 or the Sheriff's Office Crime Tip line at (707) 268-2539.
###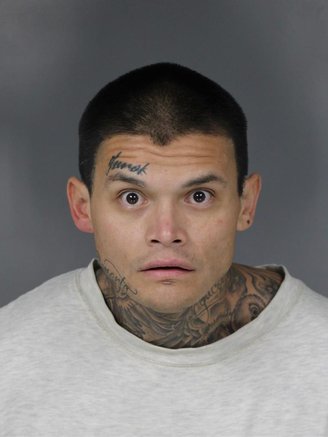 The Humboldt County Sheriff's Office has identified a 29-year-old Arcata man as the suspect in yesterday's homicide in Orick.

Ronald Joshua Loureiro was booked into county jail at 4:37 p.m. He was taken into custody shortly after the stabbing death of a 35-year-old 34-year-old man in downtown Orick yesterday morning.
The Sheriff's Office says that more information about the case will be forthcoming later today.
Loureiro was previously arrested by the Arcata Police Department just three weeks ago, after a traffic stop on a car yielded a quantity of methamphetamine, several digital scales and other items indicative of drug sales. At the time, the APD called Loureiro a "validated gang member."
###
PREVIOUSLY: