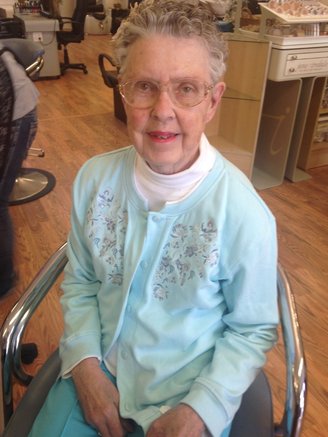 Marlene Elberta Edeline
November 1, 1935 – December 28, 2017
Ferndale, California
Marlene (Molly) peacefully passed into the tender, loving arms of Jesus on December 28, 2017 at 82 years of age at Granada Rehabilitation and Wellness Center in Eureka. She was preceded by her parents, Barrett and Marjorie Cook, her four siblings – Delwin Cyphers, Ellery Cook, Arden Cook, and Eloise Parker – and her husband of 64 years, Rodney. She is survived by her four children – Roxanne Cook (William), Julianne Bishop (William), Clayton Edeline (Brenda), and Cezanne Cady (Alan) – 11 grandchildren, 15 great-grandchildren, and one great-great-grandchild.
Although born in Ferndale, Marlene was raised in Petrolia during the early parts of her life, and attended Mattole Grammar School. Later on, she then continued at Ferndale Elementary and eventually graduated from Ferndale Union High School in 1953. During high school, Marlene led an active life – participating in the Drill Team and playing alto saxophone in the school's orchestra and marching band.
The tale of Rodney and Marlene is well-known amongst their friends and family. Many recall the account from Rodney's view as being full of adventure, sorrow, and (now looking back) laughter – while Marlene would commentate, "Oh, honey, quit exaggerating!" It was, however, one for the record books. Rodney had joined the military just out of high school to fight in the Korean Conflict, but that would not stop fate. Three years later, in 1953, he was called home to his station in Camp Hanford, Richland, Washington. Marlene, having just graduated high school on June 5, drove up with her mother, Marjorie, and cousin, Margretta Rogers, to see Rodney for their wedding. Two days later on June 7, 1953, the couple was married at the First Methodist Church in Kennewick, Washington. A year later, the newlyweds returned to Ferndale and settled together in Grizzly Bluff, where they would remain for the rest of their lives.
Marlene worked at numerous jobs, including Humboldt Creamery, Bank of America, and JC Penney's after retiring. But her favorite was being Rod's right hand at the No Brand Burger Stand – mixing up the thickest, tastiest milkshakes and taking customer orders.
Marlene's identity, however, was not found in a job, but in her family and Savior Jesus Christ. Marlene was a devoted wife, mother, and grandmother, and was known for her beautiful smile, gentle disposition, and love for God. No matter who she spoke with, every conversation would be concluded with a soft and sincere, "God bless." She was also a member of Our Savior's Lutheran Church for many years, where she participated in the women's church circles and other activities. In her latter years, Marlene also attended Ferndale Community Church.
Baking was another one of her favorite activities. Marlene's kitchen was home to wonderful cakes, breads, and cinnamon rolls whose sweetness was matched only by her own personality. As her children recall, every holiday the table would be beautifully and carefully set around her treats. She also enjoyed freezing and canning the produce from their garden.
Marlene was truly a light and breath of joy to everyone in her life. She will be dearly missed, but her memory remains in the hearts of her loved ones.
The family would like to thank the staff at Granada for their care of Marlene, and special thanks to Terry. Blessings to Marlene's Hospice Team – Kaia, Allison, Raquel, and Dr. Nelson – for the devotion, love, and prayers shown to her.
A memorial service will be held at the Ferndale Community Church on January 13, at 11 a.m., with a reception to follow in the fellowship hall. In lieu of flowers, donations may be made to the Alzheimer's Association and the American Breast Cancer Foundation.
Alzheimer's Association Northern California and Northern Nevada
2290 North First Street, Suite 101, San Jose, CA 95131
Phone: 1.800.272.3900
Donations: donorservicesinfo@alz.org
American Breast Cancer Foundation
10400 Little Patuxent Parkway, Suite 480, Columbia, Maryland 21044
Phone: 410.730.5105
Donations: katherinemele@abcf.org
###
The obituary above was submitted on behalf of Marlene Edeline's family. The Lost Coast Outpost runs obituaries of Humboldt County residents at no charge. See guidelines here.