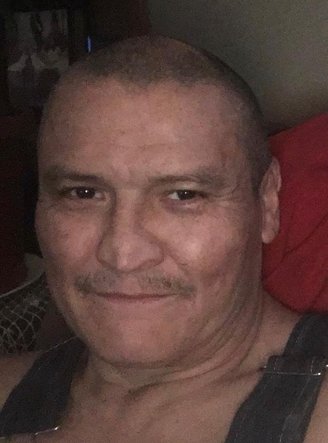 Thomas Eugene Blake, "Elkboy," went to join his brothers, other loved ones and his ancestors on Dec. 28, 2017 at his residence in Hoopa. He was born August 4, 1965 in Hoopa.

Thomas was a Hupa tribal member and a Yurok descendant. He was a certified welder as a trade, and had briefly worked at Humboldt Fabricators, which he enjoyed. He was skilled in traditional design elk horn carving, jewelry, leatherwork and woodwork. He did an art internship with his uncle George "Portie" Blake a number of years ago.
He loved talking with the younger generation in our family. He was their role model and they looked up to, loved and admired him for just being. The kids often say he is the strongest man they know.
He lived most of his life in Hoopa. Fishing and hunting were a huge part of his life and upbringing. In the '70s he lived with his mom on Alcatraz during the "Occupation of Alcatraz," where he ran and played with the other children on the island. He had some stories to tell. He was always there to support the family as we faced challenges. He provided in home care for his aunt, Becky, after she had a stroke.
We all counted on him being here amongst us. He was raised with strong spiritual values from both his maternal and paternal families. He is greatly missed by his friends and family. He was with us when we laid his brother OT to rest in October. It is with heavy hearts that we say our final goodbye to one of our beloved again. As we bring his body back to the valley on Saturday, we will be driving him down the east side of the river for one last time by his old stomping grounds and then down the west side of the river to his final resting place.
He is preceded in death by his brothers, Harold "OT", John Luddington; father, Harold "Butch" Blake; his infant daughter, Angel Ferris; his grandparents (maternal) James and Ida Jean Campbell; aunt Becky; uncles "JC" and Thomas Arthur "TC"; (paternal) Harold and Ellen Blake, uncle "Stump," Frankie and Adam Thompson.
He is survived by his daughter, Felicia, and her children, Franki, Evelyn, Clarence and Thomas; his son Thomas Jr.-Redbluff; his youngest Emily Blake, of Sacramento; his mother Hearldine; Auntie Gina; uncle Joe LeMieux and Adrienne; his brothers Frank Reece and Kim; and Craig Reece; (paternal side) Auntie Marilyn; his uncles Virgil, Rittie and Portie Blake; his sister – Shawmalea, Tawny and Daniel Pratt, and Misty; lifelong friend Leslie.
He loved his family, children and grandchildren.
Pallbearers are his son Thomas Jr. and nephews – Timothy Blake, Jonathan Blake, John Blake, Eric Blake, Austin Blake, Luke Reece, Paul Aubrey, Daniel Aubrey and David Blake. Junior "Tom Bears"-Whikil Campbell, Kehniwh Offield and John Blake III and all young cousins and grandkids that he loved.

Honorary Pallbearers — Dean Powell, Ed Severens, Larry Tracy, Curt Dempewolf, Arlen Doolittle, Richard McCreadie, Dennis Jackson and Goobie Perry. Jim Campbell, Kiai Lincoln, Craig Reece, Jr. Cawtep Sylvia, Jake Blake, Tahn Blake, Blake Hostler, Robert Colegrove, Marty Lamebear, Otter Blake, Bruz, Billy Aubrey, Russell Montgomery and Joey Montgomery.
Services being provided by Paul's Chapel. Wake and interment held at his auntie Marilyn Blake's house on Pine Creek Road in Hoopa. Wake begins Saturday evening by 7 p.m. – all are welcome – and services and interment on Sunday at 11 a.m. Food and fellowship to follow.
###
The obituary above was submitted by Thomas Blake's family. The Lost Coast Outpost runs obituaries of Humboldt County residents at no charge. See guidelines here.