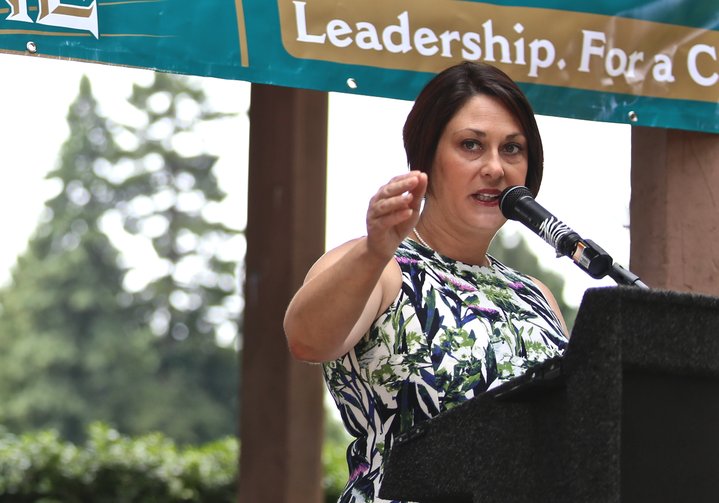 Amid barbecue smoke and the screams of playing children, a crowd gathered around the Sequoia Park gazebo in Eureka today to watch Michelle Costantine announce her candidacy for Eureka Mayor.
"My vision as mayor is to see Eureka become a vibrant, safe, clean and family-oriented city again," Costantine began her speech.
Costantine, who helped start the community action Facebook group "Take Back Eureka," announced her plans to run last month. Her initial statement said that she decided to run after reviewing the other candidates. So far, she will be running against Susan Seaman and Eureka City Council member Heidi Messner.
When asked about how she feels about the other candidates, Costantine told the Outpost that she thinks they're great, but she feels that there needs to be more of a diversity of opinions representing the city. "I just feel like I offer something different than the other two," she said.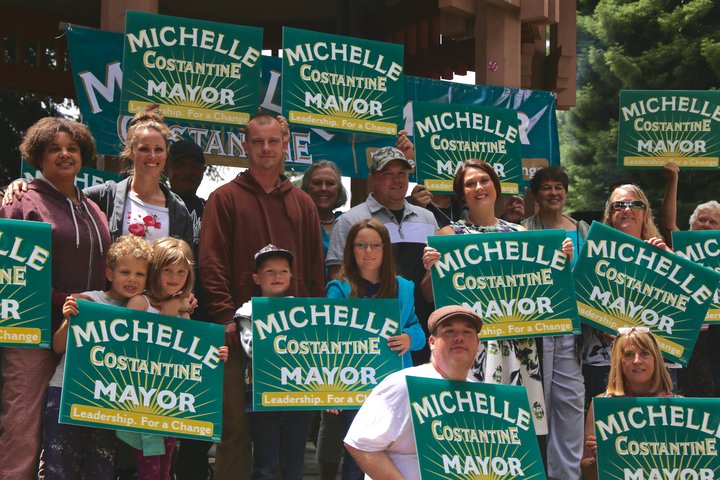 Costantine graduated from Humboldt State University in 2004 and boasts of her over 15 years of marketing and sales experience. She also helps run her husband's local construction business, though she didn't want to tell the Outpost the name of the company.
During her speech, Costantine discussed her enthusiasm for promoting tourism in Eureka's. She voiced her support for the Sequoia Park Zoo Canopy Walk, a tourist train around the bay, promoting an indoor/outdoor recreation area for families and the continuing development of Eureka's Waterfront.
Of course, she also discussed the more serious stuff, such as Eureka's issues with mental health, addiction and homelessness. As a leader of "Take Back Eureka," Costantine has been very vocal about wanting Eureka to implement tighter restrictions on needle exchange programs and she used her speech as an opportunity to "clear up some misinformation" about her views.
"I am not opposed to harm reduction," she said. "I do think that 60 to 100 thousand needles on our street each year is unacceptable. I am supportive of accountable, transparent and responsible state-sponsored programs operating in Eureka. But I believe that needle exchange programs should be one for one."
As Costantine ended her campaign speech, her powerful outro music — Van Halen's "Right Now" — began to play and the crowd rewarded her with enthusiastic applause and hollers.
"I will bring leadership to Eureka. A vote for me is a vote for you," she said.
More information on Michelle Costantine's campaign can be found on the Michelle for Mayor of Eureka Facebook page.

###

PREVIOUS 2018 EUREKA MAYORAL CANDIDATE LAUNCHES: