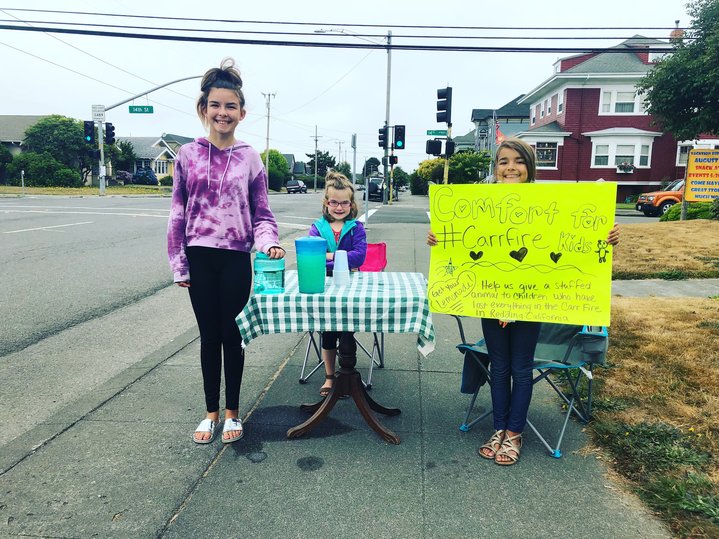 Photos provided by Nikki Kaufmann.
Three Eureka children who recently moved to the area from Redding, have taken it upon themselves to start a lemonade stand this weekend to buy stuffed animals for kids affected by the Carr Fire.

Their mother Nikki Kaufmann told the Outpost that her daughters, 12-year-old Mackenzie, 10-year-old Faith and 6-year-old Ailani, wanted to comfort the children who've been evacuated from their homes this week by bringing them something to cuddle.
"They said that the one thing they would want if their house burnt down was something to snuggle," Kaufmann said. "So they thought of doing a lemonade stand to raise money to purchase stuffed animals for the kids inside of the evacuation centers, which we will deliver next week."
Kaufmann said that all three sisters were born in Redding and that they still consider it their hometown.
"Had we still lived in Redding, we would be evacuated right now and like many of our family and friends, not knowing if we have a home to go back to," Kaufmann said.
The girls set up the lemonade stand for two hours today at the corner of 14th and I Streets in Eureka. Kaufmann said they will reopen the stand tomorrow at the same location from 12 p.m. to 2 p.m., and that the family plans to continue running the stand on weekdays.