UPDATE, Sunday evening: We put up a new post with the latest information.
###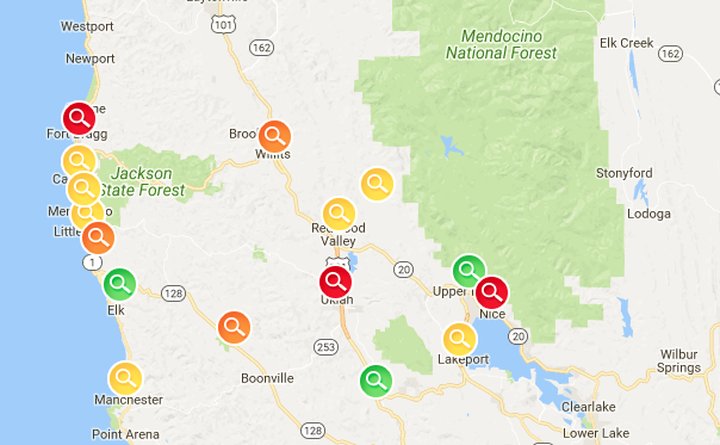 (07/29/18) UPDATE, 6:05 a.m.:
Power has mostly been restored to Mendocino and Lake Counties this morning, after PG&E reported that nearly all of of Mendocino County was without electricity late last night due to heavy smoke interfering with electrical lines.
Nearly 400 customers are still without power in Lakeport, a small fraction of people compared to the tens of thousands who were without power last night.
Senator McGuire tweeted late last night that power began returning to the area around 2 a.m.
#1: @PGE4Me has determined the outage was caused by heavy smoke around the electrical lines (heavy smoke is a conductor of electricity) in the Hwy. 20 area. There continues to be significant fire activity, south of Blue Lakes, on Hwy 20. PG&E crews working the situation.

— Mike McGuire (@ilike_mike) July 29, 2018
###
Nearly all of Mendocino County has gone dark tonight.
PG&E is currently investigating a massive power outage that's swept across the Mendo and Lake County areas tonight, cutting power to tens of thousands of customers.
"Yes, most of the power is out in Mendocino County," Sheriff Tom Allman wrote on Facebook moments ago.
According to PG&E's outages map, more than 5,000 customers are without power in Fort Bragg, Willits, Ukiah, and Nice. While thousands more are without power in the areas of Mendocino and Philo.
Below is a list of the areas most affected by the outage as reported on PG&E's website:
Fort Bragg: 8,416

Ukiah: 7,307
Willits: 5,527
Nice: 5,142
Mendocino: 2,580
Philo: 2,203
Albion: 517
While PG&E is still investigating the cause of the outages, they are almost certainly tied to the River and Ranch Fires currently raging across the southeast end of Mendocino County.
Calfire reports that as of 9:30 p.m., the fires are a combined 14,000 acres in size and 5 percent contained.
However, there is some good news. State Senator Mike McGuire Tweeted out moments ago that PG&E is aware of the massive outages and is working to fix the problem.

"PG&E is working the widespread outage that is impacting significant parts of Mendocino County including Willits, parts of Ukiah, a lot of the Mendocino Coast (including Fort Bragg) and parts of Lake County," McGuire Tweeted. "We are in touch with PG&E representatives, more to report soon."

For the latest updates, check the PG&E map: https://m.pge.com/#outages