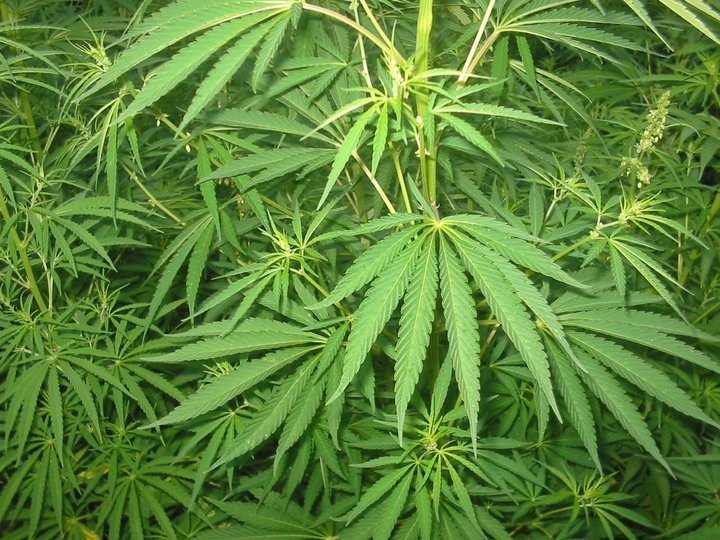 Since legalization of recreational cannabis in California, the City of Arcata has been working hard to figure out just how cannabis retail and services should look in their humble Humboldt town. After many meetings and some fine tuning, the council voted unanimously to adopt City Ordinance No. 1501, which goes into effect on Friday July 6.
The ordinance allows for cannabis retail sales and services in most commercial zones in Arcata, provided that business owners obtain a use permit — restricted to 15 for the city. With two dispensaries already operating in Arcata, that leaves 13 to be dispersed. The ordinance also prohibits any businesses on the Arcata Plaza which focuses primarily on cannabis use.
This was not good news to some people who feel the plaza should have cannabis retail. Though the plaza itself cannot have cannabis shops, the downtown area can have as many as the permits will allow. Other neighborhoods, such as Sunny Brae and the Creamery District are restricted to one permit per 'hood.

The ordinance also allows for "accessory" sales, which does not require a Conditional Use Permit. There is no cap on the number of accessory sales allowed in Arcata and they are allowed on the plaza.

Arcata Senior Planner Joe Mateer told the Outpost that "accessory" use applies to any business that sells a small amount of cannabis products, but it is not their primary business. For example: a clothing store, a laundromat or a coffee shop could potentially also sell cannabis, as long as it's not their "primary" business.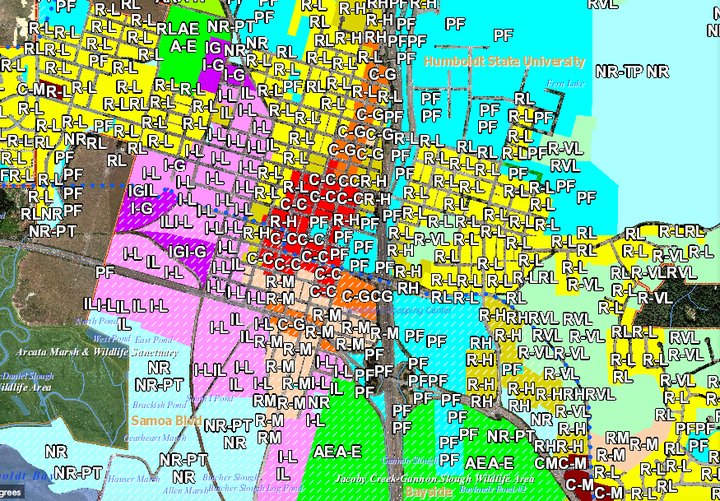 Land Use Map from City of Arcata . The red area is allowed to have cannabis use permits. The red, purple and orange areas are allowed multiple use permits. Dark red areas are allowed only one.

Businesses interested in accessory cannabis sales need to apply for a Commercial Cannabis Activity Permit (CCAP), conveniently available on the City of Arcata's website. Full use cannabis businesses also need the CCAP, as well as the use permit, which is not on the site yet. Both types of businesses would also need a state license from the Bureau of Cannabis Control.

Okay. Does that all make sense? Mateer didn't think it would. So he hosted a workshop at Arcata City Hall on Thursday to help guide folks through the application process.

"This is a new territory and we wanted to make sure people were best prepared to submit a complete application," Mateer told the Outpost.

Of course, the process will be lengthy. Mateer said that each permit can take anywhere from three to six months to approve. Plus, they're not cheap. The CCAP costs $4,250 $2593 for the application and $4148 annually and the Use Permit is $4,400 to apply.
With this possibility for accessory use, Mateer is excited to see what different types of businesses people propose. He already had his own idea for a laundromat/cannabis shop called "Suds n' Buds."

Whatever business ideas you may have, Mateer wants to help make Arcata's transition into a cannabis-retail-friendly city as smooth as possible.

"It's an exciting time for us. A lot of people want to blame cannabis for all of our problems," Mateer said during the workshop. "But the reality is it's legalized in California and we're moving forward."