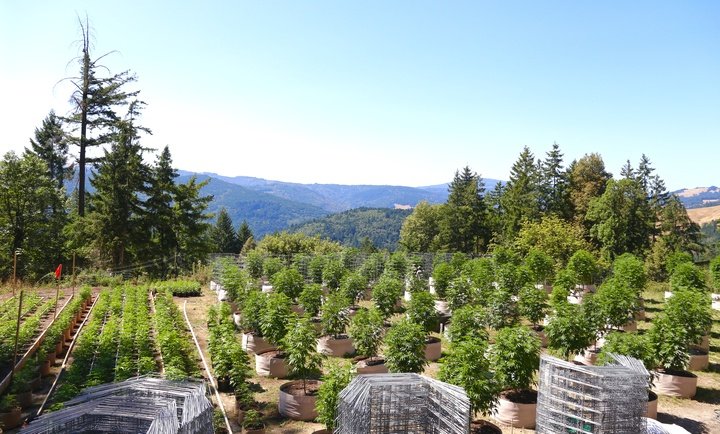 July 1 marked the dawn of a new phase in California's nascent legal weed marketplace. That was the start date for a host of stringent new rules from the state's Bureau of Cannabis Control — rules dictating exactly how marijuana products must be tested, packaged and labeled before being sold to consumers.

Retailers up and down the state held fire sales in recent weeks, hoping to sell all their noncompliant product before that July 1 deadline arrived, forcing them to destroy whatever was left over.
Now that we're on the other side of that date the industry is facing a new set of challenges: Namely, bottlenecks in the supply chain are leaving some retailers and distributors scrambling to find products that comply with the state's new rules.
"We've gotten multiple calls a day over the past two weeks from retailers begging for product," said Chris Coulombe, CEO of Pacific Expeditors, a Santa Rosa-based consulting and distribution company that carries several Humboldt-based brands. "We have completely sold out of all our inventory," he told the Outpost last week.
Part of the problem is that there simply aren't yet enough laboratories in the state equipped to perform the expensive and complex testing the government now requires. Any product manufactured or harvested after June 30 must be analyzed for 65 different chemical compounds, with strict limits on the allowable concentrations of residual solvents, pesticides and foreign materials.
Ray Markland, manager of Eureka weed shop EcoCann, sent us images showing what a passing compliance certificate looks like (see here and here). There are currently less than two dozens labs in the state capable of performing such tests.
The state also implemented a long list of new labeling and packaging requirements, including child-resistant and tamper-evident packaging, unique identifiers on all products, government warnings, dosage information, instructions for use and more.
All these new rules are creating a logjam that's choking off much of the supply for distributors and retailers, and while that's causing headaches across much of the industry, some local entrepreneurs are taking advantage of the situation, according to Humboldt County Growers Alliance Executive Director Terra Carver.
"I'm getting calls every day from Los Angeles [companies] looking for compliant Humboldt product," she said. And members of her industry group are stepping up to meet that demand. The HCGA now has an online platform allowing members to connect with distributors in real time, which gives growers direct access to the supply chain.
"That's been really cool to see it all happening," Carver said. "The regulated market hasn't really started until this week, and it coincides perfectly with our first big light-deprivation harvest. We have fresh product coming down from the hills right now."
Local retailers, meanwhile, began planning for the July 1 transition weeks ago. Markland said he started pre-ordering six weeks ago to ensure that EcoCann had products on the shelves this month, and he managed to secure around 20 strains of flower, their most popular form of weed. But the delays at testing labs have had an impact, especially on concentrates and edibles.
"A lot of the brands our customers like are not readily available right now," Markland said, though he noted that a "steady trickle" of those products are coming back to his shelves. Concentrates can have a harder time meeting the state's testing requirements, he explained, because the production process also concentrates whatever contaminants were in the source flowers.
"The hardest thing for us is just letting customers know that we're doing everything we can to get them their product and their medicine," Markland said.
Mariellen Jurkovic, director of Humboldt Patient Resource Center, said they too have less variety than their customers and patients are accustomed to, in part because of the costs of testing. Each strain has to be tested separately, which costs nearly $1,000 per batch, Jurkovic said. In the past, HPRC would grow as many as 18 different strains under 18 grow lights, but under the new system that method is cost-prohibitive.
Still, Jurkovic said, "We're in a pretty comfortable place." While some patients are upset that they're unable to get the products they've been taking for years, others are excited about the new products that are becoming available. And Jurkovic said that despite the backup at testing facilities, she's happy such testing is now required.
"We've always tested here; now everything's tested," she said. "That's probably my favorite thing about the new regulations."
She's not a fan of all the new rules, though, and she said finding compliant packaging has been a challenge. She's also worried about how Humboldt County's famous marijuana industry will weather this current transition.
"I'm always concerned about Humboldt, and I hope Humboldt stays vital," she said. "We've had distributors say, 'We're not going to drive up there if you don't order $10,000 [worth of product].' Some [growers] are having trouble finding distributors because they can't supply enough units."
Given the massive indoor grows and efficient distribution channels present in the state's population centers, Humboldt County has some major built-in disadvantages, and they've taken a toll. "It's just very expensive right now, and it's sad for me," Jurkovic said. "I know a lot of the vendors, the small ones — not seeing them survive … it's been hard."
She suggested the region needs to work on developing more weed tourism as well as infrastructure like a commercial kitchen for processing cannabis edibles. And ultimately, she said, cannabis needs to be decriminalized federally so local growers have access to customers around the country.
But in the meantime, the new state marketplace is providing opportunities for those local growers who've managed to line up their state and local permits and who can provide the cannabis that's now in such high demand.
For her part, Carver is thrilled.
"What an exciting time," she said. "People have been waiting and working for years to get to this point, and it's finally here. And I couldn't be more proud of our membership for their hard work to get here. This is truly a great moment."