Belinda was born to Gladys and LV Egger on Halloween night under a full moon in Macon, Georgia.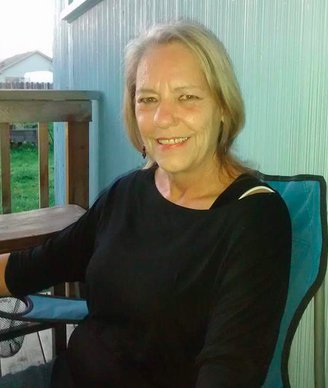 To those who knew Belinda over the past seven years, they saw a strong woman battling a diagnosis that became her world. People who didn't know the Belinda prior to the diagnosis missed out on the opportunity to meet the other Belinda, the one who was a warrior her entire life, the mom, the grandma, the friend; the strong, stubborn, hardworking woman who did anything and everything for her four girls and who became the mom to all her girl's friends.

Belinda leaves behind a legacy of strong women who love hard and fight fearlessly, who are willing to go to war to protect their families at any time but do so with grace. Belinda adored each of her "favorite" grandkids, who each inherited her fierce pixie spirit and love of their families.

Belinda is survived by her four girls: Katrina, Amber, Amy and Jennifer; their spouses Chris, Erin and Beci; and all her "favorite" grandkids: Brooke & Trevor, Karlye, Koen & Kendal, Emily, Sarah, Corbyn, Dayna & Rachel, Austin, Jace & Skarlett, and her great grandson Joshua, who adored his "ol' lady" and Joshua's mom Aleia; her brothers Bill, Dallas, Wally, Kenny, Randy and their families.
Waiting in heaven for Belinda are her parents Gladys and LV, siblings Bonnie Kay, Dale and Paulette; her first love Kenny Lemons, who passed away one month prior to the birth of their daughter Katrina; Dusty Mausa, who Belinda always butted heads with, and is the father of her youngest daughter Jennifer as well as her nephew Cliff Egger who will be waiting on the nearest baseball diamond.

To Theresa Williamson who is her longest lasting friend, she loved you beyond words and time; you were there for her when she was young and crazy and supported her through her journey, always vowing to love her girls just as she did. She loved you and will wait patiently to party with you in heaven.

Belinda's family would like to thank all the people who supported Belinda during her fight. A special thank you to her niece Maria Ruth for her love, support and selfless generosity making this time of sorrow more bearable. To the St Joseph Hospital Chemo Clinic Staff, who were always available to support Belinda and her family, who spent countless hours helping her in her battle against cancer, who traveled with Belinda to Santa Rosa at the start of her fight to learn new ways to administer her chemotherapy so Belinda could have her treatment at home. Belinda always felt especially close to Cindy Slater, always felt Cindy was her light during her darkest hours and was a special angel sent to take care of her.
Dr. Richa, who never gave up on Belinda, who always found a new way for Belinda to keep fighting her battle, who always kept a positive outlook and who refused to give her a time limit on life. Dr. Dieker, who would always come pray with Belinda at any time she needed a boost in spirit. Dr. Ellen Mahoney, who from the day of diagnosis made sure Belinda received the best care possible, who was with her during Belinda's seven year battle, who stayed by her side until the very end. Resolution Care and Staff for all their support over the years; Dr. Fratkin who supported Belinda from the start of her battle until the end. Kat Cummings, who came out to see Belinda at home and was very supportive to Belinda and her family. Carl, who Belinda loved to look at and pray with, who Belinda could share all her thoughts, worries and fears with while gazing into his beautiful eyes.
Belinda's memorial service will be held at Ocean view Cemetery Saturday July 7th at 3 p.m. for those would like to attend. In lieu of flowers or gifts, the family requests any donations be sent to "Project Hope Fund", under the care of St Joseph Hospital Foundation, who provide financial support to local patients undergoing cancer treatment. SJH Foundation can be contacted at 707-269-4200.
# # #
The obituary above was submitted on behalf of Belinda's family. The Lost Coast Outpost runs obituaries of Humboldt County residents at no charge. See guidelines here.