PREVIOUSLY:
Instead of being sentenced to two possible life terms in state prison, today convicted murderer Jon David Goldberg was given some hope for a new trial.

"The defense has established to the court's satisfaction that jury misconduct took place," visiting Judge Graham Cribbs announced this morning after reviewing a motion for new trial filed by Deputy Public Defender Casey Russo. The defense attorney filed the motion claiming jury misconduct and prosecutorial misconduct occurred during Goldberg's weeks-long trial, which ended March 23 with convictions for second-degree murder and a firearms enhancement that could add 25 years to life to his 15-to-life sentence for murder.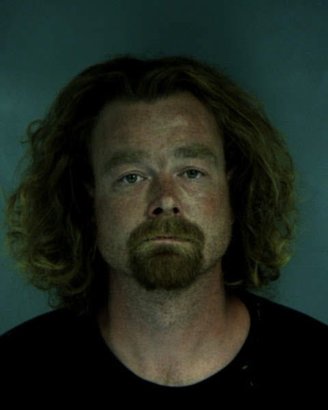 Cribbs ruled there was no misconduct by the prosecution, but said enough information was presented about jury misbehavior to warrant an evidentiary hearing on the matter. All 12 former jurors must be "rounded up" and questioned, Cribbs said.
No details were given about what jurors might have done wrong. But during the trial Cribbs, after hearing some jurors had been openly discussing the case, admonished them to "keep your mouths zipped" when they were outside the jury deliberation room.
The evidentiary hearing has been scheduled for Oct. 15. Then it will be up to Cribbs to decide whether the misconduct was serious enough to warrant a new trial for Goldberg, convicted of shooting his wife's boyfriend Timothy Smith to death outside Smith's home in Fortuna.
This morning one side of the courtroom was packed with Smith's family members and friends, who left looking somber after the judge announced his ruling. Goldberg's parents, who live in the Bay Area, were also in the courtroom.
Cribbs said he had also viewed a declaration, "signed under penalty of perjury," from one of the former jurors. He said it would be up to the prosecution to prove that statement untrue and convince him "the court should disregard that declaration."
Deputy District Attorney Luke Bernthal, who prosecuted Goldberg, requested that personal information on jurors be unsealed so they can be contacted.
Goldberg, 37, learned on the morning of Sept. 26, 2016, that his wife Rachel was having an affair with Smith. Both worked at Bridgeville Elementary School. Later that day, Jon Goldberg drove his van to Smith's home on Rohnerville Road and shot him five times.
Goldberg claimed self-defense, saying Smith reached for a gun in his pickup truck and then lunged at him, grabbing the hand holding his .357 revolver. He said the first shot was accidental, but he kept firing until Smith released his wrist.
In addition to a motion for new trial, Russo filed a motion asking the judge to dismiss the firearms conviction. Judges are allowed to dismiss that charge "in the interest of justice."
Cribbs issued no ruling on that issue and stressed that while the jury misconduct issue is pending, Goldberg's status will not change.
"As of now Mr. Goldberg remains convicted of second-degree murder," the judge said.
It's rare for a judge to find jury misconduct and investigate the possibility of a second trial, as Cribbs, a judge for 28 years, noted today.
"It has been a long time since I've been down this avenue," he said.
Before the hearing started this morning, Russo was disappointed to learn that Goldberg would not be wearing a suit as he had requested. Instead he appeared in his orange jail jumpsuit.
"I have denied that request," Cribbs told Russo. "It's not the jail's decision; it's my decision."
But when a courtroom bailiff told Russo that Goldberg would have to sit in the jury box instead of beside him at the counsel table, the judge nixed that idea.
"Mr. Goldberg is going to sit next to Mr. Russo," Cribbs told the bailiff.
Cribbs also warned audience members with cellphones not to use them as cameras.
"Do not take any pictures of Mr. Goldberg, period period period," he said. "What goes on in here stays in here."