PREVIOUSLY:
###
Eureka city government has "parted ways" with longtime city attorney Cyndy Day-Wilson, and will soon sign a "resignation agreement" with her.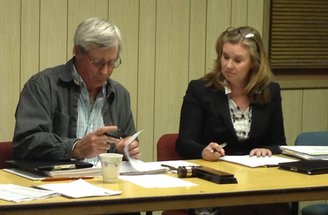 The decision — which was a unanimous, "consensus" decision by the council, according to City Manager Greg Sparks — came at the end of an hour-long closed session meeting this afternoon. The meeting had been classified in the agenda as dealing with the discipline or possible termination of an employee.
Sparks said that the terms of the resignation agreement that the council opted to support this afternoon will be made public after it is finalized. Local attorney Lawrence Kluck, who is representing Day-Wilson, was in attendance, and met separately with Sparks as the council deliberated.
Sparks could not speak to the reasons for the separation, but did characterize it as a "mutual parting of ways."
Day-Wilson was hired by the city in late 2011, and has been at the center of a fair number of controversies in the years since.
City Councilmember Lance Madsen, who passed away in early 2014, left his fellow councilmembers a notarized letter, posthumously revealed, that accused Day-Wilson of misconduct by sharing sensitive information with fellow staff members. She scrapped bitterly with the North Coast Journal – publisher of the above story – on several occasions, issuing a press release that complained about the paper's Public Records Act requests and fighting a costly, losing legal battle against the paper to keep police body cam footage secret.
Day-Wilson earned some $218,000 in salary and benefits in 2016, the most recent year on record in the Transparent California database of public employee salaries.
After announcing the decision this afternoon, Mayor Frank Jager thanked Day-Wilson for her years of service to the city.
Councilmember Kim Bergel is out of town on vacation and was not in attendance.