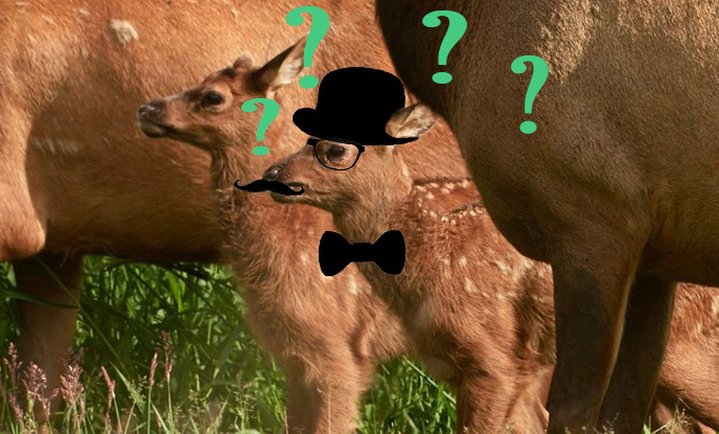 California Department of Fish & Wildlife press release:

CDFW wants to know if, when and where you've seen an elk in California – and they've just created a new online reporting tool that makes it easy for members of the public to share this information.

CDFW scientists will use the raw data to help guide their efforts to study statewide elk distribution, migration patterns and herd movement, population size estimates, habitat use, health and diseases, and causes of mortality.

"We have limited resources and our scientists cannot scan the entire landscape," explained CDFW Senior Environmental Scientist Pete Figura. "This tool provides a way for us to leverage the many sightings of the wildlife-watching public. People often get excited when they see elk, and hopefully now they will channel that excitement by reporting the location and time of their sighting to our department."

There are three subspecies of elk in the state — tule, Rocky Mountain and Roosevelt — and all three have expanded their range in recent years according to Figura.

CDFW has elk studies underway in the northern part of the state: one is focused on Roosevelt elk in Humboldt and Del Norte counties, and the other is focused on elk in Siskiyou and Modoc counties. Tracking and studying such a large mammal is a complex undertaking as elk herds are wide-ranging, and often graze and browse in areas that are not easily accessible, and there are only so many scientists to monitor their movements.

The launch of the reporting tool is just the latest effort to enhance the management of elk in California. Last year CDFW released a public draft of the Statewide Elk Conservation and Management Plan that addresses historical and current geographic range, habitat conditions and trends, and major factors affecting elk in California.

The plan will provide guidance and direction for setting priorities for elk management efforts statewide. CDFW is reviewing public comments on the plan and will incorporate appropriate changes into the final document prior to its release, which is expected soon.

CDFW Wildlife Branch Chief Kari Lewis has termed the plan an "important milestone" and explained that public feedback is a critical part of shaping the effort, which emphasizes a sharing of resources and collaboration with all parties interested in elk and elk management. This, she said, is essential to effectively managing California's elk populations.

For more information about elk in California, please visit CDFW's elk management webpage.

CDFW File Photo. Top photo: Group of Tule Elk.