PREVIOUSLY:
###
Jurors in the trial of Jon David Goldberg, accused of shooting his wife's lover to death in September 2016, heard testimony Wednesday that before he allegedly killed the boyfriend he fired gunshots around his unfaithful wife.
Prosecution witness Frieda Smith, a friend of Rachel Goldberg, also testified that Goldberg and his wife got into physical fights, and Rachel sometimes stayed home from work because of her injuries. Other times, she came to work at Bridgeville Elementary School with her wounds on display.
"I've seen her arms covered in bruises, her legs covered in bruises, and she would openly admit to me that it was from her husband," Smith testified under questioning by Deputy District Attorney Luke Bernthal.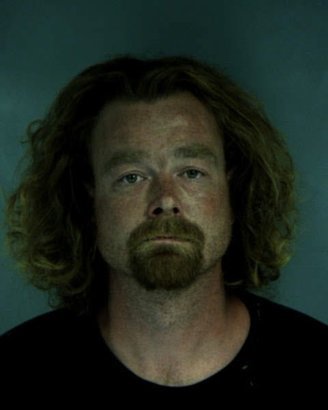 Under cross examination by Deputy Public Defender Casey Russo, representing Goldberg, Smith agreed that Rachel had characterized the fights as "going both ways."
Frieda Smith was called as a witness during the second day of Goldberg's murder trial. He is charged with killing 42-year-old
Timothy Smith, a popular Fortuna volunteer fireman. Goldberg had learned hours earlier that Smith, a man he considered a friend, had been having an affair with his wife.
Frieda Smith, no relation to Timothy Smith, essentially duplicated the testimony she gave during a preliminary hearing in April 2017. She recounted a harrowing day with Rachel Goldberg, who called her the morning of the murder crying, begging her to come and pick her up at her home near Bridgeville.
Both women worked at Bridgeville Elementary School, with Rachel driving the van that picked up kids for school. She didn't show up that morning, and then she called Smith asking for help.
"She mentioned that Jon had been drinking and that he had guns, and she needed me to come and pick her up," Smith said.
When she arrived at Jon and Rachel's home, "I found Rachel standing outside the shop/house where they were living, (along with) her son David and her bags packed, ready to go."
On the way down the mountain, Smith said, she told Rachel they would go to a safe place — the school where they both worked.
"She said she could not go back to the school, that she had slept with Tim and she need to quit her job," Smith recalled.
The day went on, with Rachel Goldberg distraught. She spent most of the time crying, Smith said, and she was desperate to reach Tim Smith. Rachel Goldberg was planning to leave town with her son.
"It's the last time I'm ever going to talk with him," Rachel reportedly told Smith. "It's the last time I've ever going to talk to him."
While Frieda Smith was doing errands in Fortuna, they heard sirens and saw a fire engine pull out from the station. Rachel was panicky, Smith said, and they drove out toward Smith's home on Rohnerville Road. Traffic was blocked, but they could see an ambulance and police officers at Tim Smith's home.
They couldn't see that he was lying on the ground dead, shot five times next to the red Ford pickup truck parked outside his home.
When Smith and Rachel Goldberg learned of Smith's death they drove to the Fortuna Police Department, ending up there for five hours. Rachel had been crying and upset all day, Smith recalled, but by the end of the day she had calmed down. The two women were saying good-bye when Rachel "unloaded" on her, Smith testified.
"She basically just let it all out," Smith recalled. "She told me everything that had happened between her and Jon that morning. … She told me that Jon had been firing shots at her that morning and he had been regularly abusing her."
Under cross-examination by Russo, Smith acknowledged she had previously testified that Rachel told her Jon fired shots "around" her, not at her.
Russo contends that when Goldberg showed up at Timothy Smith's house, he didn't know what to expect because Smith's wife had told him she'd kicked him out. When Goldberg arrived, he first saw Smith's red truck. He approached with his loaded gun, Russo says, and Smith reached quickly into his pickup truck. Russo said Goldberg thought he might be going for a gun. Then, Russo said, Smith rushed at Goldberg and the gun went off.
After the first shot to the chest, Goldberg fired again and Smith fell. He was shot three more times in the back as he lay on the sidewalk.
Russo said during his opening statement to the jury that the Fortuna Police Department did a sloppy job on the case. On Wednesday he cross-examined Fortuna police Detective Ryan Richardson, the lead investigator.
Richardson acknowledged that Timothy Smith's truck was never searched, even though Smith's wife had told police he had guns in the truck. The Smith residence also was never searched.
Testimony was expected to continue this morning before visiting Judge Graham Cribbs. Fortuna police Detective Brian Taylor had just begun to testify Wednesday when Russo was overcome by a coughing spell and the judge dismissed the jury for the day.