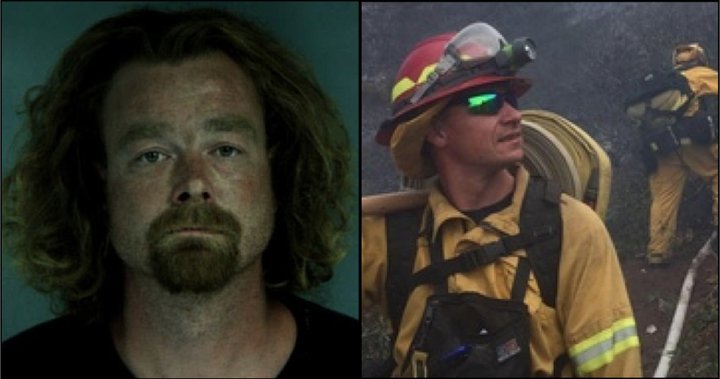 Jon David Goldberg either committed premeditated, cold-blooded murder when he killed his wife's boyfriend in September 2016, or he was acting out of fear and confusion and his gun fired during a chaotic encounter between the two men.

This morning attorneys presented their opening statements to the jury that will decide the guilt or innocence of the 37-year-old Goldberg, charged with gunning down Fortuna resident Timothy Smith, 42, in the front yard of his home on Rohnerville Road.
Deputy District Attorney Luke Bernthal described the killing as planned and well-thought-out, noting Goldberg told a neighbor earlier on the day of the shooting that he was going to kill Tim Smith. Then Goldberg had plenty of time to reflect as he traveled from his home near Bridgeville to Smith's house on Rohnerville Road.
"He loaded a .357-magnum revolver," Bernthal said. "He got in his mini-van and drove down his long dirt driveway. He drove down a winding road. … It was a 36-mile drive."
Once he arrived at Smith's home, the prosecutor said, Goldberg saw Smith outside and "sprinted" toward him, shooting the unarmed man once in the chest. He kept firing, Bernthal said, and when Smith hit the ground he stood over him and shot him three more times.
Bernthal pointed to autopsy photos on display in the courtroom, indicating three holes in Smith's back.
"Here, here, and then here," said.
Goldberg had learned early that morning that Smith was having an affair with his wife of eight years, Rachel Goldberg. Rachel was forced to confess to her husband after Jessica Springer, Smith's wife, found nude photos of Rachel on Smith's cellphone.
"I found the pictures you and Tim have been sending each other," Springer said in a text to Rachel Goldberg at 2 a.m. on Sept. 26, 2016. "I kicked him out. I think you should tell your husband."
Bernthal said that after Rachel admitted the affair, Goldberg attacked her, took her car and money and then left. He drove to Fortuna, either to try to buy a cellphone or to drive slowly by Smith's house, as Bernthal contends. While he was gone Rachel called a friend to come and get her and her 6-year-old son. She had her bags packed.
"She was fleeing," Bernthal said.
Rachel and her friend encountered Goldberg on Highway 36 as he was driving back to Bridgeville. Goldberg then drove to a neighbor's home, using the neighbor's phone to call his wife and accuse her of kidnapping their son. He demanded she come home, the prosecutor said.
"When he got back he went down to see one of his neighbors," Bernthal said. "(The neighbor) could see how angry he was."
"I'm going to kill Tim Smith," Goldberg reportedly told the neighbor, who responded "Is it worth it? Think about your family."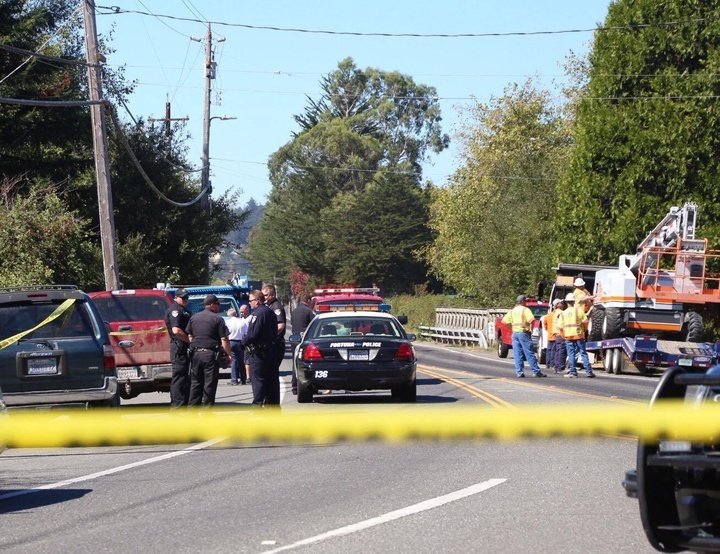 But Goldberg made the decision, Bernthal said, to drive to Smith's home "where he shoots Mr. Smith to death just a few yards away from his wife, just a few yards away from his son. … Mr. Smith bleeds to death there while the defendant runs away."
Goldberg supposedly had gone to Smith's home to talk with his wife. He texted her and said he was on his way.
She responded that he didn't have to come all that way because she had kicked Tim out and didn't know if he would be there.
"If you want to punch him in the face I'll help you find him," Springer wrote.
She also apologized to Goldberg, saying she was so sorry that "my world hurt your world."
"The defendant's response to that was to shoot her husband five times," Bernthal told the jury. … "I am going to ask you for a verdict of first-degree, premeditated murder."
Goldberg, wearing a dark-blue suit, sat quietly next to his attorney, Deputy Public Defender Casey Russo. In his opening statement, Russo painted a sympathetic portrait of Goldberg as a man devastated by news that his wife was having sex with a man he thought was his friend.
He referred to the killing as part of a "perfect storm," in which a rare combination of factors led to a tragedy that Goldberg will always regret.
Goldberg moved to Humboldt County because he wanted a simple country life on his own property, Russo said. He described Goldberg as a man with no criminal record, a man who had "never even been in a fist fight in his life."
"He's not a gun guy," Russo said. "He owned a few guns passed down by his grandfather. He's never even actually hunted. He's never shot an animal."
Goldberg's life was "turned up-side down" when he found out his wife was sleeping with Smith, Russo said.
Russo said Rachel Goldberg and Tim Smith got acquainted because she took a job driving a van for the school in Bridgeville. Smith was leaving that job, and he was helping her learn. But over the course of about two months, Russo said, the two began having sex.
Goldberg is "kind of a homebody" with few close friends, Russo said. He enjoyed spending time with Smith, who was an avid hunter and fisherman.
"My client thinks he's getting a friend," Russo said, "somebody who can show his son some things. Mr. Smith comes over for dinner, and all the while he's working on having an affair with Rachel Goldberg."
The day before the shooting, the Goldbergs and their son had gone on a fishing trip with Smith. During that trip Smith told him he was going hunting the following day and showed him some of his guns.
When Goldberg learned of the affair he was crying, devastated and confused, Russo said. He started drinking shots of hard alcohol at 5 a.m. And he took his gun and started firing shots in the woods around his property.
Russo said it's "absolutely not true" that Goldberg attacked his wife. He also disputed that Goldberg told a neighbor he was going to kill Smith.
Goldberg drove to Fortuna not to see Smith but to talk to Smith's wife, Russo said. She had told him Tim Smith had been kicked out and probably wouldn't be there.
"He pulls up and Tim Smith's truck is there," Russo told the jury. "Mr. Goldberg doesn't see Tim Smith. He's confused. …"He gets out of the car not sure what to expect. He takes the revolver."
Goldberg realized the doors were open on Smith's red truck. Goldberg then spotted Smith and said something like "I thought you were my friend."
Russo said Smith "quickly reaches into his truck," where Goldberg knew Smith's guns might be. Russo said Goldberg thought Smith might be going for a gun. Then, Russo said, Smith "immediately rushes toward my client, and the gun went off during a very chaotic moment."
As for Goldberg shooting Smith four more times, Russo said this is "not unusual in the heat of a highly charged moment," when a person can go into "fight or flight" mode and continue firing. A psychiatrist is expected to testify during the trial.
Goldberg also will take the stand to tell his story, Russo told the jury. Whether Rachel Goldberg will show up is another matter. She has been issued a subpoena, but she refused to testify against her husband during the preliminary hearing, even after being held in contempt of court.
Visiting Judge Graham Cribbs is presiding over the trial. The prosecution's witness today was Fortuna police Officer Ryan Richardson, the first officer on the scene of the shooting. Richardson said Smith was already dead, and his wife and son were standing there in shock, trying to console one another.
Testimony was expected to continue tomorrow morning.
PREVIOUSLY: