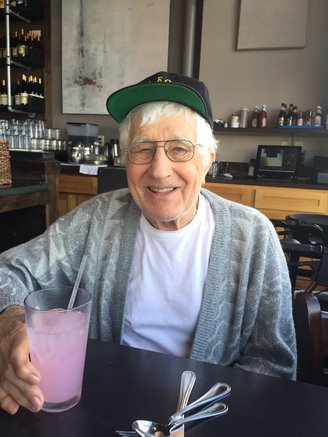 Our beloved father, Frank Schmidt, passed away on February 26, 2018 of natural causes with family by his side at Timber Ridge in Eureka.

Frank was born in Richmond Hill, Queens New York City, on September 25, 1925. He graduated with the Class of 1943 from South Side High School in Rockville Center, New York. At seventeen years old, Dad proudly served our country during WW II in the U.S. Navy as a radio man from 1943-1946, serving on destroyer escorts throughout the Pacific.
After the war he attended Michigan State College, and graduated in 1950 with a Bachelor of Science in Agriculture. He continued to serve in the U.S. Navy Ready Reserve Force from 1947-1963.
Frank moved to the West Coast and was the first employee at Western Timber Services in Roseburg, Oregon.
Frank married Phyllis Lou Givens on April 11, 1963 and became step dad to Everett, Marsha and Janice. Frank and Phyllis welcomed a baby boy, Allan, in August 1964. Frank retired in 1987 from the State Board of Equalization, Timber Tax Division. This culminated his 40 years of work with many public and private agencies.
Frank was an active and civic-minded individual. He was a member of Friends of Arcata Marsh, Navy League, U.S. Veterans for Peace, Eureka Branch of the NAACP (Past President), Presbyterian Church, Arcata (Elder and Deacon), U.S.S. Rolf Reunion Group, several Navy Reserve Reunion groups, and a 50-year Gold Member of the Society of American Foresters. He volunteered to take elementary students at Ridgewood School on environmental walks around their school and was known as "Forester Frank." He also volunteered as a Pen Pal at Dow's Prairie School, and a Reading Volunteer at Equinox School. Along with Joe Cruz, Dewey Dolf and Art Woods, Dad was instrumental in obtaining and developing the location of the Arcata Little League Complex. He went on to serve as a Board Member and volunteer at the Little League Park and was affectionately known as "The Recycling Guy."
Frank is predeceased by his parents Frank F. Schmidt and Caroline Schmidt, sister and brother-in-law Helen and Walter Vetter, brother-in-law Ted Thomas, sister and brother-in-law Mary and Arnold Zachow and their daughter Sherida. Frank also lost his beloved wife, Phyllis, in 2012.
Frank is survived by his sister, Adrienne Thomas, children, Everett Givens (wife Deborah), Marsha Lakmann, Janice Crossland (husband Donald), Allan Schmidt (wife Jan), grandchildren Roxanne Crane, Justin Crossland (wife Nikki), Daniel LaBolle (wife Chelsey), Kristie Battilocchi (husband Jeff), Jessica Perkins (husband Rhys), Simon Givens, Sophie Givens, great-grandchildren, Angela Stephenson, Michael Sims, Gabriella Calvery, Thaddeus Crossland, Thatcher Crossland, Nathan LaBolle, great-great-grandchildren, Tyler Sims, Maddison Marlton, Alexander Sims and Olivia Marlton. He is also survived by many loving nieces and nephews.
A Celebration of Life will be held on Saturday, May 19, 2018 at the Arcata Presbyterian Church (11th & G Streets) under the direction of Reverend Dan Link. It will begin at 11 a.m. and lunch will be served afterwards. Friends and family are invited to come together to honor and share stories about this wonderful man. In lieu of flowers, you may choose to make a donation to a charity of your choice.
The family would like to thank the staffs of Alder Bay and Timber Ridge, Renaissance, in Eureka for the care and concern they showed our father over the past two years. We would also like to thank his long-time physician, Dr. Christopher Lee.
###
The obituary above was submitted on behalf of Frank Schmidt's family. The Lost Coast Outpost runs obituaries of Humboldt County residents at no charge. See guidelines here.