Murder suspect Jon Goldberg told a psychologist he shot Timothy Smith by accident when Smith grabbed his gun, the psychologist testified yesterday.

Clinical and forensic psychologist Andrew Renouf, hired by the defense, said Goldberg told him that when he arrived at Smith's house he was "surprised and shocked" to see Smith home. Goldberg said Smith walked out of his house and "smirked" at him, then realized that Goldberg had a gun.
Smith then reached into his pickup truck, where Goldberg believed Smith kept his hunting guns, and Goldberg drew his weapon.
"Mr. Smith rushed at him and grabbed the gun and it went off," Renouf said Goldberg told him.
"He fired several more times; he didn't know why."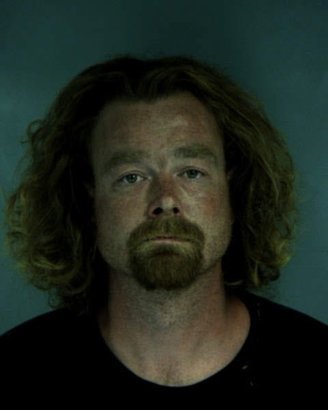 Renouf said that in his opinion, Goldberg has no mental health problems or personality disorders. He also has no unusual propensity for anger and aggression, and in fact is the type of person who would try hard to control his anger.
But under extreme stress, Renouf said, a normal person may not think clearly and rationally.
Goldberg is accused of shooting Smith to death on Sept. 26, 2016, a few hours after he learned his wife Rachel and Smith were having an affair.
Deputy District Attorney Luke Bernthal informed Renouf of several facts he didn't know. He didn't know that after the shooting, Goldberg had a friend drive him home. Goldberg told Renouf he was having car problems, so he abandoned his car and hitch-hiked home.
He also didn't tell Renouf that about an hour before killing Smith, he told his neighbor "I'm going to kill that motherfucker."
"There was no discussion of that," Renouf said.
Renouf summarized Goldberg's attitude toward the shooting as feeling threatened and being prepared to defend himself, "but the actual shooting was accidental."
Bernthal asked whether Goldberg told him the second shot was accidental.
"He made no statement about that."
"Did he tell you the third shot was accidental?
"He made no statement about that."
And on down through the fifth shot.
"Did he talk about how he had to angle his firearm down to continue shooting Mr. Smith?"
"No."
Renouf testified under questioning by Deputy Public Defender Casey Russo that when a person is under extreme stress and not thinking rationally, it can be difficult to stop an action he's already started.
This afternoon Russo also called Goldberg's mother and cousin to testify on his behalf.
Janet Goldberg, holding back tears, said her son called her the morning of the shooting and told her he'd just learned his wife was in a relationship with Smith.
"He was just devastated," the mother recalled. "He was very quiet, speaking slowly … He didn't really know what to do. He was kind of lost."
Janet Goldberg got a very different kind of call from her son after Smith was shot dead.
"He was totally crazed," she said:
"Mom, I just shot a man."
"Oh my God! Is he dead?"
She doesn't remember whether he answered that question, but he told her he would be going away for awhile. She took that to mean he was going to jail.
Bernthal, cross-examining Janet Goldberg, asked whether her son had told her he shot in self-defense, or that the shooting was an accident.
"He didn't say any of those things."
Janet Goldberg said her son was never in trouble as a boy, never got in a fight. She said he was a peaceful, non-violent person.
"Would it change your opinion to hear that less than an hour before the shooting, the defendant said 'I'm going to kill that motherfucker' "?
"No. That doesn't sound like Jon at all."
Both Janet Goldberg and her cousin Pamela Singh, whom Goldberg calls "Aunt Pam," had some harsh words to say about Rachel Goldberg. She would drink and become combative, they said, screaming "You don't love me!" at her husband or anyone else around.
Goldberg's response, they said, was to put his arms around Rachel and tell her he loved her, that everything was going to be OK.
Rachel Goldberg, finishing up her testimony yesterday as a defense witness, refused to say anything incriminating against her husband. This was despite the fact that, over and over, Bernthal discredited her testimony with recorded or written statements she had made.
Rachel's standard response to nearly every prosecution question was "I don't remember." Confronted with recorded statements she made to police and a defense investigator, she only acknowledged it was her voice on the recording.
She continued to say she had not seen Goldberg with a gun the day of the shooting. Bernthal, showing her the investigator's report, reminded her she had said "I first noticed that Jon had a gun after he'd been drinking."
Rachel also told the investigator she "saw Jon come out of the shop and he was holding a handgun."
Yesterday she testified her husband was sad, not angry, when he learned she was having an affair with Smith. But previously she said he became more and more "angry, irate and frustrated."
She did admit that on the day of the killing, Goldberg called her "a dirty bitch." And she recalled him telling her she was not allowed to leave their property and she didn't deserve to have David, their then 6-year-old son.
"So you remember these things," Bernthal said, "but not him having a gun."
"I don't remember a lot of things, Sir."
Testimony was expected to continue today before visiting Judge Graham Cribbs, who is presiding over the trial. Goldberg himself is scheduled to take the stand at some point.
###
PREVIOUSLY: