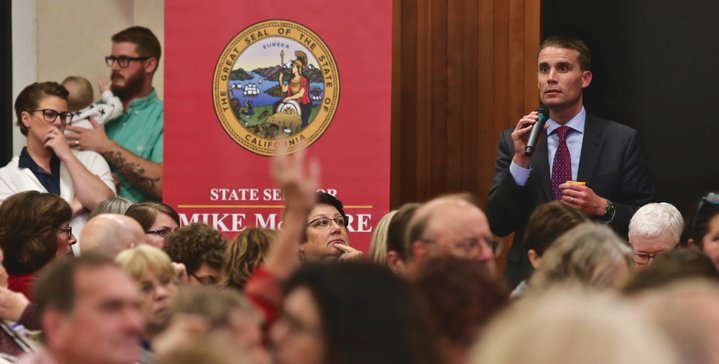 Last November local officials held a big ol' town hall meeting to have a conversation about Humboldt's addiction woes. This Thursday they'll hold a similar event so we can all update each other on how things are going.
More details in the release from the office of California State Senator Mike McGuire below:
Senator Mike McGuire and Humboldt County Supervisor Virginia Bass are bringing together an impressive group of statewide experts, health professionals, local leaders and addiction specialists to hear about progress being made to combat the ongoing opioid crisis on the North Coast.

Last November, Senator Mike McGuire and Humboldt County Supervisor Virginia Bass brought the community together for a collaborative conversation about the opioid crisis at home and across the state to kick off the discussion that would advance potential solutions on the North Coast. Now, as promised, McGuire and Bass will bring the community together for an important update and progress report.

The State of California, County of Humboldt and the City of Eureka will discuss strategies being implemented at all levels of government to tackle the opioid epidemic, with progress reports from North Coast treatment providers including Open Door Community Health Center, Aegis Treatment and Waterfront Recovery Center. We will also hear about harm reduction efforts including needle exchange and syringe litter management programs being implemented at the county and city level as well as receiving a report from the California Department of AIDS on statewide efforts on harm reduction and disease control.

Panelists at the Town Hall include:

Progress Report from North Coast Treatment Providers:

Dr. Julie Ohnemus, Associate Corporate Medical Director, Open

Door Community Health Centers

Alex Dodd, Chief Executive Officer, Aegis Treatment Centers

Dr. Ruby Bayan, Medical Director, Waterfront Recovery Center


Harm Reduction & Prevalence Reduction – Syringe and needle exchange and disposal

Dr. Karen Mark, Chief, Office of AIDS, Center for Infectious Disease, California Department of Public Health

Sarah Kerr, Chair & Founding Board Member, Humboldt Area Center for Harm Reduction

Chief Steve Watson, Eureka Police Department

Connie Beck, Department of Health and Human Services

Continuum of Care: Sober Living Environments

Pete Nielsen, Executive Director, California Consortium of Addiction Programs and Professionals

Town Hall details:

WHAT:

Town Hall on the Opioid Crisis on the North Coast: Coming back together for solutions

WHEN:

This

Thursday, March 29, 2018 at 6:30 p.m.

WHERE:

Sequoia Conference Center, located at the Humboldt County Office of Education,

901 Myrtle Avenue

WATCH LIVE:

The Town Hall will be livestreamed at

http://sd02.senate.ca.gov

and below.