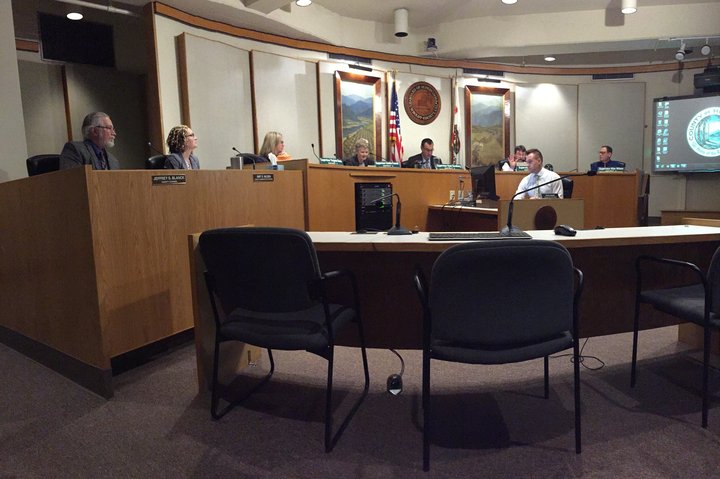 Turns out the government's attitudes toward drugs can change — at least on the local level.
Today the Humboldt County Board of Supervisors voted unanimously to grant leniency to growers of marijuana, a Schedule 1 narcotic and longtime target in the War on Drugs, and also hired a law firm to sue companies that make prescription painkillers, which are approved and regulated by the U.S. Food and Drug Administration.
A drug villain has been recast as a potential savior and vice versa.
While marijuana, in recent years, has donned a more respectable moniker — "cannabis" — on its way to being fully legalized in nine states and counting, Big Pharma companies are now facing a wave of litigation from local and regional governments across the country for allegedly causing the nationwide epidemic of opioid addiction and overdose deaths. (The Yurok Tribe filed a federal suit two weeks ago.)
Humboldt County has been hit especially hard by that epidemic, but let's look at the weed news first.
With a comprehensive rewrite of the county's pot laws due back before the board in two weeks, today they considered a couple of smaller tweaks, amending the cultivation tax ordinance "in order to bring clarity, transparency and leniency" to the process, according to the staff report.
Specifically, the board voted to enact the following changes:
They reduced the penalties for nonpayment of cannabis cultivation taxes.
They gave the county treasurer-tax collector authority to waive those penalties entirely when the lack of timely payment is "due to circumstances beyond the tax payer's control."
They voted to let growers reduce the size of their gardens, and thus pay lower taxes, so long as they notify the county during the year before the cultivation takes place.
They agreed to grant refunds on 2017 cultivation taxes paid by permit holders who didn't wind up growing any crops last year — and can prove it.
They changed the way cultivation tax penalties will be collected, making it "substantially similar" to the way the county handles nonpayment of property taxes.
Second District Supervisor Estelle Fennell and Fifth District Supervisor Ryan Sundberg have been working together as the board's marijuana ad hoc committee, and they came up with this list of changes after working with staff from various departments. According to Fennell, these changes are designed to address concerns from growers.
"We've looked at ways that we can be more flexible," she said, adding that the previous tax penalties were "pretty rough."
During public comment, Karyn Wagner of Garberville weed manufacturing and testing company First MC Processing said the county's weed ordinance includes outdated measures that are creating a bottleneck in the system. Wagner said she has "over half a million dollars of product" waiting to be tested, but she's being held up by "antiquated parking ordinances."
Humboldt County Planning and Building Director John H. Ford later told the board that her specific situation is complicated.
Thomas Mulder, CEO of Humboldt Redwood Healing, objected to tax discounts given to certain growers who entered the system later than others last year. Mulder said all growers should be taxed in the same manner.
And Dan Doherty of Whitethorn complained about the way the county's cultivation tax initiative, Measure S, was structured. He said basing the tax on the square footage of each cultivation area will encourage people to maximize production, leading Humboldt County away from sustainable farming and encouraging the use of chemical fertilizers.
"You'll end up diluting the Humboldt brand, which is gold," Doherty said, adding, "Humboldt is the Gucci of weed."
Third District Supervisor Mike Wilson later explained that since the tax measure was approved by voters, it can only be repealed or modified with voters' consent, and the county's not about to go back to the drawing board on that issue. Judging by Doherty's reaction, he was hoping the county would indeed overhaul its weed taxation system.
Instead the board approved the suggested amendments and moved on.
Addressing the opioid litigation, County Counsel Jeff Blanck reminded supervisors that Humboldt County has been especially hard-hit by the epidemic. Our overdose death rate is second-highest in the state and five times the national average. Big Pharma opioid manufacturers are largely responsible, Blanck said, because they marketed their drugs to people suffering from chronic pain without adequately addressing the addictiveness of those drugs.
"We feel it was deliberate [and] misleading," Blanck said.
The county agreed to retain Seattle-based law firm Keller Rohrback, LLP, which is already part of a U.S. Judicial Panel on Multidistrict Litigation in Ohio, where a host of opioid cases are being consolidated.
The firm is not charging its clients unless it wins, in which case it will collect 20 percent if the award is $20 million or less and 25 percent if it's above that amount.
"There's no financial hit, even if we don't win," Blanck said.
Humboldt County Chief Probation Officer Bill Damiano said opioid addiction is a real problem locally. "The numbers don't lie," he said. "We see it on a regular basis in the criminal justice system.
Sheriff Billy Honsal said that with changes in prescription guidelines and federal laws, opioid painkillers are becoming more expensive and difficult to find, leading more people to turn to heroin. Describing Humboldt County as a heroin distribution hub, Honsal noted that the Humboldt County Drug Task Force confiscated 6.2 pounds of the stuff in 2017, and less than three months into this year they've already collected "well over six pounds."
Lt. Brian Quenell with the Humboldt County Drug Task Force said our county has "a horrible drug and alcohol addiction problem." Methamphetamines are still killing more people than opiates locally, though Quenell noted that Narcan, the opioid overdose reversal drug naloxone, has saved an untold number of people from O.D.ing.
Chief Deputy Coroner Ernie Stewart added that many overdose deaths are caused by multi-drug toxicity. It's not uncommon, he said, for people to have heroin, methamphetamine and prescription drugs in their systems when they die from overdose.

Fennel had one concern about unintended consequences. She'd gotten input from "a well-respected community member" who's using prescription opioids for pain management: Couldn't tightening the reins on these drugs push more people toward heroin, she asked.
Blanck said there are other ways to treat chronic pain.
A few minutes later Fennell said that a recent study out of Israel found that people who've been treating their chronic pain with Cannabidiol (CBD), a non-psychoactive compound found in marijuana, were able to stop using prescription painkillers. Has the county looked into that?
Damiano was standing at the lectern at the time and he dryly noted that he's not a medical doctor; he's a criminal justice professional. "We don't distribute CBDs," he said.
After a round of understanding chuckles, the board unanimously approved the hiring of Keller Rohrback to initiate litigation.
On a related note, an opioid town hall meeting will be held in Eureka on Thursday. Get more info here.