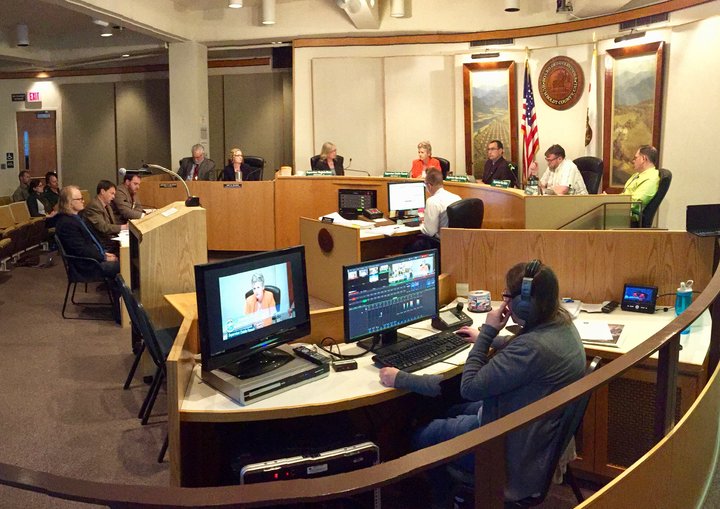 At Tuesday's Board of Supervisors meeting the jargon piled up like armored Buicks in a demolition derby. "Vertical integration" rear-ended "spheres of influence" which sideswiped "zoning clearance certificates" only to get t-boned by a "600-foot setback." Eventually the smoke cleared, revealing an updated set of rules for the county's nascent legal weed industry.
After much quibbling, clarifying, tweaking and negotiating, the board voted 4-1, with Third District Supervisor Mike Wilson dissenting, to approve the Humboldt County Commercial Cannabis Land Use Ordinance version 2.0.
The new regulations include some more stringent environmental protections while expanding the scope of the industry's legal footprint, allowing up to 3,500 cultivation permits to be issued and permitting as many as 40 large-scale grow operations (as big as eight acres) on parcels of 320 acres or more.
Today's hearing focused on a few remaining undecided issues nestled in the final ordinance language, including the proximity of pot farms to school bus stops, the construction of "support facilities" on large parcels, and growing activity in watersheds that function as critical fish habitats.
Perhaps the most contentious issue of the day, among the supervisors, was language that would allow "cannabis support facilities" on agriculture-zoned parcels of 320 acres or larger. These buildings could accommodate non-flammable manufacturing and infusion (hash labs) and/or up to 10,000 square feet of indoor growing.
Wilson objected to this prospect. He reminded his fellow supervisors that they'd voted months ago to disallow new greenhouses with solid floors on large parcels with prime agricultural soils.
"If we can't grow in a greenhouse with a floor, how is it OK we can grow indoors on the same land?" he asked.
But First District Supervisor Rex Bohn suggested these buildings are no big deal, similar to accessory buildings in other agricultural industries, such as dairies and floral farms.
Wilson's main objection concerned cultivation permits issued under ordinance version 1.0 for parcels located within impacted and pristine watersheds. He said he'd like to see all those grows moved elsewhere into compliance with ordinance 2.0 to protect the fish, even if it took five years to accomplish. Salmon, he pointed out, don't show up at public meetings to voice their concerns.
"If the fish were lined up here like the people were, I think we'd be considering tighter regulations," Wilson said. "We're not listening to something we can't hear, I suppose."
Another sticky issue was the question of how to treat permits issued under the weed ordinance version 1.0 for properties near tribal reservations or certain anti-weed communities, most notably the City of Fortuna. Cultivation permits have already been issued to people operating just outside Fortuna, but leaders of "The Friendly City" have taken a hard anti-cannabis stance, banning all weed activity within their own boundaries and asking supervisors to ban it within their "sphere of influence," which extends 1,000 feet beyond the city limits covers more than 3,000 acres.
Ordinance 2.0 does just that, but what to do about growers who already got started under Ordinance 1.0? After much discussion, the board said these growers have two primary options: First, they can demonstrate that their immediate neighbors don't object to their operations, at which point they'll be granted a zoning clearance certificate. Failing that, the second option is to remediate the grow operation in one of four ways:
Move their garden so it's at least 600 feet away from the nearest residence,
Move it into an odor-controlled structure,
Go through the public hearing process to get a conditional use permit, or
Pick up stakes and move the grow elsewhere under a county program called "RRR," for retire, restore and remediate.
During the public comment period, Judy Hodgson, owner of Fieldbrook Winery and publisher of the North Coast Journal, accused Fifth District Supervisor Ryan Sundberg of "pretty much ignor[ing]" her concerns about a pot farm behind her winery, and she suggested he's giving favorable treatment to his uncle Garth Sundberg, who has a pot farm under construction in the Glendale area, on the banks above the Mad River. [Disclosure: Hodgson used to be this reporter's boss.]
Hodgson said residents of a nearby mobile home park "have no idea these greenhouses are going in" and have not been warned about the potential impacts of light pollution, smell and noise.
Sundberg was visibly annoyed by Hodgson's comments. He told the Outpost in a recent interview that he has no involvement with his uncle's operation, and that his uncle has not received any special treatment.
A couple growers got up and asked the supervisors to loosen some restrictions they find onerous.
Scott Bauer, an environmental scientist with the California Department of Fish & Wildlife, asked that "sister agencies" like his employer not be charged when they appeal projects.
Merritt Perry, interim city manager of Fortuna, and Sue Long, Fortuna's mayor, again asked for more restrictions on weed grows near their city.
Stephanie Tidwell, executive director of Friends of the Eel River, said, "We still don't think this is good enough" and asked supervisors to be more protective of the environment. "I just don't see how this ordinance holds up to our obligation to protect and restore native salmonids," she said.
Trinidad Mayor Susan Rotwein asked that her city be given veto power over any projects within Trinidad's recently revised planning area map.
Terra Carver, executive director of the Humboldt County Growers Alliance, requested a longer timeframe be granted to growers who are now being asked to move or otherwise remediate their grow ops.
After some more discussion among the board, Second District Supervisor Estelle Fennell made a motion to adopt the group of resolutions and ordinances the comprise ordinance 2.0 and its Final Environmental Impact Report. Fourth District Supervisor Virginia Bass seconded.
The ordinance doesn't apply in the coastal zone since the county is waiting on the California Coastal Commission to approve the new rules, and the county is currently working with the Yurok Tribe to address their concerns before applying rules within the tribe's ancestral territory.
For more info on the details of the new ordinance, read the staff report below.
# # #
DOCUMENT: CCLUO Version 2.0 staff report