Don Brown — Fortuna insurance agent, civic leader and all-around good guy — died in September after a long battle with a brain tumor.
A few weeks ago, Brown's wife, Karen Delangelo, let us know that before he passed he wrote his own farewell to the community, and asked us if we'd like to publish it. Find it below.
There will be a celebration of Don Brown's life at the Fortuna River Lodge on Thursday, Nov. 15, from 6 to 9 p.m. — Ed.
###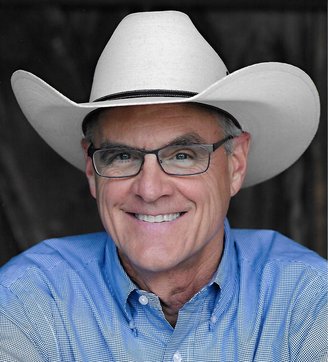 Well folks, it's been quite a ride after 66 trips around the sun.
I was born January 8th, 1952 sharing the same birth date as Elvis, to Dan and Lucy Brown, in Tucson, Arizona. Two weeks after my birth we moved to Texas and though not a native, I spent my formative years growing up in the small Texas town of Gainesville. I've always thought of myself as a Texan, regardless of where I was living.
We had a typical dysfunctional American family, with big brother Dave and two little sisters, Danna and Debbie. Dad struggled with alcoholism and left the family when I was 12. He left Lucy to raise four children on her own. She was a practical woman, who along with several very special teachers, helped pave the way for the Brown children. Lucy taught us that we could accomplish anything that we could dream. She instilled in us a drive and will to succeed. How many single moms do you know who could claim that all of her children graduated from four year colleges and three of whom went on to earn post-graduate degrees? I, of course was the one who was just glad to graduate from SMU in four years and did so by selling Bibles door to door every summer. In fact, my nickname at the ATO house was, "Deacon Don". You got the Deacon speakin' at ya!
I was the poorest kid on campus, but by age 18 I knew I could sell. And, that's what I did my whole life. First for Proctor & Gamble, then 1978 I opened my State Farm Insurance agency in Houston, Texas. I married Rebecca Hogan, a cute little gal I met at SMU in 1974. My first born son was Casey Brown. The marriage didn't last too long, but I stayed involved in my son's life as he grew, through coaching baseball and Boy Scouts. And, I am proud to say that he too earned the rank of Eagle Scout and is one of the best legal minds in Houston today where he lives with his lovely wife Michelle and two sons, Henry Hobbs and Campbell Brown.
In 1984, I met and married Marion Vines, a charming CPA from the East Texas town of Lufkin. We had two wonderful children, Bradley and Mary Beth. I am proud to say that they have established careers in environmental engineering and the Arts. As of this writing I am still waiting for both of them to finish blooming, but I have the same confidence in them that Lucy had in me. Bradley had the good sense to marry Tiara Mobley and they blessed me with grandchildren: Zayden and Ainsley. Mary Beth is engaged to be married this year to Andrew Sullivan, a fine and upstanding young man.
While in Houston, a group of dads formed an Indian Guides Troop and we continued to go canoeing and camping together long after the boys lost interest in such things. I remember fondly, sitting around the campfire drinking Lone Star beer and smoking cigars with Billy Ed Reed and Capin' Bob Ward, on the banks of the Colorado River.
After making more money than I could spend in Houston, but still not being happy in my marriage, the heat, the humidity, the fire ants and traffic…..I made a life decision to move my family to the Northern California town of Fortuna. In January 1998, I opened my 2nd State Farm agency. I wanted my children to experience a small town atmosphere with good weather and rivers to explore. I know a lot of folks complain about the fog, but they never got stuck in bumper to bumper traffic in 100 degree weather. I was so happy to live there, I didn't feel like I could do enough for this special community. I was involved in the Hospital Foundation Board, Chamber of Commerce, the Elementary School Board, started a Canoe Marathon race for eight years and proudly served on the Rodeo Committee. I guess I did OK, because in 2006 I was honored as Citizen of the Year by the Chamber of Commerce.
Well, changing the zip code didn't improve our marriage and Marion and I divorced a couple years after moving to Humboldt. It was through the process of applying for a home loan at Humboldt Bank that I met the soul mate of my life, Miss Karen DelAngelo. She was as comfortable as an old shoe. We traveled the world together on many State Farm trips and even visited a spiritual healer in Brazil and a Shaman on Kauai. She was the missing piece in my life. When I was diagnosed with a brain tumor in 2010 she was by my side all the way, often sacrificing her career to be with me at MRI's and operations in Southern California. I have never known a more gentle soul than Karen. She would bend over to pick up snails and worms when we walked the high school track after a rainstorm. We eloped and married November 30th, 2013 in Palm Springs with our dearest friends by our side. She was good at keeping secrets and in fact few people know that it was her idea to donate the deer statues and mural to the City of Fortuna.
I will miss all of my friends, children and family, but most of all her. But I believe this: There is a spirit inside each one of us, and when the body dies, the spirit lives on. We are put on this earth to be tested, to love each other and to learn from one another. My job was to serve and help people and learn patience. I look forward to seeing each of you again on the other side.
I know it may seem strange to write your own obituary, but I didn't want to leave that task to my family. I wanted to share with those of you who are reading this, that it has been a wonderful life and I have no regrets.
Love,
Don