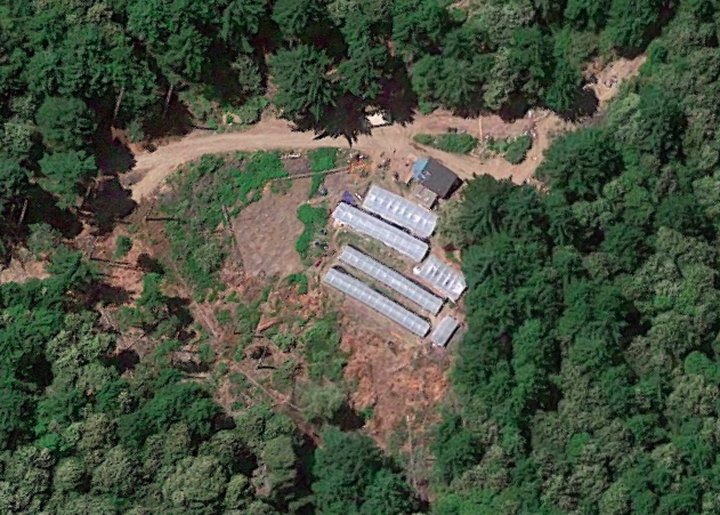 The Humboldt County Board of Supervisors on Tuesday assessed more than $4.5 million in civil penalties against five properties where people have been growing cannabis without permits.

On paper this may look like a massive windfall for county government, but John Ford, director of the county's Planning & Building Department, told the board today that he considers it "improbable" that anyone will actually pay those fines.
The owners of these five properties, which are scattered across the remote and densely forested regions of southern and eastern Humboldt, haven't responded to numerous attempts to contact them, including official notices to abate and notices of violation sent via certified mail.
It caused quite a stir in the hinterlands last year when the Planning & Building Department started issuing letters threatening property owners with fines of $10,000 per day, per violation if they failed to remedy their code violations or enter into a "compliance agreement" with the county within 10 days of receiving an abatement notice.
Today's actions represent the first times fines have actually been assessed as threatened, and Ford characterized it as a last resort. His department staff had used satellite imagery to identify 19 parcels where illegal growing appeared to be taking place. Abatement notices were sent out in the fall of 2017, and the violations were posted in the newspaper.
More letters were sent out this past summer, and where possible staff tracked down phone numbers and called the property owners. Most of them responded in one way or another and agreed to fix their code violations, which included un-permitted structures, clearing and grading.
"These five have been absolutely unresponsive to all efforts to try to prevent this," Ford said, adding that he couldn't overstate how hard staff worked trying to track them down.

Below is a list of the five property owners, who have all been fined for violating the county's Commercial Medical Marijuana Land Use Ordinance, violating the county's building, plumbing and/or electrical codes, and grading without permits. The amounts are all roughly equal and include $900,000 in civil penalties plus another $700 to $900 to compensate for staff time.
David Couch (not to be confused with the man of the same name who serves as president of the McKinleyville Community Services District)
Divan Dimitrov
Immortal Sunshine, LLC (Manager: Conan Cavanaugh of Blue Lake)

Jim Shinn
Financial Fitness, LLC (Corporate organizer: Ward Hanigan of San Diego)
That satellite image at the top of the post is associated with 1551 Doreen Drive in Honeydew, the address of Couch's property. The Dimitrov property is in the remote southeastern corner of the county. The Immortal Sunshine parcel is off Old 3 Creeks Road northwest of Willow Creek. Shinn's parcel is near the Upper North Fork Mattole River. And the parcel owned by Financial Fitness, LLC, is near Telegraph Ridge, between Ettersurg and Briceland.
While the fees may never be collected in full, Ford said the county can now place liens on the properties, which could lead to foreclosures. That would require the county to demonstrate in court that the rights of the property owners have been maintained and there was no other resolution for the code violations, he explained.
Third District Supervisor Mike Wilson speculated that the abatement costs might be higher than the property values, and First District Supervisor Rex Bohn noted that the county might not be first in line to collect liens during foreclosure.
Wilson suggested that if the cost of mitigating or developing these properties is higher than their value then the county should investigate ways to return such properties to their natural state, perhaps by partnering with land trust agencies. He also suggested asking the state for financial help in cleaning up the properties.
Second District Supervisor Estelle Fennell said these properties are "the poster children for what the community has been asking us to address." The violations are "egregious," she said.
Board Chair Ryan Sundberg theorized that the whole process might wind up costing the county money, and he suggested that revenues from Measure S, the county's cannabis cultivation tax, could go toward remediating the properties.
No one from the public showed up to comment on the agenda item, and the board passed it unanimously.
###
DOCUMENT: Staff Report
###
[Note: This post has been updated to add information about the people behind the LLCs and to clarify the comments from Supervisor Wilson.]