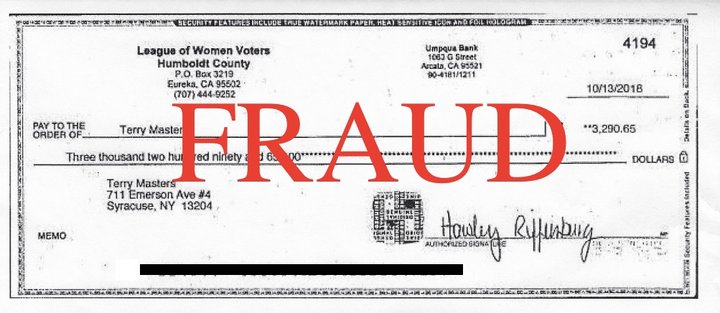 Local nonprofit groups are being put on alert after the League of Women Voters of Humboldt County fell prey to an email scam, losing nearly $3,300.
Here's how the scam worked: In October, local LWV Treasurer Hawley Riffenburg received an email from someone claiming to be the organization's board president, (former HSU President) Rollin Richmond. The "from" address was presidentofboard6@gmail.com, and the email said:
How are you doing today? What is our current account balance? I would like you to take care of a payment. Kindly mail me back when you are available so i would forward you the details.


Have a great day
Rollin Richmond
Riffenburg, who is relatively new to her position, believed the email was indeed from Richmond, so when the scammer asked her to "kindly issue a check payment of $3,290.65 for networking activities" and send it to a Terri Masters in Syracuse, NY, she did so.
Other local nonprofits have been targeted with a similar approach. Nancy Dean, treasurer of the Humboldt branch of the American Association of University Women (AAUW), told the Outpost she was contacted via email a while back by somebody asking that money be sent quickly.
"It seemed like they could name off the names of the president of the club and other officers, like they knew all the key people," Dean said.
Such information was available online and in handbooks they've handed out, Dean said. And it appears the scammer did his or her homework. "They tried it again maybe six weeks later," Dean said. Fortunately, Dean was suspicious and reported the incident to law enforcement before sending any money.
Riffenburg said the local League of Women Voters also keeps a lot of information online, and the group issues monthly publications that could give someone enough "tone and personality" to impersonate officers on the board.
Amy Jester, program director for the Northern California Association of Nonprofits (NorCAN), has set out to warn other local groups about this type of scam, which has been going around locally. Some things to look out for, Jester said, include misspellings in the target organization's name and email addresses that end in ".com" rather than ".org."
Organizations should also beware of emails saying the executive director or other officer is out of town and asking the recipient to handle a payment. "It is very normal-looking and if the email hits when the person [really] is out of town you tend to think it's normal," Jester said via email.
Riffenburg offered a couple more tips: "Go to your web browser to check the email addresses if you think it might be a little weird," she said. "Also, call the person. Those two things would have stopped this early on. Those were my lessons learned."
The League of Women Voters of Humboldt County has notified law enforcement, reported the incident to their bank, and got a fraud report filed with the FBI, Riffenburg said, adding that the whole thing was "really not a pleasant experience."