A local man once charged with murdering a 16-year-old Eureka girl was expected to be released from jail today after being sentenced to three years for involuntary manslaughter.

Judge Dale Reinholtsen imposed the sentence on Tavin Dee Evans, 20, after listening to pleas from victim Alyssa Claybon's family to keep Evans behind bars for the full three years.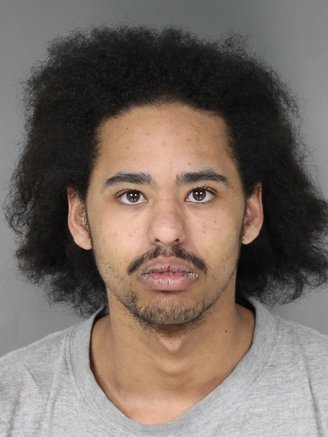 Instead, sticking to a previous agreement, the judge sentenced him to one year in custody and two years on mandatory supervision. Evans has already served more than a year behind bars while the case was pending and was expected to be freed today.
Claybon died at a drug party in a Eureka motel room on Feb. 7, 2017, after Evans injected her with a massive dose of methamphetamine. According to testimony at the preliminary hearing, Claybon was addicted to a variety of drugs and had previously injected meth.
After that hearing Reinholtsen dismissed murder charges against Evans and co-defendant Anthony Burgess, instead holding them to answer for involuntary manslaughter. Today District Attorney Trent Timm dismissed charges against Burgess, who will be returned to state prison to continue serving a seven-year term for robbing a marijuana dealer at gunpoint.
Claybon's mother, Nicole Spencer, read a statement expressing how her much-loved daughter's death has affected her family.
"Our family is devastated and I am completely broken," Spencer said. She said Alyssa left behind three younger siblings, including two boys 9 and 6 and a 2-year-old girl who was just 11 months old when her big sister died.
"What do you say to a child who just wants to die so he can be with his sister?" Spencer said of one of her sons.
Evans, standing in the jury box and wearing an orange jail jumpsuit, listened quietly as
Spencer and other family members addressed the judge. She said Evans could have allowed her daughter to leave the motel room that night as she was screaming and banging on the walls.
"He could have let her out," Spencer said. "He could have called 911."
Looking at Evans, she said "I hope you see her when you close your eyes for the rest of your life."
Alyssa was struggling with demons "and you were one of them," she said. "How can you breathe? I can't, sometimes."
Spencer told the judge that Alyssa once wanted to be a lawyer because she liked to argue. Then she decided she would rather be a judge, because a judge makes the final decision.
She asked Reinholtsen to make the final decision of keeping Evans in jail, instead of out on the streets where he could endanger the lives of other young people.
Alyssa's father, Archie Claybon, addressed Reinholtsen while wearing a sweatshirt with his daughter's photograph on the back. He said Evans "has been nothing but a screw-up" and should face serious consequences.
"I can promise you that when he gets out on the street he'll be back to his old ways," Archie Claybon said, "because the system has failed him and the people who loved my daughter."
As for Alyssa's grandmother Donna Claybon, her twice-expressed hope for Evans was that he "rot in hell."
Evans, on the advice of his attorney David Celli, did not make a statement today. But he wrote a letter that was given to Alyssa's mother after the hearing.
Celli told the judge Evans "deeply regrets" the role he played in Alyssa's death. But he noted the girl "was using narcotics with multiple other people."
"It wasn't that Mr. Evans took her under his wing," Celli said. He said much of the prosecution's case was based on a statement that co-defendant Burgess made to Alyssa's mother when she visited him in the jail: Burgess said he realized the girl was overdosing and told Evans to call for medical help. No-one else has verified that Burgess told Evans that, Celli said. He pointed out that Burgess also told Spencer that Evans had been trying to discourage Alyssa from using more drugs that night, telling her she needed to get some sleep.
In the end, though, Evans and possibly another person injected her with the fatal dose of methamphetamine.
Celli also spoke about why Evans didn't open the door when other motel guests and employees were knocking after hearing screaming and banging from the room where the party was going on.
"It was simply fear of prosecution," Celli said. He said Evans was a 19-year-old kid, and there were drugs and a firearm in the motel room.
"It was not a sinister plot to let her pass away in the next room," he said. Evans "certainly would have come to her aid" if he had known she was dying.
But prosecutor Timm disagreed, saying refusing to open the door while the girl lay dying "was a sinister plot."
###
PREVIOUSLY