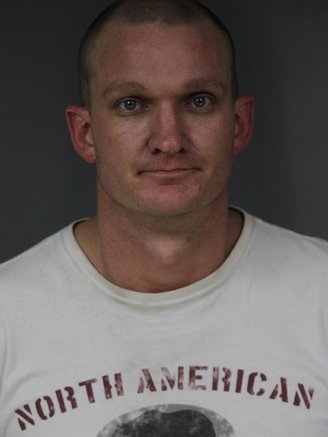 A Hydesville man will be sentenced to 13 years in state prison for shooting his girlfriend in the leg during an episode on Avenue of the Giants in January 2017.

Today, as jury selection was poised to begin for Casey Floyd Felt's trial, Judge John Feeney accepted Felt's guilty plea to assault with a semi-automatic handgun with the special allegation of personal use of a firearm. Felt will be sentenced to the maximum term of nine years for the assault charge and the middle term of four years for the firearm allegation. He also was sentenced to three years for shooting at an occupied vehicle, but that term will run concurrently with the 13 years.
Feeney denied defense attorney Michael Acosta's request to release Felt from custody until his sentencing on Dec. 11. Acosta had argued that Felt is "a long-time local resident."
In exchange for the plea, Deputy District Attorney Brent Kling dismissed several other charges against the 38-year-old Felt. Those included a firearm allegation that could add 25 years to life in prison to any prison sentence.
Kling said outside the courtroom that Felt will have to serve at least 85 percent of the 13-year sentence. Felt has been in plea negotiations with the prosecution for some time, recently turning down a 15-year plea deal.
Felt was arrested on a warrant a few days after his then-girlfriend, Christine Turkovich, reported that two masked men approached and began shooting at her vehicle while she was parked along Avenue of the Giants. Turkovich said the men demanded money and drugs, took her cellphone and shot her in the leg. She was left stranded until a passerby stopped and took her to Redwood Memorial Hospital in Fortuna.
Felt posted bail after his initial arrest, but he was taken into custody again when the District Attorney's Office filed additional charges and bail was raised.
Turkovich was not in court today, but Felt's father Don Felt watched from the audience as his son entered the plea.
###
PREVIOUSLY: