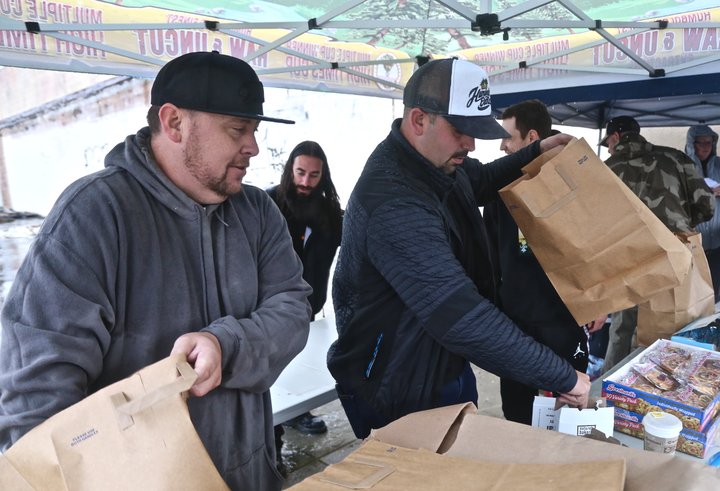 There have been periods of extreme sky dumpage in Eureka on this Wednesday before Thanksgiving. But despite the wet a few members of the community have opted to spend their day huddled under canopies on Fourth Street in an effort to distribute goods to the less fortunate.
Representatives from a pair of local cannabis-related businesses — Humboldt's Finest, and Humboldt Exotics — and Humboldt Bay Coffee teamed up to hand out coffee and bags full of sandwiches, snacks and socks to the area's homeless population. Humboldt's Finest's David Vogelsang, a Eureka native, says he feels a responsibility to step up and do his part to improve the lives of others in the city that's been so good to him.
"It's just about giving back to the community," Vogelsang said. He added that he hopes other cannabis businesses specifically will get involved in local charity projects in the future.
"They all make money, they can all give back a little bit," Vogelsang said. "$20? $10? It don't matter. Just buy something. Throw it back into our community. Yes, there are fires and all sorts of other things going on in other communities and I wish we could help them, but really we've got struggling kids in our community. If you go by some of these cheap-ass motels there's kids with no shoes and socks right now. That's why I bought 185 pairs of shoes and socks last year for this community."
Vogelsang says his company is also preparing to launch their annual toy drive — details on that soon. As far as today's effort his crew plans to brave the weather on Fourth Street offering assistance for the rest of the day.
"Until it's all gone," he said.