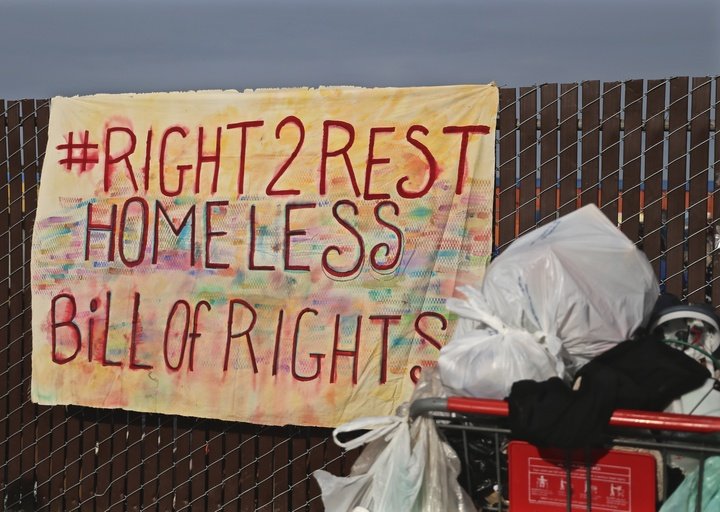 From the Eureka Police Department:
A recent Ninth Circuit Court of Appeals ruling (Martin v. City of Boise, 2018 U.S. App. LEXIS 25032) has generated a measure of concern, confusion and misinformation regarding the enforcement of a jurisdiction's public camping and sit-lie related ordinances.


In a September 2018 narrow holding, the Court held that a Boise, ID ordinance violated the Eighth Amendment to the extent that it imposed criminal sanctions against homeless persons for sleeping outdoors, on public property, when they had no alternative shelter access available. The Ninth Circuit essentially ruled that criminalizing the status of being "homeless," or criminalizing the "unavoidable consequences" of that status—such as sitting, lying or sleeping on sidewalks and other public grounds—may constitute cruel and unusual punishment under certain circumstances.


This federal court decision now affects laws in 9 western states, including California. It creates new challenges for public agencies to prosecute people for sleeping or camping on public property in violation of local ordinances. However, the City of Boise has indicated it may seek rehearing en banc by the entire 9th Circuit panel or an appeal to the U.S. Supreme Court. Meanwhile, the City of Eureka is reviewing our camping and sit-lie ordinances in light of Martin while EPD continues to maintain law and order through judicious use of other applicable laws and ordinances. The Court acknowledged cities may still limit the time and place where people sit, lie, or sleep in public places. Martin does not cover individuals who do have access to free shelter or the means to pay for it, but choose not to use it.Martin also does not apply to enforcement on private property or to particular times and locations where access to public property is restricted.

While Eureka is making some progress on this issue, Martin v. Boise further illuminates the critical need for more affordable housing and safe, legal shelter options in Humboldt County. The Eureka Rescue Mission, however, has consistently reported having unutilized shelter beds still available nightly. (For example, from September 1, 2018 – last report on November 6th, between 5-15 shelter beds have remained available daily.) Additionally, through an agreement between the City of Eureka and Saint Vincent de Paul, increased emergency shelter capacity for an additional 25 people is available year-round in the event the mission exceeds capacity.

The attached report was prepared to help inform people about the Martin ruling, its potential impact on our communities, next steps, and how the City of Eureka is moving forward in light of the Court's decision and our ongoing homeless issues. While enforcement is sometimes necessary in the interests of public health, crime prevention, and the maintenance of safe, sanitary and accessible spaces, it is not EPD's preferred option. Also included is information about the city's new UPLIFT Eureka program. UPLIFT aims to guide homeless people to existing resources and work programs in the community with the assistance of volunteer "co-pilots" who will serve as advocates for the participants as they work their way to success. EPD is also working in partnership with UPLIFT Eureka to create a homeless diversion component to the program in lieu of referral to the criminal justice system and prosecution or fines for minor offenses.
###

DOCUMENTS: