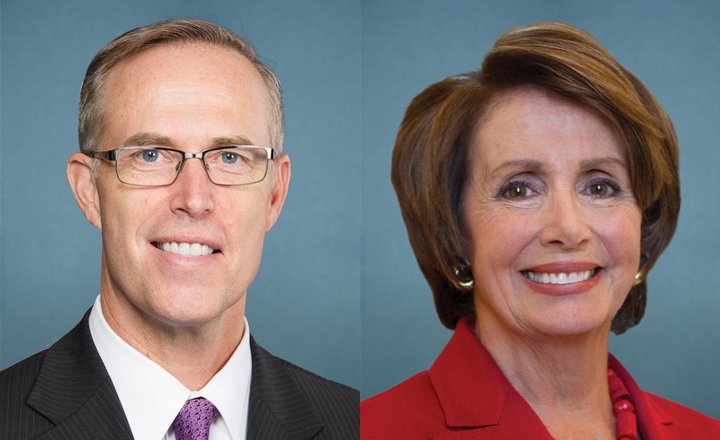 The House of Representatives' Democratic caucus is choosing its candidates for leadership today, and despite an early challenge from centrists it looks like Rep. Nancy Pelosi has the nomination for House Speaker all lined up.
Below: Jared Huffman, Humboldt's man on the Hill, explains his reasons for supporting Pelosi, who has been the House's head Democrat — either as Speaker or Minority Leader — since 2003.
Pelosi, who has long been a particular bête noire of the American right, represents San Francisco in Congress. Assuming her colleagues nominate her today, she will challenge the Republicans' nominee in early January, when the Democrats will have a healthy majority.
From the office of Rep. Jared Huffman:
Congressman Jared Huffman (D-San Rafael) announced today that he will cast his vote in support of Democratic Leader Nancy Pelosi to serve as the Speaker of the House of Representatives for the 116th Congress.

"Nancy Pelosi is a proven leader who has delivered time and again on core Democratic values. I especially appreciate her deep personal commitment to protecting our natural environment and confronting climate change, ensuring that every American has access to quality affordable healthcare, protecting Dreamers and fighting for comprehensive immigration reform, and bringing accountability and reform to the cesspool of corruption we see in the Trump administration.

"The 116th Congress presents a new opportunity to make tangible progress on climate, on clean air, and on clean water — and I know Nancy Pelosi is up to the challenge because I've seen it before. I served in the California State Assembly during her prior tenure as Speaker, and watched with great admiration as she worked with House climate champions to pass the landmark American Clean Energy and Security Act, a comprehensive bill to create clean energy jobs, combat climate change, and transition America to a clean energy economy. That's just scratching the surface of what she can accomplish: she has led on environmental policy throughout her career, reflecting the values and the lessons of our home state.

"Like many members in the Democratic Caucus, I am also invested in elevating a new generation of Democratic leaders. Under Speaker Pelosi's leadership in the next Congress, we will cultivate and empower that new generation of leaders as we prepare for the generational change that will renew and revitalize our caucus for the years to come."