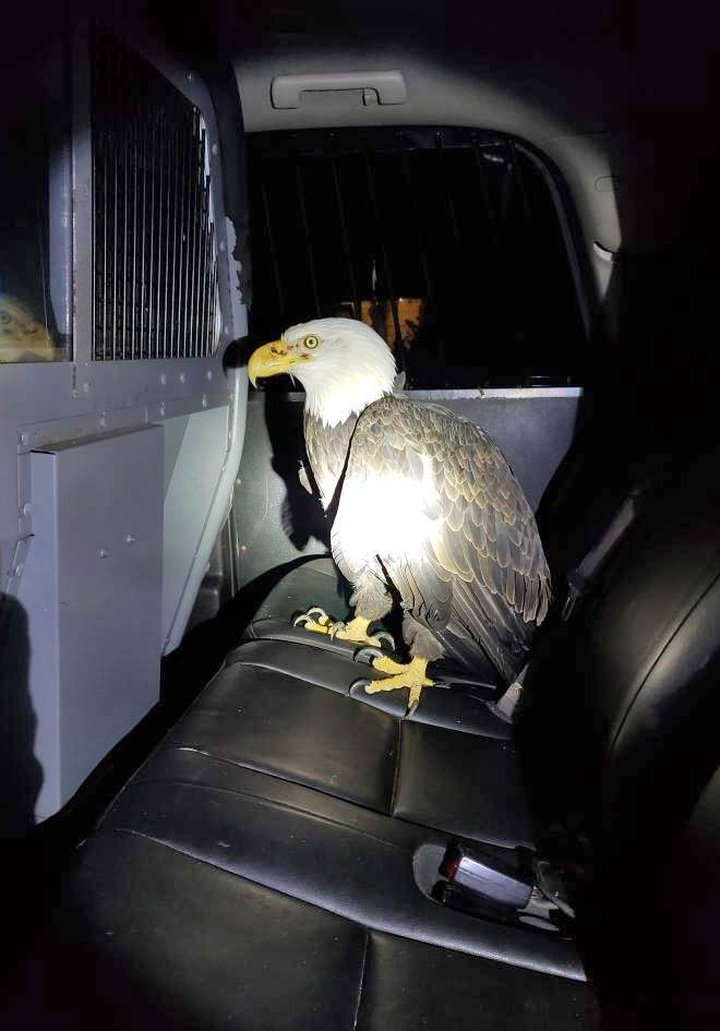 Yurok Tribe:
A Yurok Tribal Game Warden and a California Fish and Wildlife warden recently captured an injured bald eagle and transported it to a veterinarian in Crescent City, where it was treated for a minor injury and later moved to a rescue facility to complete its recovery.

"The bird appeared to have a small wing injury, and later seemed to be improving, while in the back of my patrol vehicle, as I took him to Crescent City," said Yurok Warden John Nevarez. "I'm happy to report that the eagle is expected to make a full recovery."

The raptor was located near where Panther Creek enters the Klamath River estuary. Yurok citizen Tyrone Crayton Sr. reported the hurt bird to the California Fish and Wildlife office. The warden assigned to the call contacted Tribal Warden Nevarez for assistance with capturing the animal. The Tribal and state wardens used a blanket to gently collect the bird, which was backed up against a blackberry bramble. After its capture, the eagle was then put in Warden Nevarez's patrol vehicle for transport to the All Creatures Animal Hospital and Bird Clinic in Crescent City.

While there are resident bald eagles on the Lower Klamath River, greater numbers of birds can be found here in the fall and winter months. This time of year, decent numbers of migratory bald eagles can be seen soaring down the Yurok coastline and perched high atop the trees lining the Klamath. Lucky bird watchers sometimes get to witness the raptors perform high-speed acrobatics as they chase down migrating waterfowl, especially coots. Eagles also eat live fish, as well as small mammals and birds.