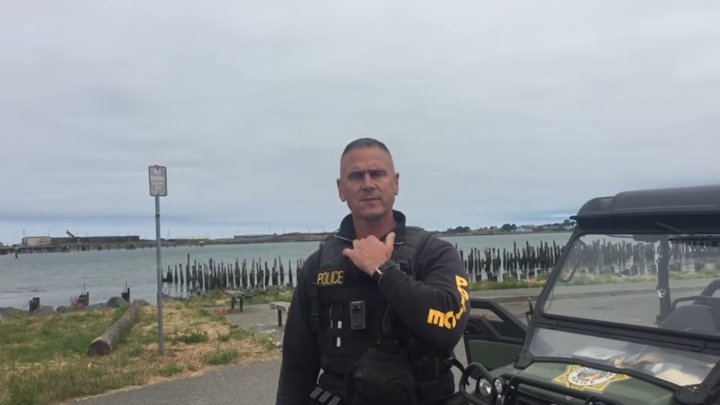 PREVIOUSLY:
###
The Eureka Police Department has concluded that one of its officers behaved inappropriately and violated department policy during a run-in with a hostile citizen earlier in the year, Chief Steve Watson told the Outpost today.
During the incident, which was captured on video, Ofc. Drake Goodale admitted telling a Native American man, Pete Yellow Bird, to "go back to the reservation." Yellow Bird had been working on his car at the end of Marina Way when he was contacted by police in late June, which led to the confrontation.
"I have confirmed to Mr. Yellow Bird that a couple of Eureka Police Department policy violations relating to the incident had been sustained," Watson told the Outpost, adding that the policies involved "professionalism" and "discourteous language."
Watson said that during the course of the department's internal investigation into the incident, Goodale owned up to his mistake and expressed regret over his choice of words.
At the same time, Watson said, the investigation found that the decision to contact Yellow Bird was appropriate, and did not violate any departmental policy. In his video, Yellow Bird — full of vitriol and invective against Goodale, his partner and police in general — claimed that police were "harassing" him for telling him not to work on his vehicle on the street.
Watson said that California law — specifically the Public Safety Officers Procedural Bill of Rights — prevented him from releasing what disciplinary action, if any, Goodale will face, but promised that the officer will be "held accountable."
"I have assured Mr. Yellow Bird the officer will be held accountable and corrective action will be taken appropriate to the circumstances," Watson said. "It's my responsibility to hold all members of the police department to the highest standards of professionalism and conduct."

Watson said that the department has put in an immense amount of work over the past few years to strengthen its relationship with the community, and that he understands that incidents such as these puts such efforts back. He said that the department is requiring all officers to receive additional training in implicit bias and procedural justice, above and beyond what is required by professional standards, and that they're doing everything that they can to avoid repeating the mistake.
"I've made very clear that this sort of inflammatory speech won't be tolerated," Watson said. "I take it very seriously. The officer is taking it very seriously."
Reached a few days ago, Yellow Bird told the Outpost, that he had recently moved out of Eureka. He had done just what "Officer [Expletive]" had told him to do, he said — moved back to a reservation.