PREVIOUSLY:

###
UPDATE, 4:40 p.m.: The suspect, Brandon Watson, has previously been arrested on charges of making criminal threats (in Arcata, in 2014) and assault with a firearm (in Eureka, in 2016).
###
From the Arcata Police Department: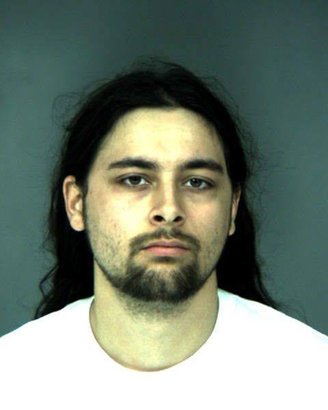 On 10/25/18 at approximately 1:40 a.m. Arcata Police Department officers were dispatched to a stabbing that occurred on the 900 block of H Street. The male victim was located lying on the ground near the intersection of 9th and H Streets. Officers immediately began life saving efforts and summoned medical assistance. The victim was transported to Mad River Community Hospital where he later succumbed to his injuries.

The victim has been identified as Peter Samuel Triantos, 26, of Eureka.

Investigators have learned the stabbing occurred following a dispute between the suspect and the victim, who were known to each other.

With the help of witnesses and video surveillance from nearby businesses, investigators have identified Brandon Matthew Watson, 27, of Arcata as the suspect in the homicide.

Watson is a Native American male, 5'9", 155 lbs, with brown eyes and long brown hair he commonly wears in a ponytail. Watson had a goatee at the time of the incident.

A photo of Watson is available on the APD Facebook page.

An arrest warrant has been issued for Watson's arrest. Anyone with information on Watson's whereabouts is encouraged to call the Arcata Police Department at (707)822-2426.