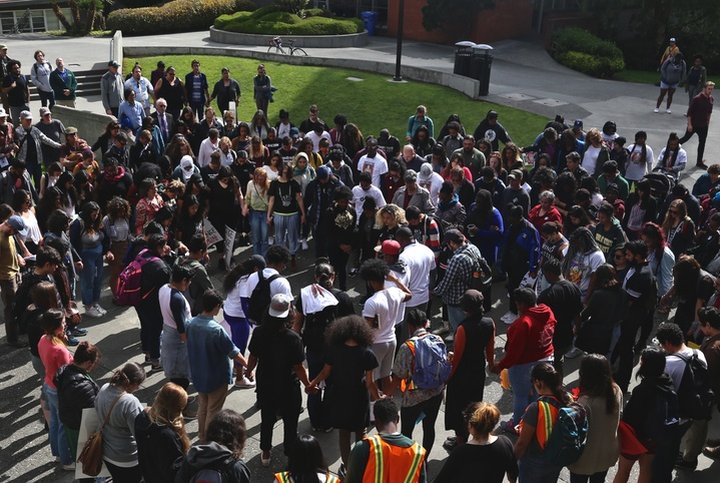 Even as Arcata still reels from the killing of Humboldt State University student David Josiah Lawson, no hate crimes were documents on campus in 2017, the year of his death.

Today, the HSU Police Department's released its 2018 Clery Act report, a required, annual outline of crimes that occur on a university's campus during previous years. According to the 2018 report, no hate crimes were committed on HSU grounds last year.
In previous reports, which readily date back to 2013, at least one hate crime has always been documented. For example, in both 2015 and 2016, three acts of vandalism involving racial or sexual discrimination were committed in campus residence halls.
While these incidents were documented as hate crimes, HSU Police Chief Donn Peterson told the Outpost that these types of crimes typically involve someone writing racist or homophobic words on a school bulletin board, and would not hold up as hate crimes in a court of law.
"It depends how you qualify a hate crime," Peterson said. "We proactively report those. Typically, someone has defaced a bulletin board and we take those as hate crimes. However, those would never be prosecuted at the district attorney level."
Although no such crimes were documented by university police last year, an article published by HSU's student-run newspaper the Lumberjack states that students reported two occurrences of "Justice for Josiah" and "Our Culture is Not a Costume" posters being ripped down and torn to pieces at the campus MultiCultural Center last year. During one of the incidents, a note left was reportedly left at the scene, reading: "It's okay to be white." According to the student quoted in the Lumberjack story, these incidents were reported to campus police, but dismissed and not documented as hate crimes. This account seems to be backed up by today's report.
Peterson, meanwhile, said that while there are many factors as to why no hate crimes were reported on campus last year, noting the school's overall efforts to address discrimination on campus.
"There's a lot of work going on [in regards to] heightened sensitivity," Peterson said. "The university has undertaken a lot of efforts in addressing disparities in diversity and equity."
Although fewer hate crimes were reported on campus last year, Clery reports only reflect crimes committed on school property, and can not be used as an indication of what crimes are affecting students off campus. This is why Lawson's death is not included in the report — the crime was committed off campus and handled by Arcata police.
###
DOCUMENTS: