Marcia "Marci" Kitchen has been sentenced to eight years in state prison for running over and killing her daughter Kiya Kitchen and Faith Tsarnas on July 12, 2016.

Judge Kaleb Cockrum said it was Kitchen's behavior after the fatal collision that made hers a prison case.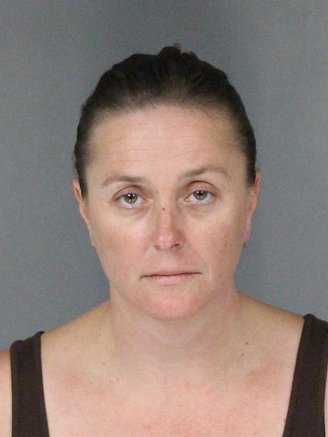 "When Ms. Kitchen says she thought (she had hit) a deer I just don't believe her," Cockrum said in sentencing Kitchen this afternoon. He said when a driver hits a deer, the logical response is to inspect the damage to the vehicle, turn your headlights on so another driver won't hit the animal, and call law enforcement.
Instead, Cockrum said, Kitchen pulled over to the side of the road, sat there for two or three minutes, possibly made a phone call and then left.
He called that "a calculated response, not a panicked response."
The judge said Kitchen could have "come clean" when she visited the scene of the crime shortly afterward, or at the hospital where her critically injured daughter was taken. Cockrum said he also didn't believe Kitchen's claims that she had only two drinks that night, when her son Jevin says she arrived home intoxicated.
"The court doesn't believe Ms. Kitchen when she says she would abide by the terms of probation," the judge said. "I don't think she would be honest in self-reporting."
"I hope with my sentence here today we can have some closure."
— Marci Kitchen
The judge also said he thinks Jevin Kitchen is telling the truth when he says his mother asked him to drive her wrecked Jeep into a basketball hoop in the driveway.
"I believe Jevin when he says she asked him to run the car into a pole," Cockrum said. Kitchen's attorney, Meagan O'Connell, had told the judge Kitchen "adamantly denies" she asked her son to run the car into the basketball pole.
Kitchen, 41, received two years for vehicular manslaughter, five years for hit-and-run and one year because there was more than one victim. She will most likely serve about four years because she will receive one day of credit for every day served.
Although she cried through most of the more than four-hour hearing, Kitchen seemed stoic when the sentence was handed down. She had made one brief, tearful statement after listening to hours of damning comments from anguished family members of the victims.
"All of my life all I ever wanted to do was be a mom," she told the judge. "But a mom doesn't kill her child … I am the cause of this accident and there's nothing I can do to change it. I hope with my sentence here today we can have some closure."
The most devastating statement against Kitchen came from her 19-year-old son Jevin, who was 17 when his sister was killed.
He started out calling Kitchen "Mom" then said "Excuse me. Marci." He went on to ask for the maximum penalty for his mother.
"I will forever hate her with all my soul," he said, vowing Kitchen will never see his children when he has a family. But he acknowledged that before he realized she was a cold-blooded narcissist, he considered her a good mother.
"She was a great mother and no one can take that away from her, not even me," he said. "I not only lost my sister that night but I lost my mother too."
He said his mother had manipulated and used him by asking him to keep quiet about the details of the accident. She asked him to lie and he did, he said, because for awhile she had him convinced she had everything under control and was planning to do the right thing. Then he learned from his father that Kitchen had a lawyer and was planning to fight the charges.
He called his mother, who wouldn't give him a straight answer.
"I got the wake-up call," he said. "I needed to tell the truth and do what needed to be done."
Several people, friends of Kitchen's, spoke about what a devoted mother she was, and about her treatment in the community after the fatal wreck.
Daniel Weaver, stepfather of Kitchen's boyfriend Josh Pearlston, said Kitchen has been refused service at local restaurants and has been surrounded by crowds, with anonymous people shouting insults from the darkness. Weaver said Kitchen has been characterized as taking long, tropical vacations while out on bail, when in fact she and Pearlston made two brief trips "primarily to escape negative treatment that she was receiving in the county."
One of the most wrenching statements made today was from Tsarnas' mother, Stephanie Baldwin. She offered Cockrum a picture of her daughter taken at the airport, when she was leaving to visit her biological father in Humboldt County. Then she held up a wooden box.
"This is how I brought my daughter back," Baldwin said.
Baldwin said if she thought she had hit a deer, a dog or a cat, she would have stopped and tried to help.
"Where did her mother's heart go?" she asked. "I will never understand."
Baldwin said Faith and Kiya were left "like pieces of trash in the middle of the roadway."
The two 14-year-olds were hit from behind while long-boarding on Eel River Drive.
"What did it sound like when your Jeep crushed the breath of life out of our daughters?" she asked. …"I wonder how she can live with herself. I could not."
Baldwin and her husband, Mark Baldwin, also said they had told Kitchen that Faith was not to come to her house. But her biological father, Jeff Tsarnas, allowed her to stay there. The Baldwins also said Kitchen had introduced Faith to drugs, though they didn't say which drugs or how they knew this.
Jeff Tsarnas stood with attorney Elan Firpo as she read his statement to the judge.
"If I had not made the decision to allow Faith to spend another night (at Kitchen's) Faith would be alive today," his statement said. Tsarnas said he hopes someday he can be forgiven.
Joe Kitchen, Kitchen's former husband and Kiya's father, called Kitchen "soul-less, sub-human if you will."
He recalled seeing his daughter in the emergency room at Redwood Memorial Hospital after the wreck.
"My baby girl all smashed up," he said. "Tubes down her throat, the back of her head flat, her legs twisted."
When he heard the plan was to take Kiya to Oakland Children's Hospital for treatment, he asked "Why? She's dead.''
At the Oakland hospital, doctors admitted the only reason his daughter had a pulse was all the drugs they were giving her.
It was after Kiya died that Kitchen told him she was the person who had run over the girls. He told his son he'd better ride back to Humboldt with his mom, "because she's going to prison for a long time." He said he figured she would be arrested that night.
Kitchen offered to turn herself in within 24 hours, defense attorney O'Connell said, but the California Highway Patrol chose not to arrest her and instead issued misleading statements indicating she was hiding.
Kitchen was arrested two months later and posted $750,000 bail, then began the two-year legal fight that ended when she pleaded guilty to all charges and turned herself in at the jail.
"What happened to Marci?" Joe Kitchen asked. "She was a great mom. Jevin wouldn't be who he is today if not for her."
If Kitchen had hit the girls and then stopped to help, he said, "it would have taken me time but I would have had her back."
The case was prosecuted by Deputy District Attorney Stacey Eads, who said during arguments today that Kitchen plays the victim and has "utter disregard for the well-being of anyone but herself."
Eads had asked for a prison sentence of more than 11 years, but said the law "doesn't allow for enough years for what Ms. Kitchen has done."
After she hit the girls, the prosecutor said, "her concern was not for the bodies left behind but rather how she could avoid responsibility."
O'Connell had argued for "uniform sentencing," referring to how similar local cases have been resolved.
"I have never seen a person eligible for probation with no criminal record who was sentenced to prison without getting a chance at probation," she said.
O'Connell insisted Kitchen did not know what she hit that night, though she shouldn't have left the scene until she confirmed what it was.
"Ms. Kitchen loved Kiya, she loved Faith, she loves Jevin," she said. "And as a mother, a good mother, she would never purposely injure a child, children, anyone."
###
THE KITCHEN CASE: