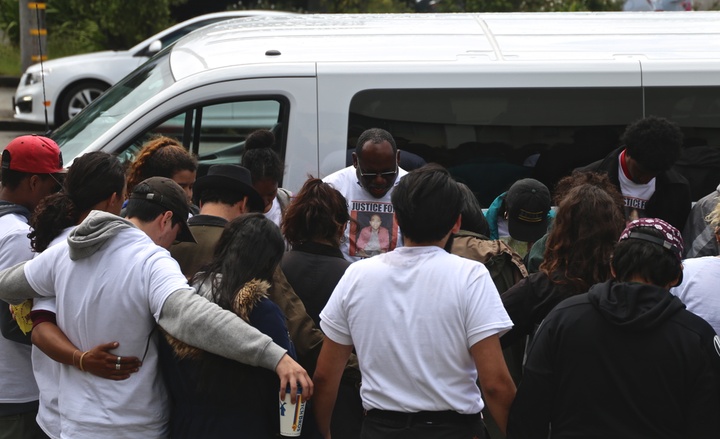 It's now been nearly a month since HSU student David Josiah Lawson was stabbed to death at an off-campus party in Arcata and exactly a week since Kyle Zoellner, the only person subsequently arrested in connection with the killing, had all charges against him dropped by Judge Dale Reinholtsen after a week-long preliminary hearing. In the days since, though, after numerous events and actions, Lawson's supporters, utilizing the rallying hashtag #JusticeForJosiah on social media, have kept their cause at the forefront of Humboldt's consciousness while better organizing their message on what they'd like to see moving forward.
Day-by-day coverage of Zoellner's hearing: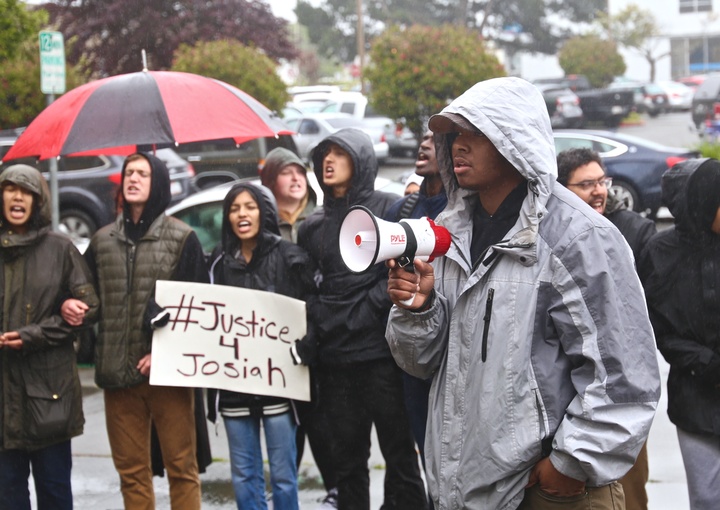 Thursday morning's drizzle did not deter the near 40 Friends of Josiah who linked arms in front of the Humboldt County Courthouse to voice their dissatisfaction with investigation efforts thus far into Lawson's death. A nonstandard pair of Humboldt County Sheriff's Office deputies stood guard in front of the building's main entrance eying the strong-lunged protesters as they went through their now-standard slogans, among them "Long Live DJ!," "No Justice, No Peace!" and "Justice for Josiah!"
Alex Foster, event organizer, lead much of the chanting, his voice growing hoarser as the morning wore on. He directed his pleas toward officials flowing in and out of the courthouse as well as passersby on the street.
"We ask you to see this as if it was your own child murdered that day, April 15th," Foster said. "What would you do? We need help with this investigation!"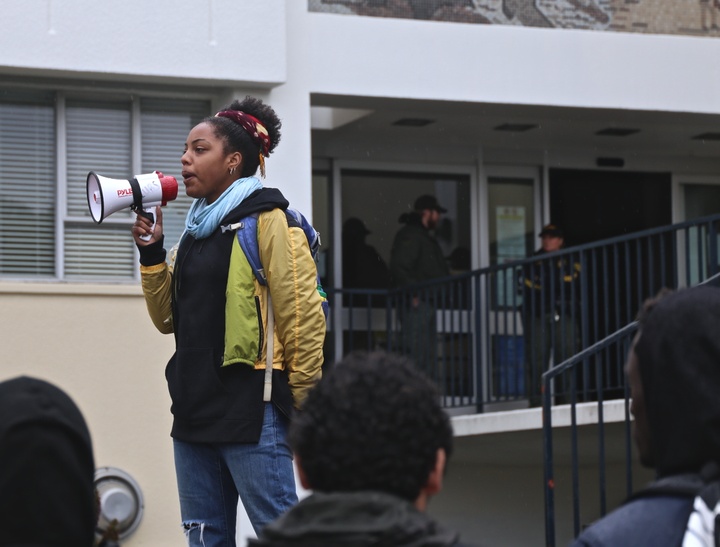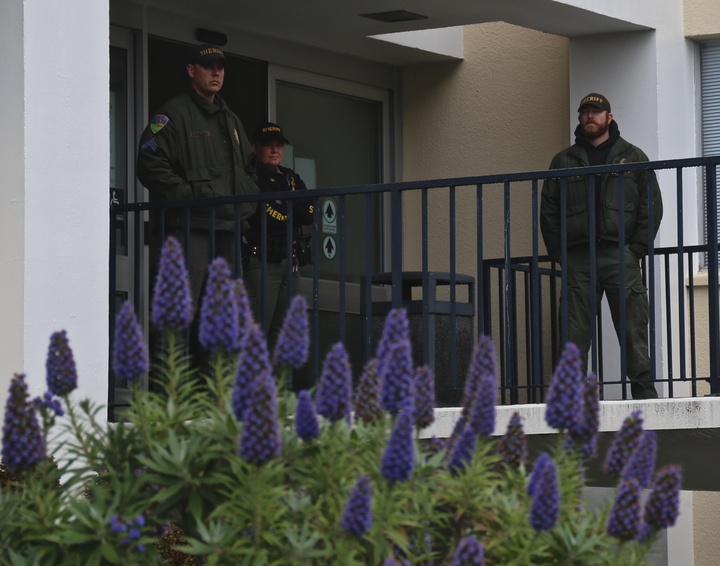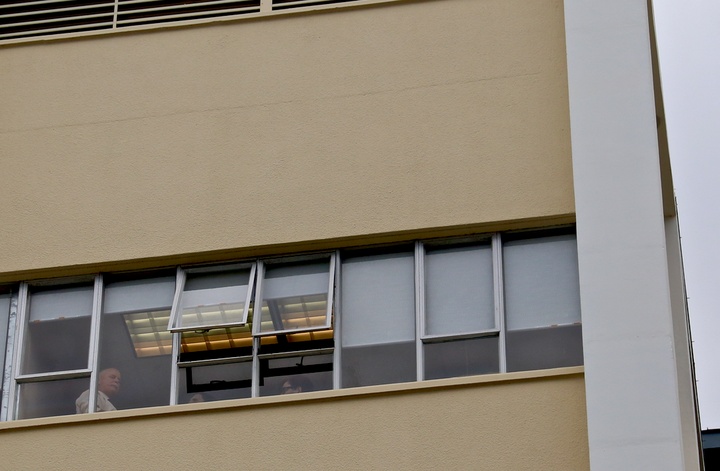 While the demonstrators created a ruckus outside the building, inside Josiah's family, including his mother, Charmaine Lawson, met with Humboldt County District Attorney Maggie Fleming to discuss how to move forward with the case.
After over two hours, the family emerged — just as the sun did — inspiring supporters to intensify their chants. Pastor Phil Griggs of the Living Word Christian Church in Riverside — one of Josiah's athletic coaches in high school and a source of strength for the Lawson family who had previously traveled to Humboldt from SoCal with them for last month's memorial — again accompanied Josiah's loved ones and sat in for the meeting with Fleming. While Griggs said he couldn't disclose specifics of the conversation, Griggs told the Outpost that it was very positive.
"All I can say is I think it was a productive meeting," Griggs said. "I think she's an outstanding district attorney. She presented the information that we feel we needed to hear."
Josiah's mother seemingly hugged every supporter who showed up. She thanked them and vowed to continue making treks to Humboldt until she was satisfied.
"I'm going to continue coming until I get justice for my son," she said to cheers from the crowd.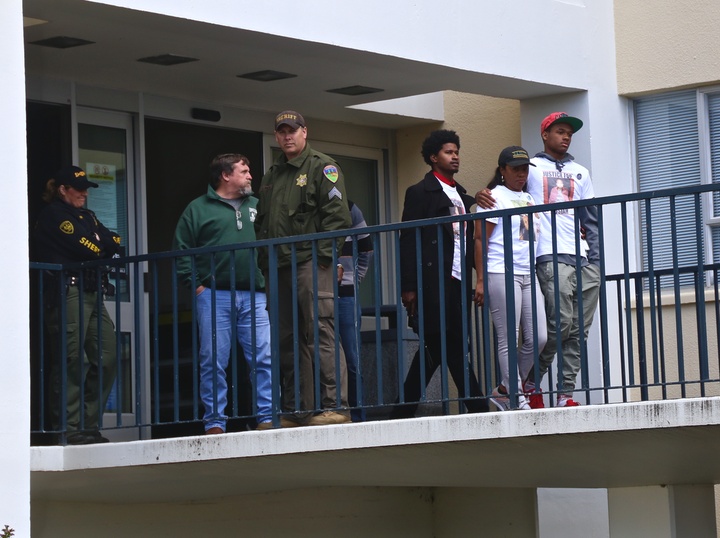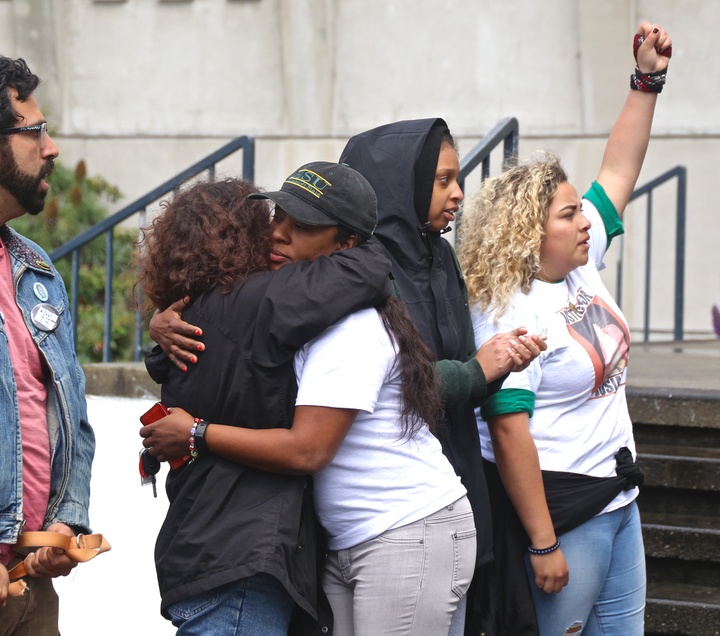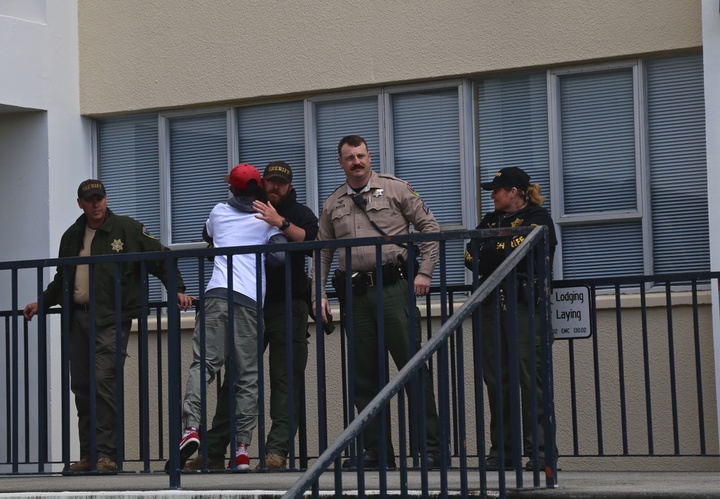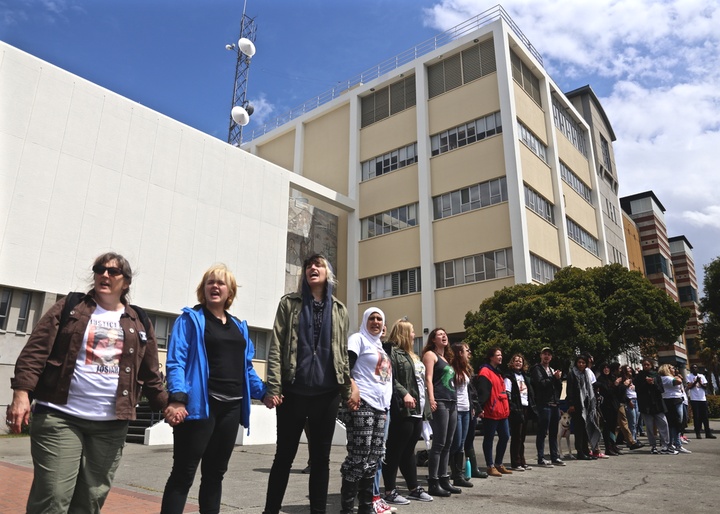 Thursday's demonstration in front of the courthouse was the third event in three days, following a Wednesday march through Arcata and listening session at Arcata City Hall with Arcata city officials and also an HSU Faculty-promoted solidarity walkout rally on campus on Tuesday.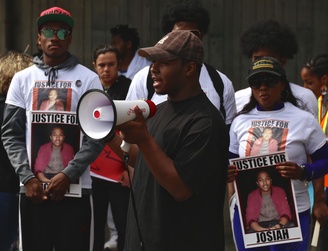 Wednesday afternoon, over 150 "Friends of Josiah," as well as his family, convened on HSU's UC Quad, signs and slogans in tow. Foster was also instrumental in leading the action this time out and relayed instructions from Josiah's mom to the crowd.
"One of her strict requirements for this whole process is that everything will be peaceful," Foster said— protests in Arcata in the hours following Judge Reinholtsen's ruling and Zoellner's release saw some clashes between motorists and demonstrators.
"Everything will be peaceful," Foster repeated.
After a Pastor Phil-led prayer the group set out from campus, marching and chanting through Arcata, ultimately arriving at city hall where all five Arcata City Council members were waiting for them. The group, including most of the council members, joined hands and stretched out for a circle that encircled the entire building. After some discussion it was decided that everyone would cram into council chambers for some dialogue.
"My intent is to listen," Arcata Mayor Susan Ornelas said as the group prepared to enter city hall.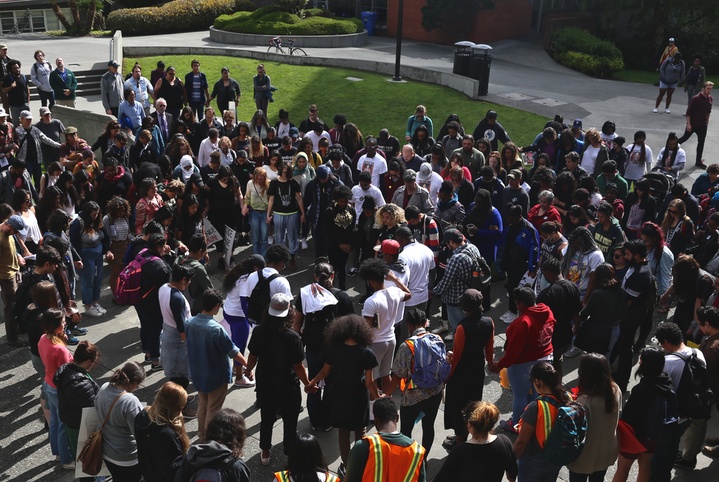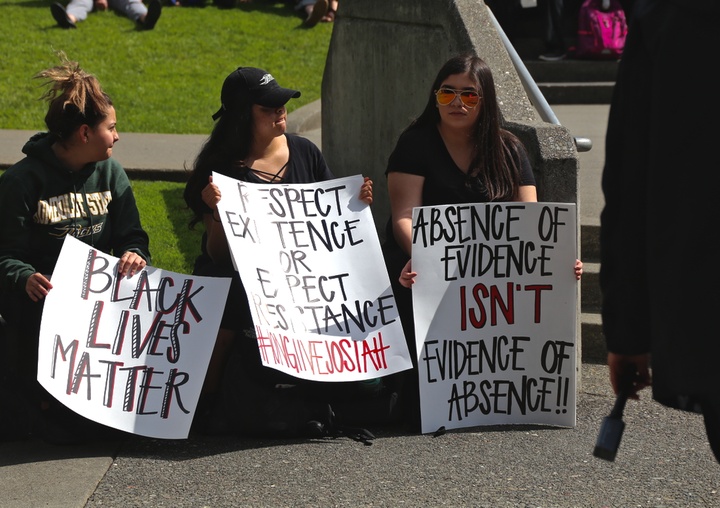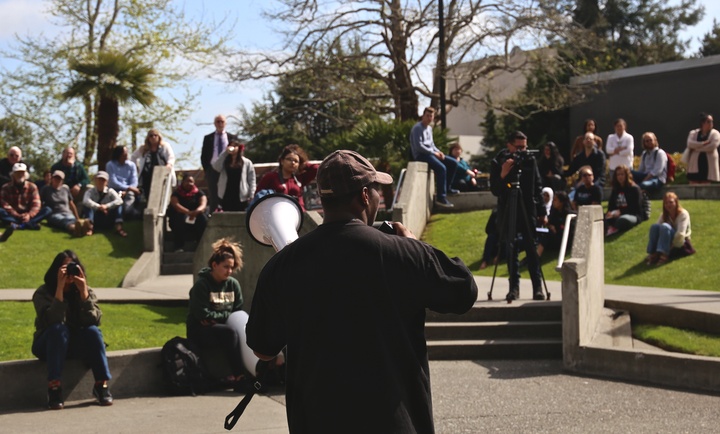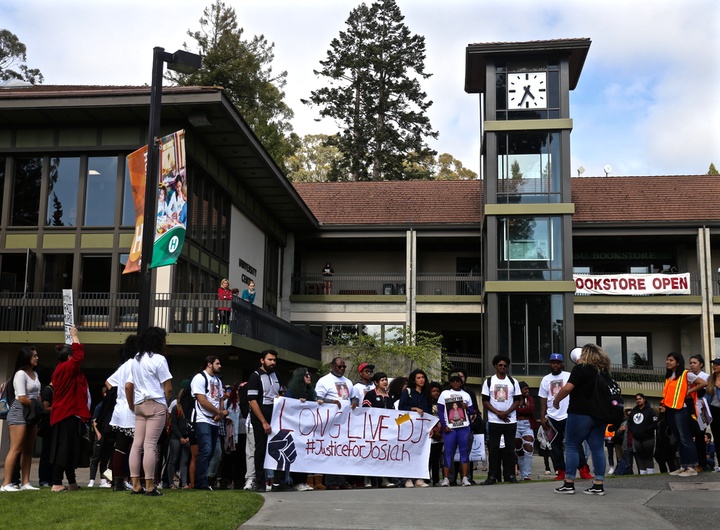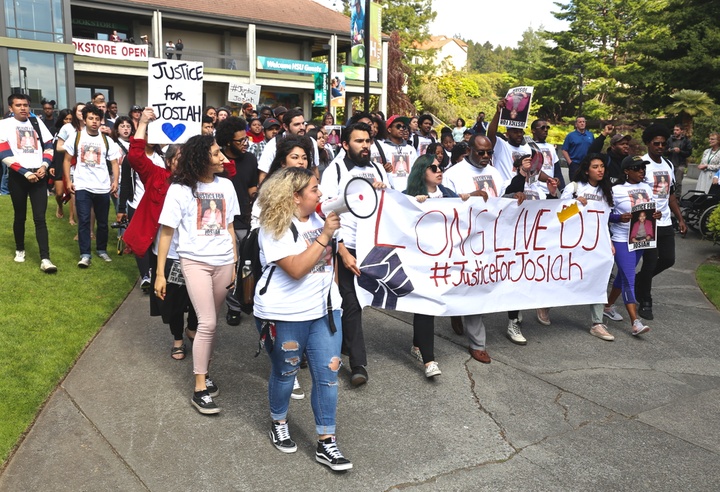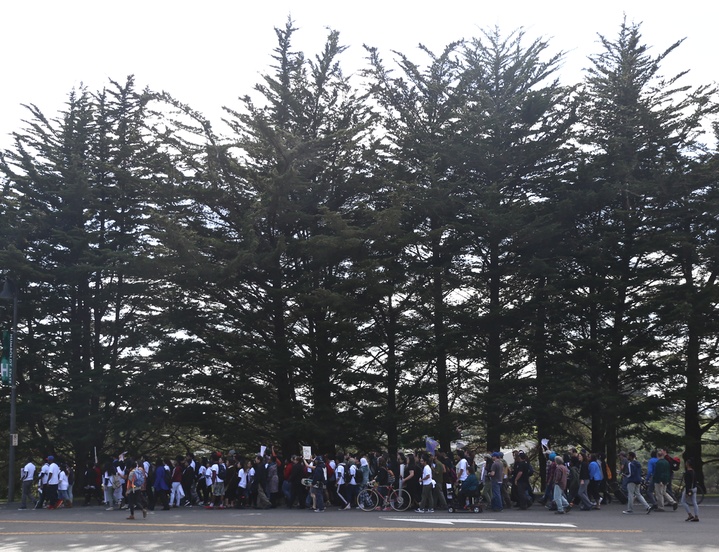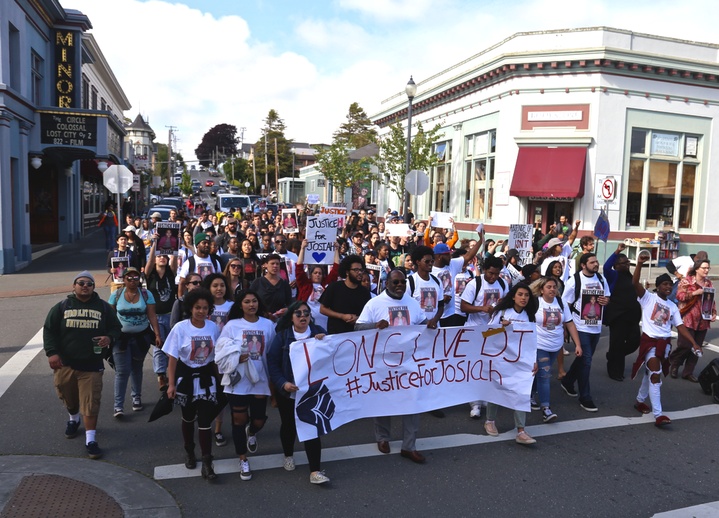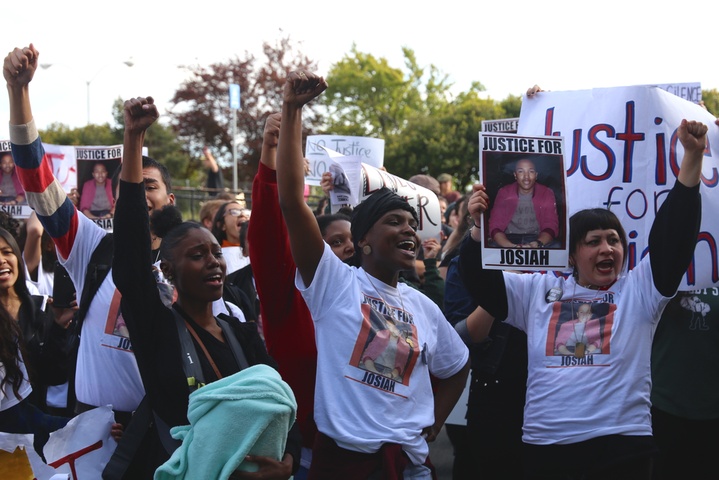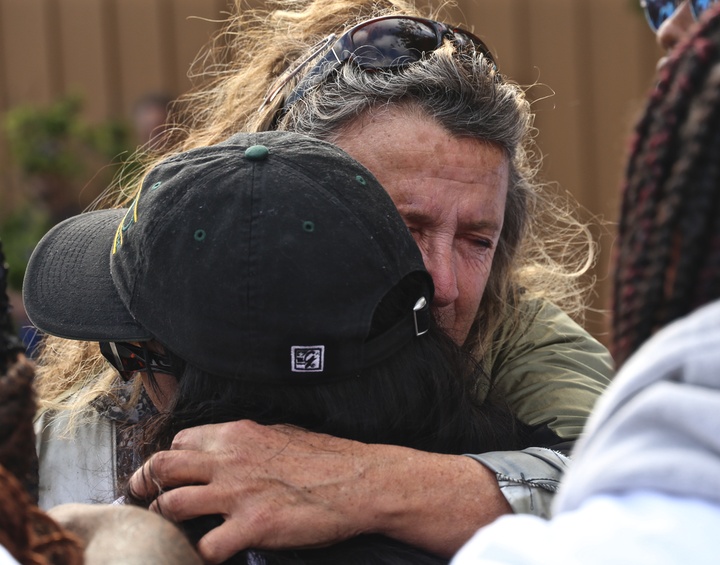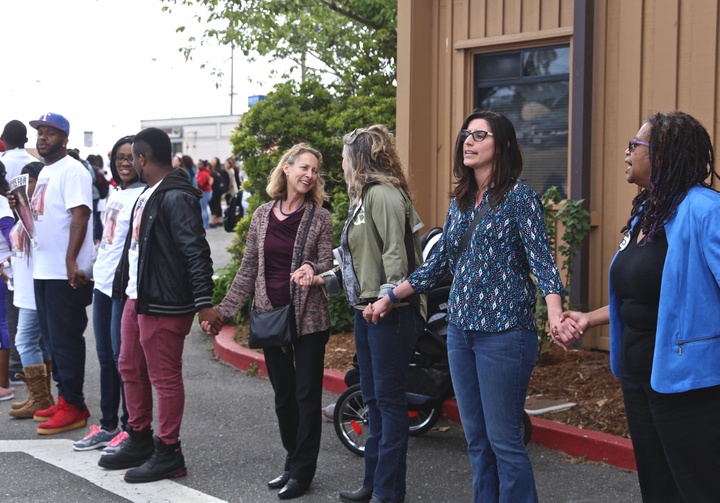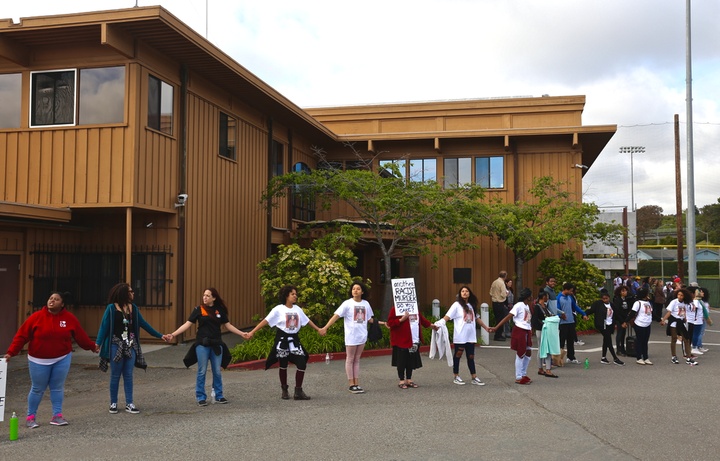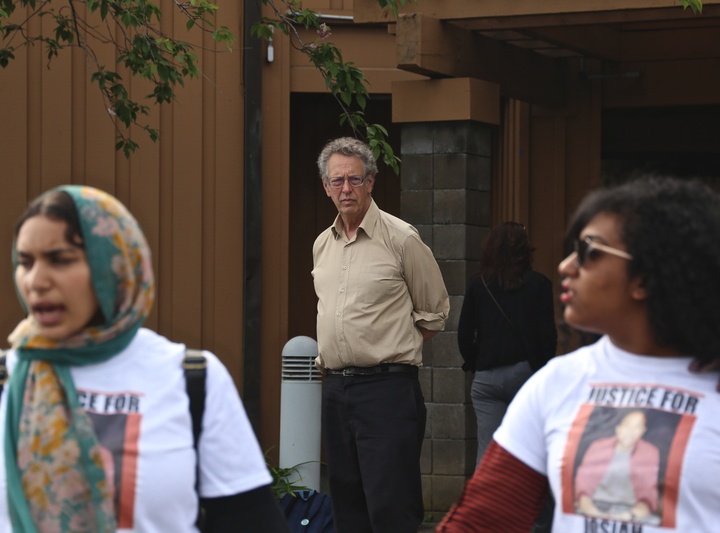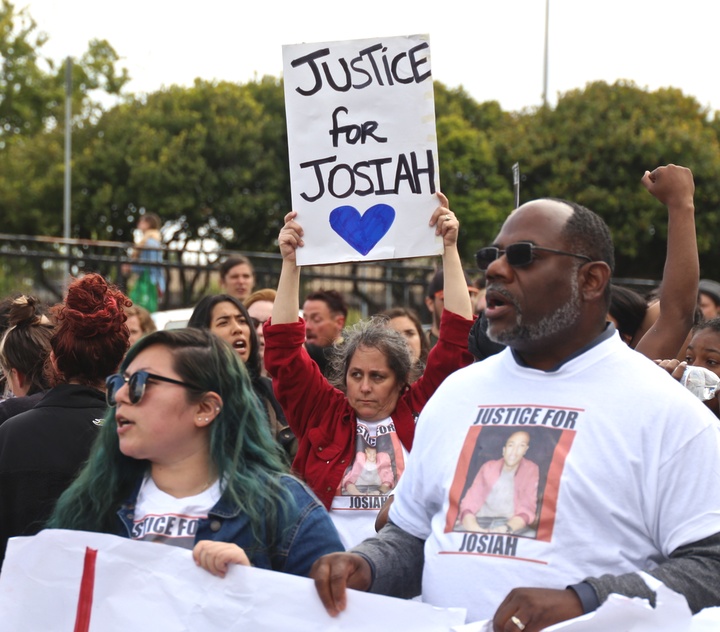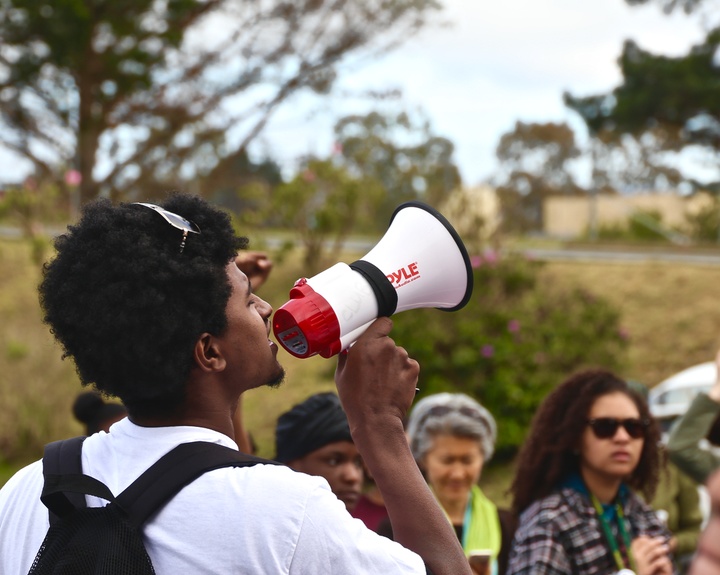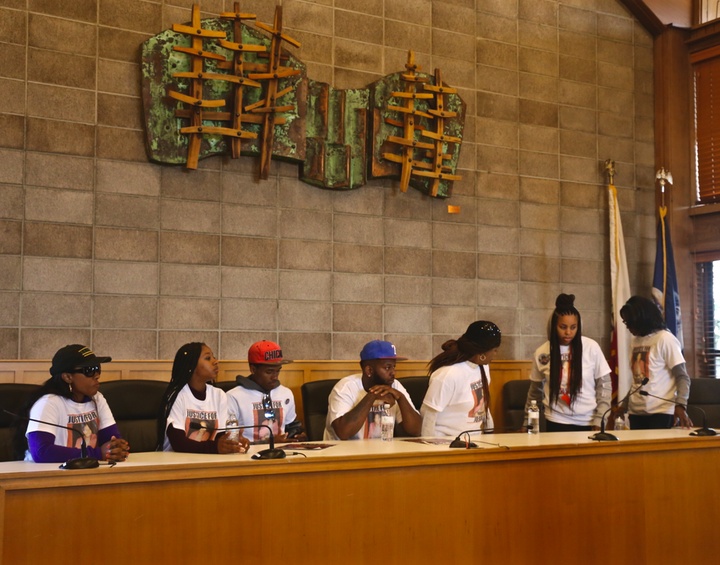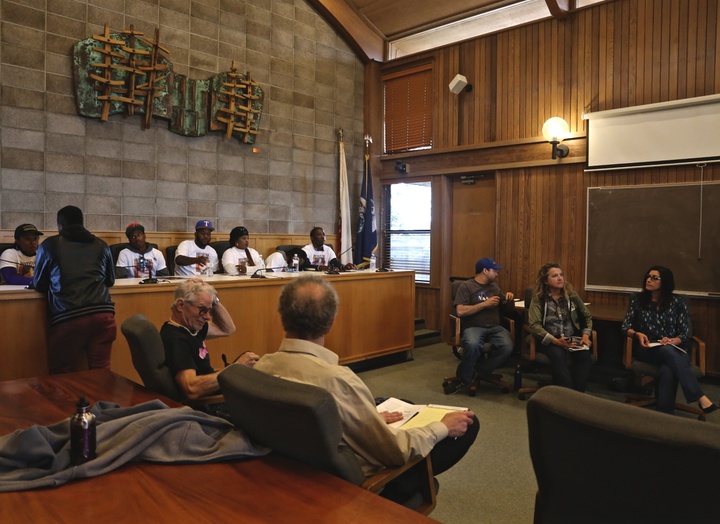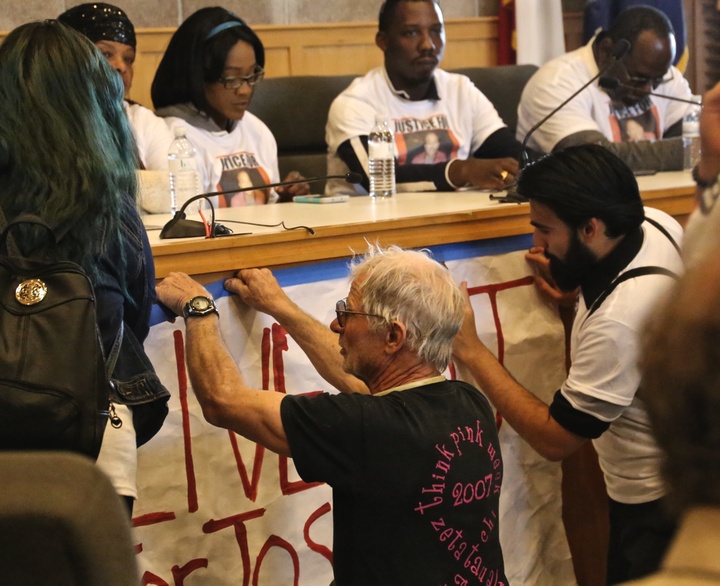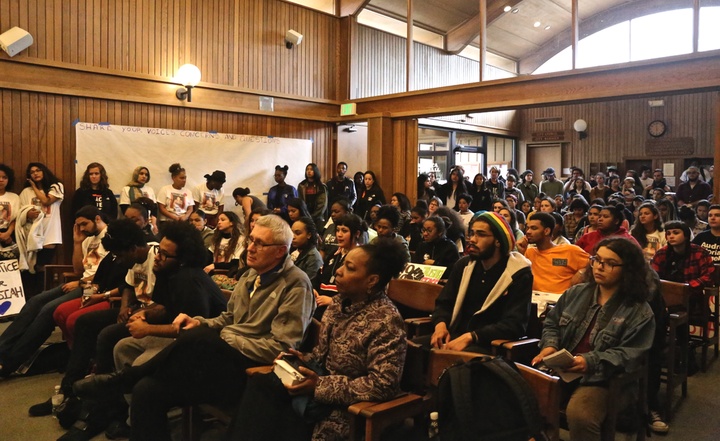 Once inside, Josiah's family were invited to sit on the dais usually reserved for the council while the rest of room filled to standing room-only capacity. A banner reading "Long Live DJ — #JusticeForJosiah was taped up for display in the front of the chamber.
"We all want justice for Josiah," Foster said in opening the meeting. "We want to make sure it goes about the right way."
Those who spoke during the session touched on a wide range of subjects, not only about the case, but also about fears felt by students of color who come to Humboldt State University from out of the area and find themselves, often for the first time, in a predominantly white community. HSU Provost and Vice President for Academic Affairs Alexander Enyedi was in attendance and shared with students one of the responsibilities of a university to its community.
"The university educates but, guess what, the university also teaches," Enyedi said. "And as a university we have an opportunity to teach this community how to behave in a way that supports everybody. People of color, white people, we need to come together to educate this community on the best ways to best support, not only students, but students who choose to stay in this community."
But much of the time was devoted to how to move forward with the investigation. Foster read from a multi-page pamphlet distributed during the march by "Friends of Josiah" (read more from it, including a letter to the community near the bottom of this post). He highlighted some aspects of the case they'd like to see investigated further (see below) as well as two main "demands":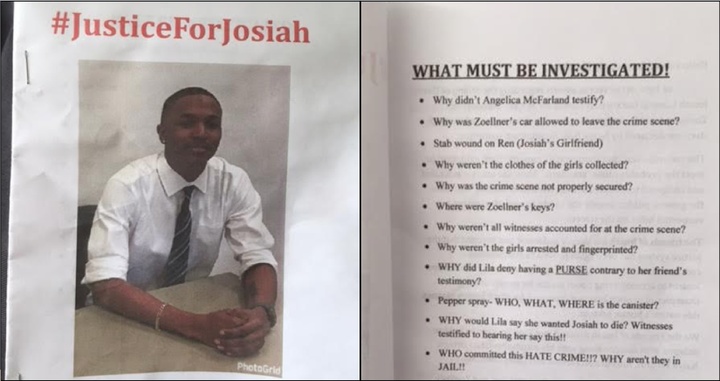 1. "Call in All Recruits: FBI and California D.O.J.": Some of Josiah's supporters' main complaints in the handling of the case concern the job the Arcata Police Department did in securing and processing the crime scene (you can read some specific points from the pamphlet above). While many spoke highly of APD and Chief Tom Chapman's responsiveness and willingness to help in the weeks since Josiah's death, they argued that the department has shown it lacks the resources to conduct an adequate investigation, evidenced by the outcome of the preliminary hearing. As such "Friends of Josiah" would like, and they hope local agencies will reach out to, the Federal Bureau of Investigation and, perhaps more feasibly, the California Department of Justice for further investigation. (While Zoellner's charges were dropped since the case did not go to trail it is possible to refile at a later date.)
Lawson supporter Michael Fennell was among those voicing support for a fresh set of eyes on the case.
"I think the [Arcata Police Department] has honorable people, I think the chief is a good man, but I just know that an outside organization like the California Department of Justice can come in with expert investigators," Fennell said. "There are so many witnesses that have not been interviewed … there is so much evidence that has not been processed. I can't imagine that we should put our trust in a small town police department to solve a crime that has national ramifications."
2. "Arrest Those Girls! On Charges of Tampering with Evidence and Perjury": Citing numerous reasons, "Friends of Josiah" is especially unsatisfied that neither Zoellner's girlfriend, Lila Ortega, nor her friends — Naiya Wilkins, Casey Gleaton and Angelica McFarland — were arrested in connection with Josiah's stabbing. (Again, for specifics of the case see the Outpost's previous day-by-day coverage, linked to above.) Further, they allege that discrepancies in the testimonies of Ortega and her friends given during the preliminary hearing constitute perjury. To help make their case, "Friends of Josiah" is exploring how to get a hold of the court transcripts from the hearing, a process which can be very expensive.
"Why weren't the girls arrested and fingerprinted?" Foster wondered. "You're looking for clues. How can you find clues when Zoellner was the only one fingerprinted. That doesn't make logical sense to me."
Foster also alluded to testimony from the heaing accusing Ortega of using a racial ephitet and wishing for Josiah's death as lifesaving efforts were being performed on him.
"Why would Lila say she wanted Josiah to pass? Witnesses testified to hearing her say this." Foster said. "I won't go into the language that was used, but that justifies the [allegations of] hatred surrounding this case. A hate crime."
Asked to speak, Mayor Ornelas spoke passionately about her desire to see the investigation continue.
"I want justice for Josiah. I want to know what happened," she said.
Ultimately, Ornelas told the crowd she would commit to aiding in securing the court transcripts and while she wasn't familiar with the process for requesting assistance from the California D.O.J., calling that task "outside her experience", she said she supported the idea.
"I certainly, as mayor, can commit to you that I will put my efforts toward this investigation and if we can go to the Department of Justice that's what we'll do," Ornelas said.
Some of the protesters pressed Ornelas on whether she or her fellow council members would attempt to downplay APD's failings if any were uncovered.
"I don't see this city council lining up with corruption in the police department," Ornelas said. "I do not see that. We will be standing for truth."
The function lasted a little over an hour. At its conclusion, serving a function he'd filled numerous times through the grieving process, Pastor Phil closed the evening in prayer, at the request of Josiah's mother. Everyone joined hands.
"Father, right now, God, with the power of your Spirit I ask that you come in and begin to touch hearts. Begin, God, to heal this community, heal the students at Humboldt State University, continue to bring healing to the Lawson family, to every member in every family that's represented here, O God. Help us, God, to have a changed heart, a new heart, a new mind, O God, to understand that it's not about color, it's about people, it's about love, and it's about community."
Below: Full audio from Wednesday night's discussion.
(AUDIO) Friends of Josiah Listening Session with Arcata City Council
VIDEO: Lawson supporters surround Arcata City Hall
# # #
Below: The following was among the information included in pamphlets distributed during the week's events by Josiah's supporters:
Hello Fellow Community Members,

In light of recent events regarding the killing of David Josiah Lawson, the suspect identified as Kyle Christopher Zoellner had his charges dismissed and was released through a decision declared by Judge Dale Reinholtsen [on Friday, May 5].

The rationale was that there wasn't enough "hard evidence" to meet the probable cause "standard." Thus, the court was lenient and obligated to release Zellner from their custody back into the general public; despite the safety hazard of releasing a suspected killer on the streets.

The friends of Josiah are deeply saddened and enraged that the justice system has once again proven to marginalized communities that the U.S. justice system is biased and often too lenient to actually bring about justice for people of color. Examples of implicit bias and disregard for black bodies plagues this nation's justice system.

We the Friends of Josiah demand that Kyle Zoellner be re-charged with murder along with his accomplices, Lila Ortega, Naiya Wilkins, Angelica McFarland and Casey Gleaton.

We believe that if the shoe had been on the other foot and Zoellner had been killed, Josiah would still be held due to all of the circumstantial evidence. Not only Kyle, but the women that accompanies his girlfriend to a party that fatal night should have been arrested.

We the friends of Josiah call upon the community members of Arcata and the surrounding areas who have a conscience and would life for justice to be served to stand with the students of Humboldt State University in solidarity.

Become active participants in demanding that justice be served for Josiah and his family. You can help by:

Educating yourself on the details of the case of Kyle Zoellner and David Josiah Lawson. Please do not read the sensationalized coverage of this case by the

Lost Coast Outpost

.

Repeatedly call and/or email the District Attorney's office at 707-445-7411/

districtattorney@co.humboldt.ca.us

, insisting that they subpoena Kyle and/or his girlfriend and her friends and file new charges immediately.

Speak about Josiah's murder with your friends and family to spread the awareness of the issue. In addition, utilize social media to spread the word whenever possible.

When possible, be physically present in support at events concerning the murder of David Josiah Lawson.

In addition, we the friends of Josiah have looming questions regarding the case such as:

Why were Angelica McFarland and her mother never brought to testify? Lila testified that Angelica's mother drove Kyle's car to take her and her friends home.
Why was Kyle's car allowed to be removed from the crime scene?
Why did Lila feel the need to move Kyle's knife bag?
Why was it never mentioned in court, especially during the closing arguments of the prosecution, that Josiah's girlfriend was jumped by Zoellner's girlfriend and her friend Naiya Wilkins. She was left with bite marks on her breast (caused by Lila Ortega) that severely scarred her skin. She was also left with a puncture wound on her left arm, which shows someone tried to stab her as well.
Whose fingerprint was found on the knife? Do they belong to Officer McKenzie who couldn't remember if he wore gloves or not when he collected evidence?
Did the police fail to secure the crime scene properly? This leads one to wonder how exactly evidence was collected.
When the Arcata Police Department and University Police along with the Arcata Ambulance going to be held accountable for the delayed medical attention that Josiah received? Who will lead the investigation?
It was proven in court by Lila's friend Casey Gleaton that Lila for sure said she hoped that Josiah died, repeatedly. Why did Lila want Josiah to die so bad? Lila testified in court she never said this.
When Zoellner was asked if he stabbed someone he responded to Sgt, Dokweiler that he "didn't remember." When Dokweiler told Zoellner that people said he stabbed someone Zoellner replied, "Did they see me stab someone, or are they saying I stabbed someone?"

We collectively call upon the community to have empathy and to sympathize with the struggle and death of David Josiah Lawson and to treat it as their own.

Love and Respect,
Friends of Josiah
# # #
Below: Some photos from an HSU faculty and staff-endorsed walkout rally held Tuesday.