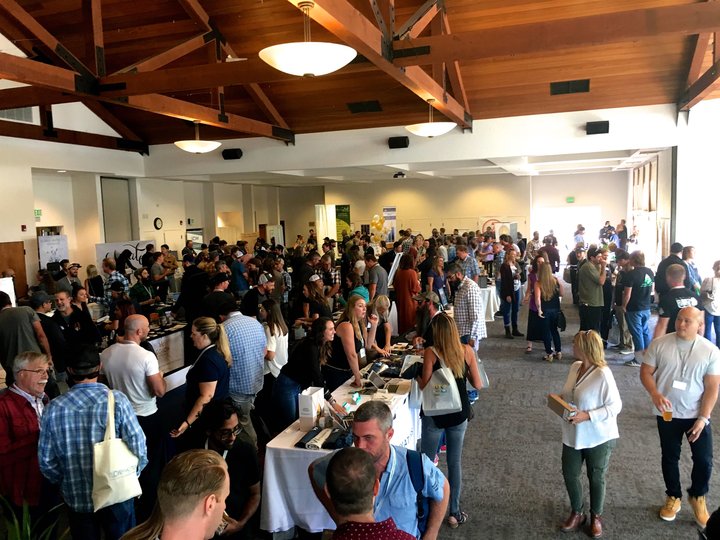 In spite of Fortuna's prohibitionist powers-that-be, the Humboldt County Growers Alliance (HGCA) hosted a most happening B2B cannabis event last Friday, September 21st, at The Friendly City's own River Lodge conference center.

Meet the Buyers was an opportunity for HCGA cultivators, manufacturers and distributors to meet distributors and retailers from all over California. According to a September 14th press release, the HCGA worked with the Cannabis Distribution Association to produce this event, with a whopping 475+ people expected to attend.
The River Lodge was definitely bustling last Friday, with cannabis business people and press mixing, networking and enjoying $1 beers. When caught for a quote at the check-in table, HCGA Executive Director Terra Carver was in high spirits. "Today is a historic day for the Humboldt County Growers Alliance and the cannabis industry in Humboldt County," she said. "The event is a smashing success and we're very proud." She was also proud of the event's location, noting that their huge draw was a boon to Fortuna's hotels and restaurants.
The "product-free" event definitely had the air of triumph, with gobs of locals hobnobbing with businesspeople from far-off places like San Diego, Los Angeles, Sacramento, San Francisco and San Jose. It was a big change of pace for the River Lodge, at least in my experience of going there for the annual daffodil show, church functions and kids' choir performances. Seeing the place transformed into Humboldt County Cannabis Central was on the level of astounding.
Local farmer Tory Schanzle from Cherry Valley Farms, LLC., thought it was a trip too. Actually, her words were "It's far out." Cherry Valley Farms is a "generational farm" out in Salmon Creek where they've been growing weed since the '80s. Schnazle was mostly interested in connecting with locals on Friday, in "keeping the money here." She was surprised by how many people rose to the occasion. "I talked to an old friend of mine that's been here like I have, for a long time," she said. "And I go, you know, 20 years ago, would you ever have thought we'd be doing this together? It's really cool."
The "Keep It Local" theme was echoed by Flower Acquisition and Intake Director Haley Myer of Northern Emeralds. Title translation: Myer is the flower buyer for the distribution arm of Northern Emeralds, a locally-based business with a processing, distribution and cultivation sites in Arcata.
Northern Emeralds acquires and packages product from all over the state under its brand and distributes to retailers all over the state, in turn. Myer does source extensively from Humboldt County. But she's been to some far off places to shop around, including Yolo County and old orchid farms in Salinas.
Like almost everyone I talked to on Friday, Myer was enthusiastic about the local scene, saying "Humboldt's got a long history of a great community, good people with tons of experience that grow quality flower … Everyone I've met today has been local. They're super-excited to work with local distribution."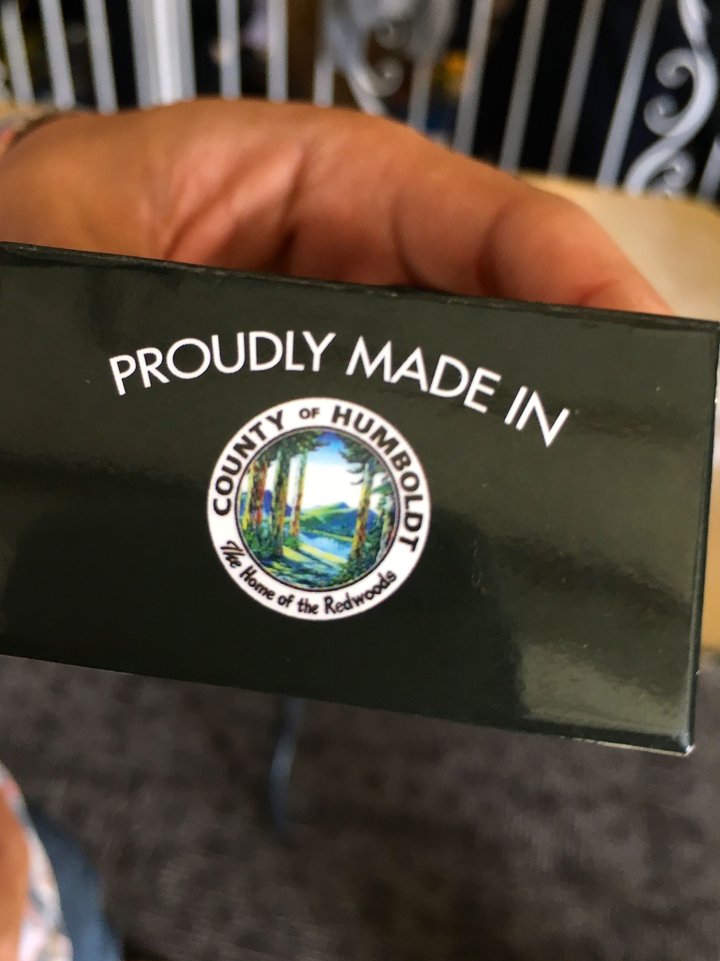 David Jun, a manager from Humboldt Live Resin, made it clear that their business is all about the local vibes too. Humboldt Live Resin is located at the Humboldt-Rio Dell business park off the 101 just south of Fortuna. Since the beginning of July, they've been doing volatile extraction in the FlexMOD trailers situated near the active construction site that we've all been watching with great interest.

Humboldt Live Resin has a "Type 7" cannabis license, meaning they are licensed to do extractions with butane, hexane and propane. They use the non-volatile solvent ethanol as well. "Our goal here is to process the local [Emerald Triangle] farmers' crops and present that to the big marketplace," Jun told me. "Right now, for us, that's in LA. Eventually we're going to be in San Francisco and Sacramento." Part of their operating philosophy is to not just present themselves in the market, but to present the farmers they source from as part of their branding as well.
He showed me some of their packaging, which indeed featured the name of the farm that the raw product came from, plus "Proudly Made in County of Humboldt" imagery. He says their market base in SoCal loves the product, that "they want to feel that connection to this community up in Humboldt."
"Things are looking really bright," Jun says. "Looking at this event here, the turnout is amazing. Most of these people [are] people who want to come get a piece of Humboldt." But twice, Jun warned me of brands coming to Humboldt to "play arbitrage… They see that we have great product at great prices. They can take it down and make a killing." Humboldt Live Resin, in contrast, is going for "fair trade," trying to work with local farmers, trying "to share in the highs and lows of the market."
In terms of the facility construction, he says the City of Rio Dell has been great to work with. "They have that long view on it," he says. "They see that this is the next great driver of the economy, especially in California… No other industry in the country [is] hiring faster at sustainable wages than the cannabis industry. Why wouldn't we bring it here to the heart of it all, to make sure the people who started it benefit the most from it?" (And don't forget that down the road all of us can look forward to benefitting from a health spa and coffee shop at one of their permanent facilities.)
The countless familiar faces, the bowls of handpicked apples off some dude's tree, the pastries from Ramone's at the UpNorth Distribution table, the River Lodge setting along the banks of the Eel River, the "Stay Local" talk — it was all very Humboldt.
HGCA successfully facilitated a massive mixer for Humboldt producers and companies like Thrive Society Distribution from Nevada City, Pacific Expeditors from Santa Rosa and Indus Distribution from Monterrey. Plus, they added in an educational component with break out workshops on marketing and branding, packaging and labeling and appellation development.
It's compelling to see a local organization actively advocating for licensed Humboldt County producers, helping them find long-term product movement channels in the statewide marketplace, even if the product movement starts with distributors based right here at home.