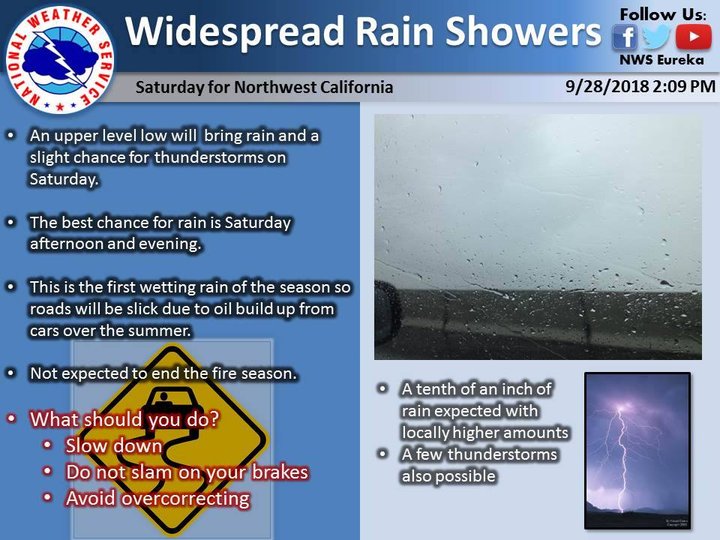 Remember "weather"?
Well, it's autumn now, and that means "weather" is back! And this weekend it is forecast to come to us in the form of RAIN … and possibly THUNDERSTORMS!
Not much rain. A tenth of an inch, maybe. But some rain.
Remember — the first rains after the long, hot Humboldt summer always, always occasion chaos on the roadways. It may have something to do with us all forgetting how to drive in the rain, but it definitely has a lot to do with months of accumulated gunk on the blacktop — oil, etc. — that gets slippery when wet. Drive defensively and with extra caution.
Rain fan? You can check LoCO Weather for daily and hourly precipitation totals from stations around the region, if you wish.
As per longstanding LoCO tradition, the first rains of the season are the time when we all listen to Fela Kuti together. This year's selection is "Mr. Grammarticalogylisationalism Is The Boss." Come back to this page and press play when the first raindrops fall.
Here's the most recent area forecast discussion from your friends and mine at the National Weather Service office on Woodley Island, with some special extra information of interest to mariners and aviators:
SYNOPSIS…Showers and a few thunderstorms will be possible during the afternoon and evening on Saturday. Sunday is expected to be mainly dry with additional showers possible early next week. Warmer and drier conditions will then develop mid to late next week.

DISCUSSION…The upper level low continues to approach the area from the SW this afternoon. VIS sat shows that the instability associated with this system is starting to break up the low clouds. This, combined with the southerly winds will likely clear most areas along the coast at some point this afternoon and evening, however at some point tonight expect it will return to most areas. As the low continues to approach the area early Saturday morning mid to high level clouds will continue to increase across the area. The low is expected to move onshore near the Oregon/California in the evening. Mid to late morning showers will start near Cape Mendocino and areas south. These will spread north across the area in the afternoon and evening. Most of these rain showers will be fairly light with rainfall amounts less than a tenth of an inch. A few of the heavier showers could see amounts up to a half inch. Some of these showers could contain some elevated thunderstorms north of Hwy 36, although confidence is low on this. The instability is around 300 to 600 j/kg in the models, however the lapse rates aren`t great. 0-6k bulk shear is close to 40 kt in some locations. This means there is the potential for some stronger thunderstorms.

Sunday showers are expected to diminish as a shortwave ridge of high pressure moves into the area. There may be a few lingering showers, but generally a dry day is expected. Clouds are expected to linger as well, but could break up in the afternoon. Monday and Tuesday another system moves by to the south of the area, however models continue to struggle with exactly how far south it will go. Currently it looks like there will be some light showers in Mendocino county. It is still possible that we could see some more rain if it moves farthern north. Confidence is higher that most of the area will see below normal temperatures and some cloudy skies. Wednesday high pressure is expected to start bringing a return of warmer and drier conditions. Thursday and Friday high pressure and offshore flow will bring a return to warmer and drier conditions. Chilly nights may bring frost to more widespread areas. Current forecasts may not reflect this, but it will be watched as it gets closer and the forecast may be adjusted for the interior valleys.

AVIATION…Ceilings are expected to lift slightly tonight in response to an approaching low pressure system. Deeper marine layer conditions will likely result in higher ceilings along the coast with low clouds and ceilings pushing into the coastal river valleys overnight. Brief periods of IFR conditions will still be possible overnight along the coast before stronger southerly to southeast winds in advance of a trough scours out the low clouds. MVFR conditions in showers will still be possible across the area on Saturday, however. &&

MARINE…Southerly winds will gradually increase through Saturday, peaking Saturday afternoon and evening at around 15 to 25 kt across mainly the outer waters and near Cape Mendocino. These south winds will generally maintain through late Sunday before weakening substantially Monday. As a result, steeper southerly seas will gradually build over the weekend, although significant wave heights are expected to remain at or below 8 feet during this time frame. Given the expected south to south-southeast wind direction, the worst conditions are expected to occur across offshore areas, with some sheltering expected in nearshore areas along the Humboldt and Del Norte coastlines. On Monday and Tuesday, winds will gradually switch back from southerly to northerly and weaken, allowing steeper southerly seas to settle. However, a larger long-period southerly swell originating from Hurricane Rosa will begin to propagate through the waters on these two days, impacting primarily the outer waters and waters south of Cape Mendocino. Due to the expected weak winds during this time frame, and the sheltering from the south swell provided from Cape Mendocino, ocean conditions are expected to be quite tranquil along the Humboldt and Del Norte coastlines Monday and Tuesday. North winds are expected to steadily increase through the end of next week, generating steep seas and worsening ocean conditions.