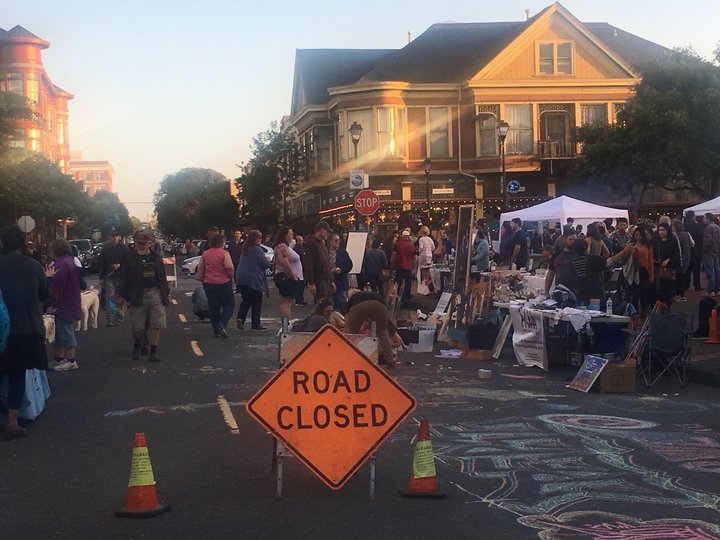 The Humboldt Area Center for Harm Reduction (HACHR) is again the center of controversy in Eureka, after a story from North Coast News cited allegations that the group was handing out syringe and "safer snorting" kits during Arts Alive in Old Town Saturday.
HACHR volunteers say that this simply was not true, and North Coast News and its source seem to have backed down.
"We didn't bring any kind of kits or paraphernalia," HACHR Program Coordinator Jessica Smith told the Outpost. "Their story is literally fake."
HACHR had their booth set up near the gazebo in Old Town Eureka as a part of the "One Community" event, which was intended to reduce stigma and featured booths from several other non-profit organizations. The event was happening during the monthly Arts Alive, on Saturday night.
North Coast News published an article titled "Humboldt County community expresses outrage over HACHR Arts Alive giveaways" (cached page — see updated story here) on Monday, referring to the event and some "mixed reactions" from the community.
Smith told the Outpost today that HACHR sent a demand for a retraction through its Bay Area attorney after seeing the article, which they say contained false information and was one-sided. Smith feels that NCN didn't give them a chance to deny these allegations, sending them an email in the morning the day the article was published. Smith said they had no time to respond.
"I get that we didn't respond right away," she said. "But they didn't do any fact-checking."
The article contained Facebook quotes from a source the station left anonymous, which said that that the citizen opposed HACHR's decision to hand out kits for "heroin, meth or anything else you can inject," that they were set up "at Arts Alive right next to the boys and girls club."
The article also contained pictures that the same person had posted of syringe kits and "safer snorting" kits that she said the group was giving out.
But the Facebook post referenced in the article has since been edited many times. (Facebook makes these edits visible to the public.) In its current incarnation — and after it has been shared over 500 times — the post removes all reference to the group handing out paraphernalia at the gazebo Saturday evening.
Smith told the Outpost that the photos in the post were from HACHR's Facebook page, were posted in 2016, and were not from the event.
North Coast News' article also contained a Facebook post from Chris Littlejohn, which complained about a button that his eight-year-old daughter had received from HACHR, which he feels was promoting normalization of drug use.
Smith acknowledges that the button is from HACHR, but said that the volunteer did not hand it to the child — she said it was in a container full of buttons that the child grabbed it from. Smith says that it is unfortunate that the girl got hold of this button, which they would never intentionally hand out to a child. The message of the button is being misinterpreted. It does not promote drug use, but rather overdose prevention.
North Coast News changed their original article today, renaming it "Eureka dad says daughter was given needle button at Arts Alive; HACHR responds." Erin Johnson's Facebook quotes were removed, as well as the pictures of syringe kits. The article also now includes responses from HACHR and excerpts from the retraction letter sent by HACHR.
The article does not state any corrections were made, but now includes an editor's note:
A previous version of this article included a quote from a community member that said the Boys and Girls Club of the Redwoods (BCRG) had a booth at the event. Upon looking into this further, the BGCR told North Coast News that it did not in fact participate in the event. Furthermore, when we originally posted this article on Sept. 3, 2018, HACHR had not yet responded to the concerned citizens' claims. We have since updated the article to reflect the response received by North Coast News from HACHR on Sept. 4, 2018. We have also removed reference to materials that HACHR says it did not distribute at the event.
NCN News Director Scott Rates told the Outpost earlier today that he feels the corrections they made to the article and the editor's note are good enough and he does not feel that NCN was negligent in its reporting.
"They [HACHR] claim that they weren't [handing out syringe kits], and someone claims that they were," Rates told the Outpost. "We're taking HACHR's word on it."
Since speaking with the Outpost Rates and a colleague posted an in-depth interview with HACHR board member Rachel Waldman on its own Facebook page. Their conversation touched on this subject and many others.