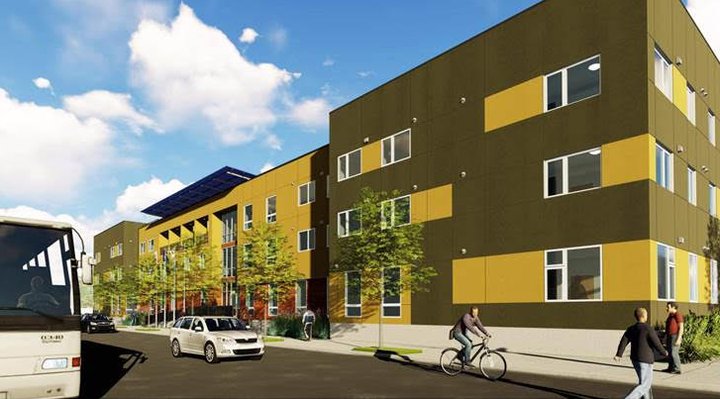 The City of Eureka seems to be thriving in many ways. It's been bringing in big businesses, making moves with recreational cannabis, stepping up its public art game. But one area where Eureka has not been doing too well is housing. This was one of the takeaways from Wednesday night's "Eureka Housing Workshop," where around 200 people packed into the Wharfinger Building to learn more about housing in Eureka and give their feedback on how the city should attack this complicated issue.
Eureka's Development Services Director Rob Holmlund began the workshop with a presentation discussing the current state of housing in the city. Holmlund explained that compared to other towns in Humboldt County, Eureka's ratio of housing growth to job growth is not very stable. In the last eight years Eureka has created about 1,800 jobs (an average of 225 per year) and only 97 housing units (an average of about 12 per year.)
"The moral of the story is we've been great at creating jobs," Holmlund said. "We've not been so great at creating housing."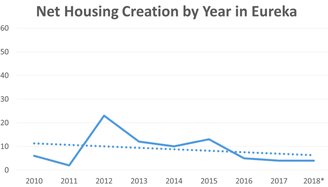 The state of California's housing element law requires all cities to include a housing plan in their general plan updates. Based on population and job growth estimates, Eureka needs to plan for the development of 952 housing units over the next eight years. This would require the city to create an average of 119 homes per year, which is a pretty big difference from the recent average.
Now, to be clear: The state cannot require the city to actually build this housing. They just need to be able to show that they have a plan in place for accommodating that amount of housing as the need arises.
The big question is, how is Eureka going to do that? The geographical layout of the city doesn't allow for the city to spread out. Eureka is surrounded by coastal wetlands, steep forest land and other towns. But Holmlund is confident that it can be done. The answer, he said, is infill.
Holmlund outlined the five ways in which Eureka can use infill to meet the city's growing housing needs: by building on the city's last remaining vacant lots, building more apartment buildings downtown, converting older buildings into housing, stimulating the development of accessory dwelling units (mother-in-law units) and creating smaller lot subdivisions.
Eureka is already on track to meet its goal for the next year, with several housing projects in already in progress or in the planning stages. Holmlund pointed out that construction for the Danco veterans housing project on 4th and B streets in Eureka is already well underway.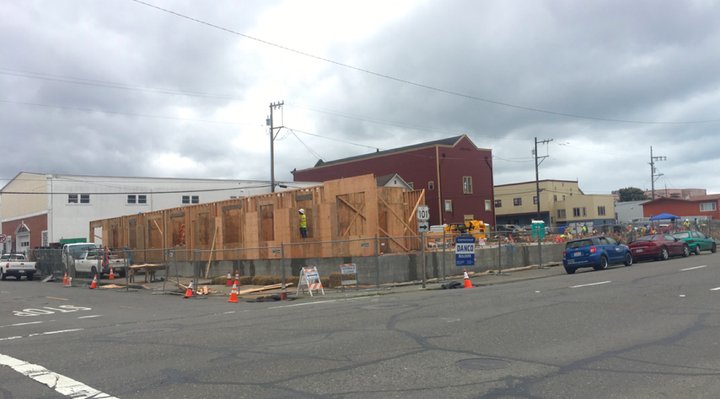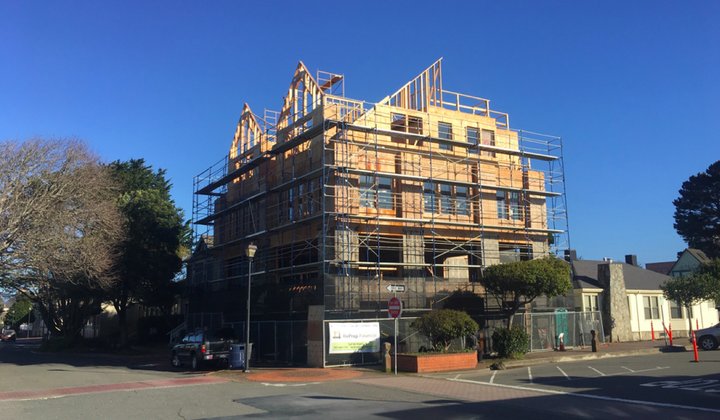 Another development is ongoing on the corner of 2nd and I streets. Holmlund said this building is planned to have a restaurant on the ground floor, with apartments above. The city is also working on plans for an affordable senior housing development at Myrtle and Seventh.
Holmlund also shared a potential plan to build an apartment building on the parking lot at 3rd and G streets in Old Town. The idea is to build about 40 housing units above the parking lot, leaving it as a public parking garage. This idea, however, is still very informal and has not gone before the Planning Commission yet.
It will also be necessary to have more mixed-use buildings in the downtown area. Holmlund said that the city is considering a regulation that would require all new buildings in downtown Eureka to be at least two stories, allowing for apartments above businesses.
Building in vacant lots and building apartment complexes downtown will help the city meet its housing goal. But Holmlund also stressed the importance of property owners building accessory dwelling units. "We believe very strongly that some portion of our future housing solution will have to come from mother-in-law units," Holmlund said, adding that if one house on each residential block in Eureka were to build an in-law, this could create about 750 homes.

In order to enable many of these developments, the city will have to make amendments to its zoning restrictions, which the Planning Commission is in the process of doing. The updates should be going before the Eureka City Council in May, Holmlund said.
"The city's rules can be the biggest obstacle to creating housing," he said.
After Holmlund's presentation, community members were invited to visit different stations around the room, and given a chance to express their views on how housing development should look in their city.
In the middle of the floor was a giant map of Eureka, allowing for community members to place dots on the areas where they would like to see more housing. People were asked for their views on how vacation rentals are affecting the city and what obstacles they've encountered when trying to build accessory dwelling units on their property.
Another station was dedicated entirely to tiny homes, a recent trend which many people seemed excited to discuss. People were asked if Eureka should pursue allowing tiny houses on wheels, something which is currently prohibited in the city.
Basically, Eureka staff wants to explore all the possible options to help expand housing development in the city. All of the the data gathered from the workshop will be compiled into a cohesive document which will be available on the City of Eureka's website in the next couple of weeks. The info will then be used to help inform the city's housing plan, a part of the General Plan Update.
Holmlund told the Outpost that the next step is for the housing plan to go before the Planning Commission, and will then go before the Eureka City Council for adoption by this June or July.