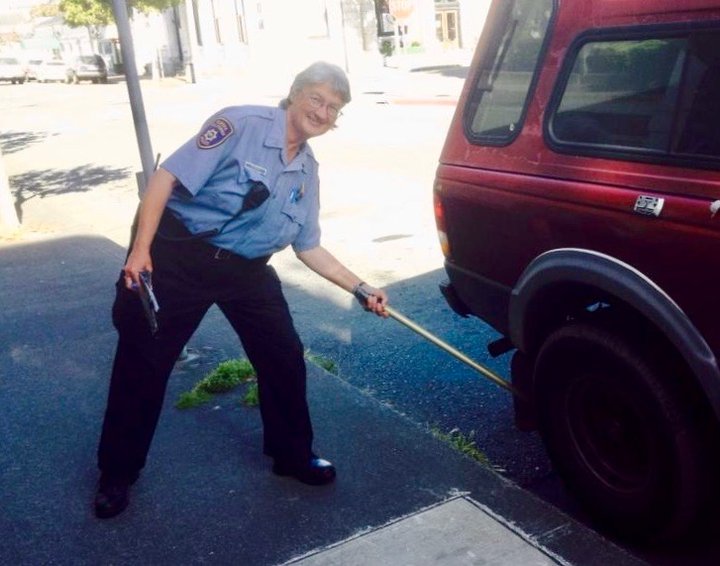 Marking tires to enforce parking rules violates the Fourth Amendment, a federal appeals court ruled Monday.
A three-judge panel of the U.S. Court of Appeals for the 6th Circuit found that "chalking" a car's tires, which officers do in Eureka, Arcata and on the HSU campus, constitutes an illegal search because it involves government officials trespassing on constitutionally protected areas to obtain information.
The case was brought by a Michigan woman after she got 15 parking tickets — all from the same officer — over a three-year stretch, NPR reports. A district court judge dismissed the suit in 2017, writing that even if chalking a tire is considered a search, per the Constitution, it's a reasonable one.
But the three-judge panel reversed that ruling, finding that there's no probable cause to search a legally parked car without a warrant, and that issuing parking tickets isn't essential to maintaining public safety.
Here's an analysis of the ruling from Orin Kerr, a professor at USC Gould School of Law:
Fascinating CA6 opinion today holding that chalking a tire for parking enforcement — to see if the car had been there a while in violation of parking rules — violates the 4th Amendment. Not sure where I come out on it, but fun issue. Here's a thread. https://t.co/2MtCtAb9e6 #N pic.twitter.com/GOGjL0RUGk

— Orin Kerr (@OrinKerr) April 22, 2019
If you're hoping this ruling will ease things up locally, however, you're out of luck. At least for now.
The decision only affect the 6th Circuit, which encompasses Michigan, Ohio, Kentucky and Tennessee. Kerr says in one tweet that other suits, outside the 6th Circuit, are bound to be brought. "[I]t will be interesting to see if other jurisdictions continue the practice in the meantime," he says.
The answer to that here in Humboldt County is "yes."
"We will have a conversation with the City Attorney but for now, operations will continue as usual," Eureka Police Department Public Information Officer Brittany Powell said in an email.
Arcata Police Chief Brian Ahearn took the same position. Noting that the ruling appears to be limited to the 6th Circuit, Ahearn said via email, "If that is the case then I do not anticipate APD's policy of chalking tires changing, at least for the near future."
And Grant Scott-Goforth, a communications specialist up at HSU, responded to the Outpost's inquiry thusly:
Our parking enforcement officers do chalk tires in 20-minute zones on campus. Those zones are regulated per California Vehicle Code. Parking enforcement officers follow state law and CSU policy guidelines, and we haven't received any direction so far, but given how recent that ruling is, it's possible that the practice could change.
So for now, at least, local parking enforcement officers remain free to stripe your Goodyears — though, as Kerr notes, they could sidestep those Constitutional concerns altogether if they used their smartphone cameras instead.