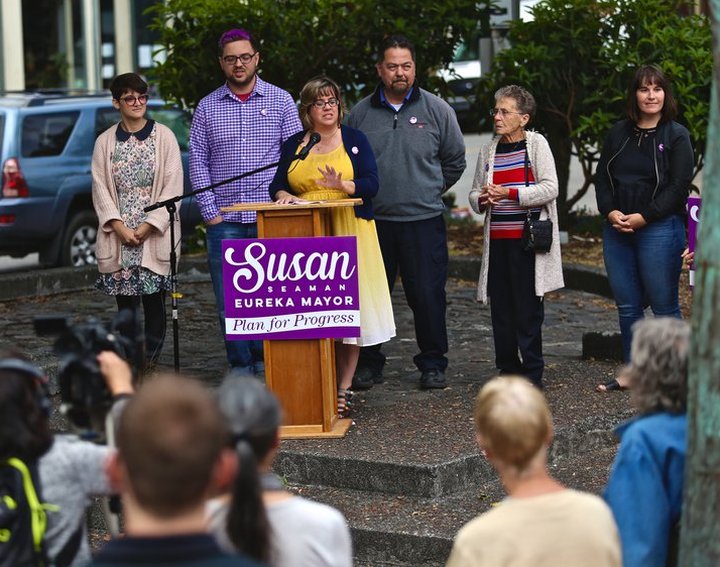 Eureka Mayor Susan Seaman wants to see the city put more emphasis on the needs of families and children. That's why she is introducing the "Children and Families Mayor's Initiative" at a public meeting next week.
A City of Eureka press release states that the initiative "is an approach to city business that strives to promote a healthy community and economy, by supporting children and families."
But, how exactly will the city do that? The answer is: we don't know. Mayor Seaman told the Outpost that the initiative is still in the very early stages and has not yet been drafted.
That's where you come in. The City is hosting a public forum for the initiative on May 1 at the Wharfinger Building to gather community feedback and learn how the city can better serve the needs of families. Seaman said the information gathered at this meeting will then be used to draft the initiative's strategic plan.
There will be free child care available to help make it possible for parents to attend. Seaman hopes to hear from a lot of parents — a group she says are often unable to attend public meetings because they are always busy taking care of kids.
"This is an opportunity to give a voice to a group that doesn't have a soapbox," she said.
Though she's not entirely sure how long it will take, Seaman hopes to have the initiative's strategic plan drafted by September. Perhaps then it will be clear exactly what the initiative does.
The idea, at least, behind Seaman's initiative is clear: She cares a lot about children and families and would like to see them considered more when the city makes decisions.

Seaman believes that the city can help mitigate social issues such as homelessness and addiction for future generations by focusing on the needs of children. She mentioned that Humboldt County has some of the highest Adverse Childhood Experience (ACE) scores in the state. ACE scores measure the number of traumatic experiences of children, including abuse and neglect.
When children experience trauma, Seaman said, they are more likely to "become addicted [and] homeless and face a lot of the problems that we see right now."
Press release from the City of Eureka:
On May 1, 2019 Eureka Mayor Susan Seaman will be announcing a new initiative at the Wharfinger Building from 6 to 8 p.m. The Children and Families Mayor's Initiative is an approach to city business that strives to promote a healthy community, and economy, by supporting children and families.

This Kick-Off Meeting will be an opportunity to learn about the initiative with a majority of the time providing feedback to both child care leaders and city employees about the opportunities and needs that address the following focus areas: child care access, supporting our child care industry, parental and family support, neighborhood safety, enrichment activities, access to health care and healthy habits, and supporting diverse families

Seaman worked with leaders in the child care community to identify the focus areas. Representatives from Changing Tides, College of the Redwoods Early Childhood Education program, Eureka City Schools Preschool Programs, First Five, North Coast Children's Services and others will be on hand to explain the connection between strong children and a healthy community.

The City of Eureka has already been incorporating many programs and policies that complement this initiative. This is an opportunity to recognize the work that is being done as well as identify new opportunities. City employees will also be on hand at the meeting to talk about City programs and to listen for ways they can be more engaged in issues surrounding families and children.

"There is plenty of well-documented research that shows that investing in young children promotes a stronger economy and can have a profound impact on social issues," said Seaman. "Unfortunately, that information often gets passed around among the child care community and has difficulty breaking out to discussion among the general public. I don't see this as an initiative just for people with children. It's something that will affect people across the board, even those without kids."

Pizza and refreshments will be served. Child Care will be provided on-site.