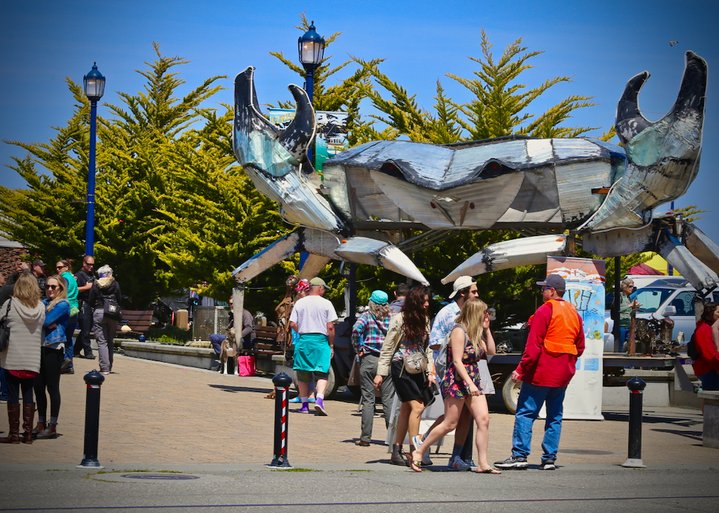 There was fish and salt, but no fog at Eureka's first ever Salt and Fog Fish Festival today. The sun was shining and the wind was blowing, as swarms of people filled the Madaket Plaza for food, drinks, music and ships.
The festival was sparked by the annual arrival of the tall ships Lady Washington and Hawaiian Chieftain in Humboldt Bay. The ships have become such a popular attraction, that this year the Eureka Visitors Center decided to organize a festival around them, in the hopes of increasing tourism to the city.

Lady Washington was unable to make it to Humboldt Bay this year, due to weather issues. But the Hawaiian Chieftain was sailing tall, occasionally firing its cannons, startling the crowd with a loud boom.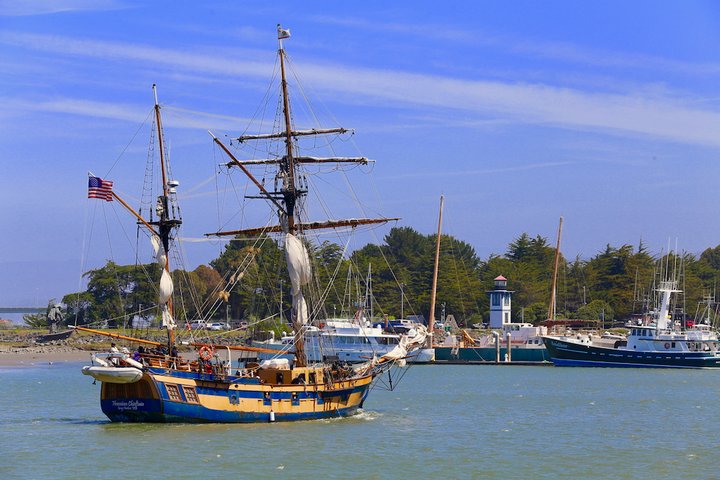 Attendees could enjoy vessel tours of the Cheiftain, or a cruise around the bay on the Madaket boat. The Humboldt Timber Heritage Association also provided speeder train rides between the plaza and Halvorsen Park.

Grub was available from a load of local food vendors, including Humboldt Bay Oysters, Al's Oysters, Pizza Gago, Lost Coast Brewery and many more. Lost Coast Brewery also won the Chowder Cook Off. The prestigious award was presented by Eureka City Councilmember Kim Bergel.
Fish Fest organizer Allana Powell told the Outpost that she was thrilled with today's turnout. Though she was sure the sunny weather had something to do with it, she also said her marketing team did a great job of getting the word out about this new Eureka event.
"My deep appreciation to everyone who came out for giving a first time event a chance," Powell said. "I look forward to see if we were able to successfully drive tourism."
Powell added that, due to its smashing success, the Fish Fest will definitely be back next year.
The Salt and Fog Fish Festival continues today until 5:00 p.m and picks back up with a 5k fun run on Sunday. The race begins at 10:00 a.m at HealthSport By the Bay on First street in Eureka, with registration beginning at 9:00 a.m. Or you can pre-register online.
Scroll down for more photos of today's fishy fun!