###
Brian John Leiteritz Jr. stabbed a man to death Saturday night while defending himself during a home-invasion-style attack set up by an angry ex-girlfriend, Leiteritz's attorney told reporters today.
Attorney Michael Robinson spoke with the press after Leiteritz appeared in court and pleaded not guilty to one count of murder with the special allegation of personal use of a knife. He is in jail on $1 million bail and faces life in prison if convicted.
Robinson said Leiteritz, 40, had received numerous threatening phone calls from the estranged girlfriend and had "repeatedly requested the assistance of the Sheriff's Office" but got no help.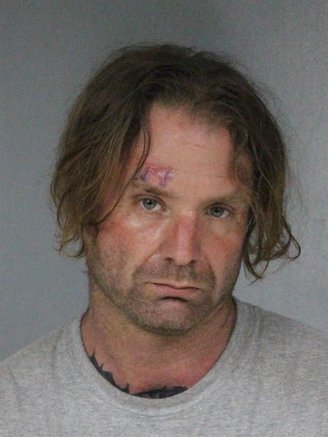 On the night Leiteritz allegedly stabbed Dylon Liakos to death, Robinson said, the girlfriend told Leiteritz to expect a visit. He lived on Boss Road in McKinleyville with his 19-year-old son, who was not home at the time.
"She told him she was going to come by and see him — with help. The communication was threatening.''
About midnight, Robinson said, the power was cut to Leiteritz's home. He called 911 and was on the phone when someone started pounding on the door.
"It was a home-invasion attack by the people who cut power to his house," Robinson said.
According to the attorney, Leiteritz opened the door and was promptly attacked.
"He was assaulted at the doorway and he responded in defense of himself and his habitat," Robinson maintained. Leiteritz's mugshot shows a wound on his forehead. Robinson said he doesn't know at this point whether the injury was from a fist or something else.
Liakos was found dead outside the house. Robinson said Leiteritz saw at least one other person, "possibly armed," during the incident. He did not see his former girlfriend.
"I don't believe she was present at the time but I believe the evidence will sustain that they acted on her behalf," Robinson said.
Liakos lived in Rohnert Park. According to his Facebook page, he graduated from Petaluma High School in 2007 and from California State University at Chico in 2011.
Robinson said Liakos "perhaps" may have been the former girlfriend's current boyfriend.
Today about 25 people, friends and family of Leiteritz, were in the courtroom audience to support him. Robinson said the crowd included not only relatives and friends but many of Leiteritz's coworkers. Leiteritz is a manager of a local business, but Robinson declined to name it.
Since his arrest Leiteritz has had his hair cut short. He blew a kiss to supporters as he left the courtroom.
"He is sad and upset," Robinson said. "He's frustrated that he's in jail when he believes he was the victim of a home invasion."
About a month ago Leiteritz filed for a restraining order preventing domestic violence. His petition was dismissed, however, when he couldn't make it to an afternoon court hearing because he had to work.
This morning Judge Gregory Elvine-Kreis signed a five-year restraining order against the former girlfriend, who didn't show up to contest it. Leiteritz attended the hearing, but he was wearing an orange jail jumpsuit and facing a charge of murder.
Robinson said members of Leiteritz's family "are having negative contact with the same individual," meaning the former girlfriend.
Although Robinson did not identify the woman, according to court records the restraining order is against Alicia J. Rose.
A Clerk's Office spokeswoman said Rose has two old property-offense cases on record, along with an unpaid traffic ticket.
Leiteritz was convicted of felony assault in 2012.
"He has been responsible since then and I think is a decent person," Robinson said.
Robinson said in court he was not prepared to set a date for a preliminary hearing. The date is expected to be scheduled when Leiteritz returns to court on Aug. 21.
Deputy District Attorney Steven Steward did not object to the delay.
No one from the Sheriff's Office could be reached for comment.